NATIONAL MUSEUM OF AMERICAN HISTORY
Celebrating Hispanic Heritage Month and Other September Happenings
September Happenings include an exhibit showcasing the work of Latina broadcast journalists, new additions to the "Giving in America" exhibition and more
---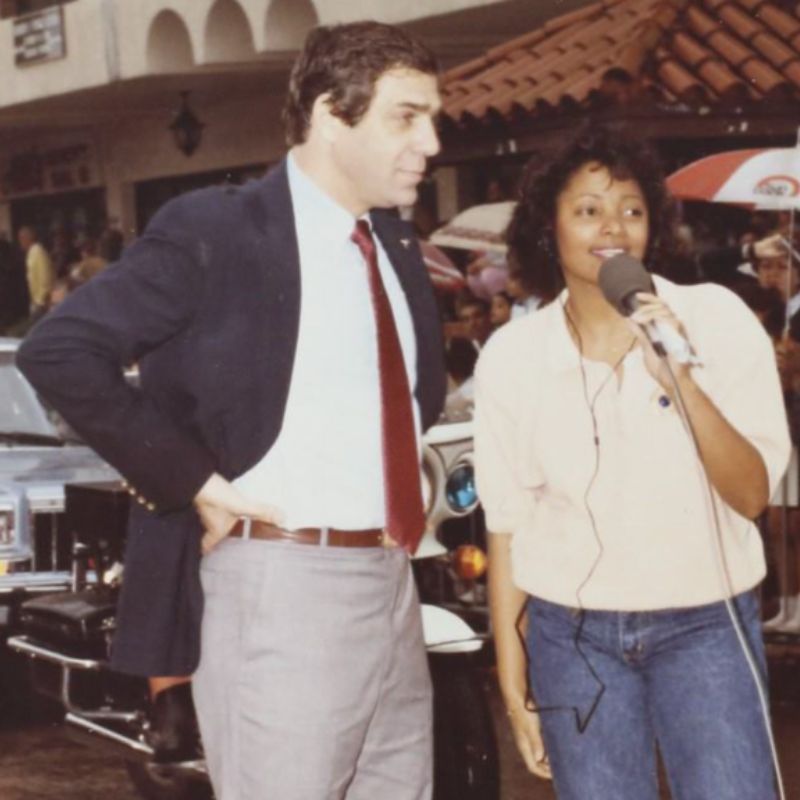 NEW EXHIBITION 
 
"¡De última hora! Latinas Report Breaking News"
Sept. 15, 2023 – March 2024
Nicholas F. and Eugenia Taubman Gallery, Second Floor, West
"¡De última hora! Latinas Report Breaking News" is a bilingual exhibition showcasing the work of Latina broadcast journalists and how they wrote the first draft of history for major U.S. events for the Spanish-language communities they report on and for. Working in the fast-paced, ever-changing environment of broadcast news, these journalists became powerful advocates for Spanish-speaking communities. "¡De última hora!" uses the collective experience of Ilia Calderón, Dunia Elvir, Marilys Llanos, Gilda Mirós, Lori Montenegro, María Elena Salinas and Blanca Rosa Vílchez, to illustrate how Latina journalists have navigated their field and shaped the narrative for major historical events. The exhibit provides a look at the different paths they took and the tools of the trade: reporter's notebooks, microphones, press badges and media credentials, clothing, shoes and even a can of hairspray. A glimpse of the behind-the-scenes work of broadcast journalism can be seen through personal and press photos and through a multi-media presentation of the women on air. 
 
NEW ON VIEW
 
"Journeys Toward Giving"
A Thematic Case in "Giving in America"
Opens Sept. 15; ongoing
Third Floor, Center 
A trophy, a passport, a straw fedora, pink boots, and a ribbon-cutting keepsake from the dedication of the Pérez Art Museum, are among the objects that will update the museum's "Giving in America" exhibition. The "Journeys Toward Giving" section will showcase how life journeys shape philanthropists desire to give and their ability to do so— especially for people who are immigrants to the Unites States. The challenges they faced increase their appreciation for community, opening their eyes to social needs, and convinced them to use their money for public good. One of the journeys featured in the updated display is that of Miami real estate entrepreneur and collector Jorge M. Pérez as well as the path of a Mexican American hometown association in Chicago. "Giving in America" is a long-term exhibition that looks at the history of philanthropy's role in shaping the United States and is updated annually to address a key theme in American giving.
 
PROGRAMS



Hispanic Heritage Month
"¡De última hora! Latinas Report Breaking News"
Opening Panel
Sept. 13
Coulter Plaza, First Floor, West 
5 – 6:30 PM
To mark the opening of "¡De última hora! Latinas Report Breaking News," this panel discussion with featured journalists from the exhibition will focus on the common challenges faced by Latinas working in the fast-paced, ever-changing environment of broadcast news. The panel will examine how these women shaped and shape the narrative for major historical events while working with their local and national Spanish-speaking communities to provide relevant news coverage that meets their needs. 
 
Power of Giving 2023 Symposium 
Sept. 21
Warner Bros. Theater, First Floor
2 - 5:45 PM
 Social justice is the theme of the annual "Power of Giving" symposium which invites the public to connect with philanthropists, historians, community organizers, activists, foundation leaders and curators from the museum's Philanthropy Initiative and the Center for Restorative History. The symposium will consider how philanthropy has advanced or impeded social justice as well as how this history informs today's work for a more just and equitable future. Smithsonian Institution Regent Emeritus David M. Rubenstein will provide the symposium series welcome. Featured participants include Nick Tedesco, President and CEO, National Center for Family Philanthropy; Edgar Villanueva, Founder and CEO, Decolonizing Wealth Project & Liberated Capital; Abigail E. Disney, filmmaker, philanthropist and social activist and Kelly D. Nowlin, Principal, KDN Philanthropy Consulting. 
 
A panel on community perspectives on social justice philanthropy will feature a conversation with the museum's Center for Restorative History partners including representatives from the Emmett Till Interpretive Center, Little Manila Rising and Otros Dreams en Acción of Mexico City. Objects Out of Storage will be on view for everyone. For a full listing of the symposium panels and participants, please check the museum's website.  
 
VISITING
What to know:
The museum is open seven days a week, except Dec. 25, between 10 a.m. and 5:30 p.m. Admission is free, and passes are not required. For more information, go to https://americanhistory.si.edu/visit
Food: 
The seasonal menu at the Eat at America's Table Cafe will highlight Hispanic Heritage month with a special menu. This café is open for full food and beverage service. The Leroy Neiman Jazz Cafe has a New Orleans themed menu with favorites, including po boy sandwiches and gumbo. A range of salads and desserts are also on offer. 
Bottled water is allowed in the museum. We recommend bringing a refillable water bottle for fountains.
Stores: Open from 10 a.m. to 5:30 p.m. 

ABOUT THE MUSEUM
Through incomparable collections, rigorous research and dynamic public outreach, the National Museum of American History seeks to empower people to create a more just and compassionate future by examining, preserving and sharing the complexity of our past. The museum, located on Constitution Avenue N.W., between 12th and 14th streets, is open daily except Dec. 25 between 10 a.m. and 5:30 p.m. Admission is free. The doors of the museum are always open online and the virtual museum continues to expand its offerings, including online exhibitions, K–12 educational materials and programs. The public can follow the museum on social media on Twitter, Instagram and Facebook. For more information, go to https://americanhistory.si.edu. For Smithsonian information, the public may call (202) 633-1000.