NATIONAL MUSEUM OF AMERICAN HISTORY
Designing Kristi Yamaguchi's Costume to Sparkle Under the Spotlight
In the center of a dark arena, a spotlight illuminates a glittering Kristi Yamaguchi, ready to skate.
---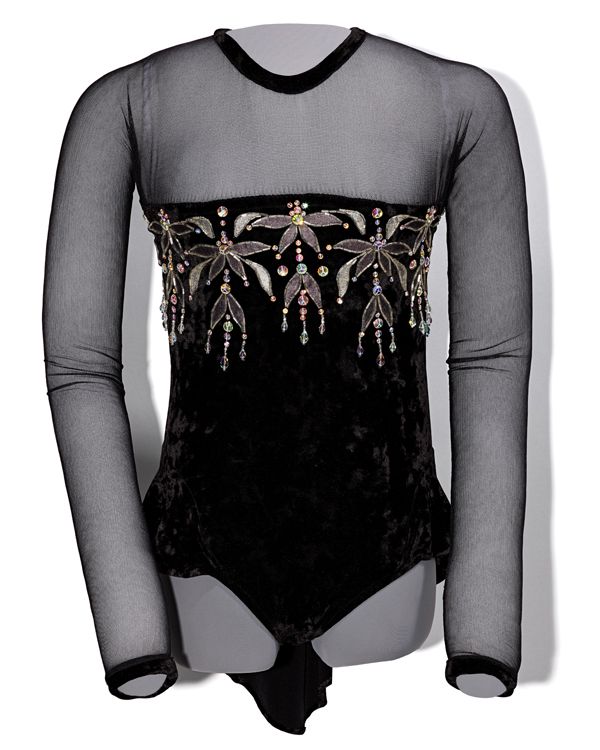 Picture it: you're sitting with thousands of other audience members in a darkened arena. Suddenly, a spotlight illuminates a small circle on the ice. Posed under the light, you see Kristi Yamaguchi, ready to skate. For the thousands of people who saw Yamaguchi perform during her professional career, the drama of this moment was heightened by her choice of costume—including a dazzling black dress that is part of our museum's permanent collection.
Raised in Fremont, California, Kristi Yamaguchi began ice skating at the age of six as physical therapy to adjust her clubbed feet. Her love of skating grew, and she began competing in junior high. Yamaguchi began winning in pairs skating with her partner Rudy Galindo, before switching to focus on her singles skating. She won the 1991 and 1992 World Championships and earned a gold medal in figure skating at the 1992 Olympics in Albertville, France—becoming the first Asian American woman to do so. 
After her Olympic gold medal win, Yamaguchi went on to skate in the "Stars on Ice tour" from 1992 to 2002. The black dress above was one of many that she wore while on tour. The piece was designed by Lauren Sheehan. Sheehan had designed several of Yamaguchi's costumes for competition, but this is one of the few that she designed for Yamaguchi's professional career.
Figure skating places an emphasis on the visual presentation of the skater on the ice. So, one of the most important aspects for a skater to consider when putting together a routine—aside from choreography and music—is the costume they will wear. Costumes provide an opportunity to communicate a larger concept and are often strategically designed to complement a routine's music and emphasize its theme.
Skaters have some say over the costumes they use for athletic competitions, but they must often abide by specific rules and regulations, as well as consider the preferences of their coaches and choreographers. Usually, skaters enjoy much more freedom in terms of creativity and style in professional, non-competitive skating. In an interview with the museum, Sheehan explained that Yamaguchi had more control over what she wanted to wear during her professional career than when she was competing. This costume Yamaguchi wore in the "Stars on Ice" tours is indicative of this change. Of course, this newfound freedom of expression wasn't just limited to costumes. Speaking about her decision to skate professionally in an interview with Shondaland, Yamaguchi talked about her excitement to skate to contemporary music and the chance to express and challenge herself in new ways.
Reflecting on designing this costume versus Yamaguchi's other costumes for competition, Sheehan recalls the hesitance from the team to allow Yamaguchi to wear black for competition because they were afraid it would make her look old. This changed when she started her professional career. Sheehan recalled that Yamaguchi was excited at the opportunity to use velvet as the dress's fabric. Velvet was too heavy and too hot a material to be included in any of Yamaguchi's competitive skate outfits since it only added to the physically taxing work of skating.
The dress that Sheehan designed also reflects larger shifts in fashion. Previously, there was a trend within the sport—influenced by late eighties to early nineties fashion and popular TV shows—for big shoulder pads and large crystals. However, around the time Yamaguchi was winning Olympic gold, skaters and their designers began to adopt cleaner, less elaborate designs, some of which can be seen in this dress.
The dress featured here is made of crushed velvet fabric with sheer long sleeves. There is no skirt at the front, and the bodice is accented with rhinestones and Swarovski crystals. Creating a sleeve without any shoulder seams was a challenge, said Sheehan. She had wanted a sleek look for the sleeves, and seams would have prevented that.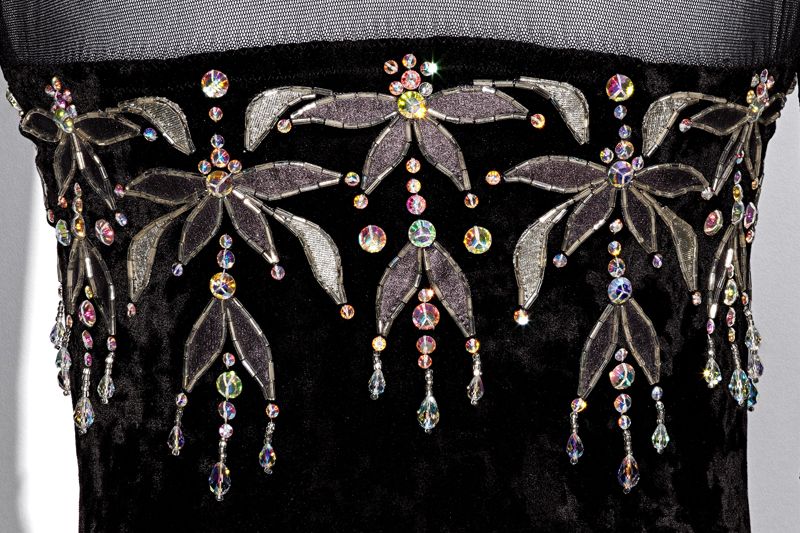 The darkness of this dress would have contrasted with the white of the ice, and the sparkles from the rhinestones and crystals would have reflected light back onto the costume better since, as previously mentioned, Yamaguchi would have been performing in a darkened arena under a spotlight. Rhinestones and Swarovski crystals were a signature for dresses designed by Sheehan. Usually, Sheehan would secure the stones to the fabric using a special glue. However, a closer inspection of this dress shows that Sheehan used special Swarovski crystals with a small hole in the center that allowed them to be sewn onto the fabric, allowing for stronger adhesion and more durability. 
One of the biggest factors that Yamaguchi and Sheehan considered when discussing the design of a costume was the stretch, mobility, and durability of the fabric. The durability of the costume was especially important on tour because Yamaguchi would wear the costume repeatedly to perform..
The museum collected this costume in 2003 through a generous donation from Kristi Yamaguchi. The dress went on display in a traveling exhibition titled Sports: Breaking Records, Breaking Barriers. Yamaguchi's story was included in the "Firsts" section, focusing on pioneering athletes who brought change to sports. The exhibition is no longer traveling, but records of it can still be accessed online.
This post was originally published on the National Museum of American History's blog on May 11, 2022. Read the original version here.