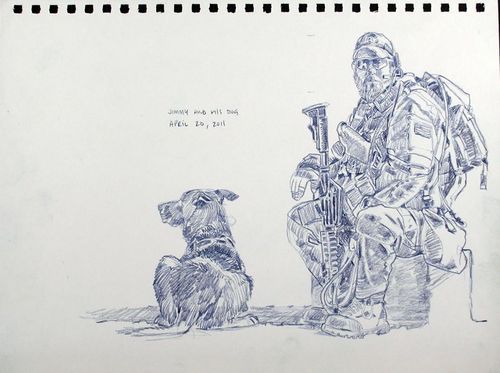 In September 2012, I wrote a blog post about a contract working dog, Fausto, and his handler Jimmy Moore. We were introduced to Jimmy and Fausto through combat artist Richard Johnson, who had sketched these two on a trip to Afghanistan in 2011. When I wrote the blog, Jimmy and Fausto were still on active duty and had yet to do another tour in Afghanistan. Jimmy promised to bring Fausto to the museum after Fausto retired.
On June 5, 2015, Fausto, Jimmy, and Jimmy's family paid the staff of the Division of Armed Forces History a visit. I laid out the objects from Jimmy's donation so his family could see them, and Jimmy talked about most of them. Of particular interest were the doggles.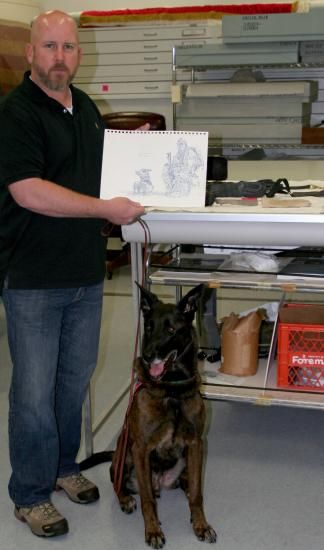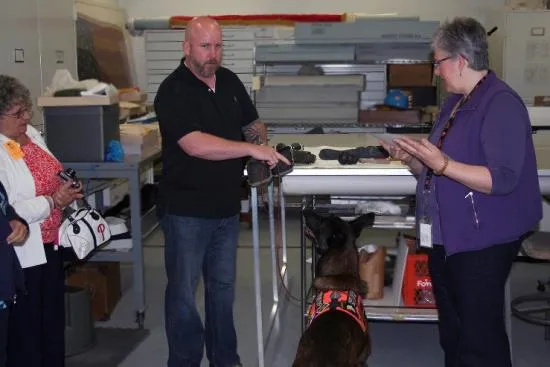 Doggles were created by a software engineer named Roni Di Lullo, for use on her own dog, Midknight, who was having difficulty catching a Frisbee in the sunlight. Di Lullo surmised that her dog had a sensitivity to light, and retrofitted a pair of sports goggles to fit the dog's head. The idea took off, and Di Lullo soon found herself doing a side business of creating doggles as people requested them. The side business soon became her main occupation when she found herself inundated with orders. Unable to keep up with the large amount of orders, Di Lullo started looking around for a company to manufacture the dog goggles. A company in Taiwan agreed to make them, and in 2002 the Doggles Company was born with the initial order of 30,000 pairs. As of 2012, the company had reached $3 million in revenue.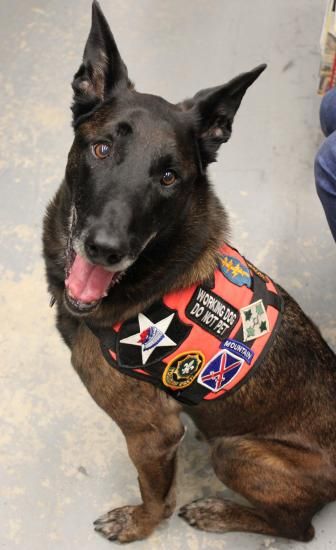 Doggles also became part of the uniform of the Military Working Dog. Dogs deployed to Iraq and Afghanistan have to endure hot, dry weather and copious amounts of sand and dust, so handlers began purchasing doggles for their partners to protect their eyes. Fausto's doggles were purchased by Jimmy's mom. He didn't really like them, but they prevented debris from getting into his eyes and causing infection.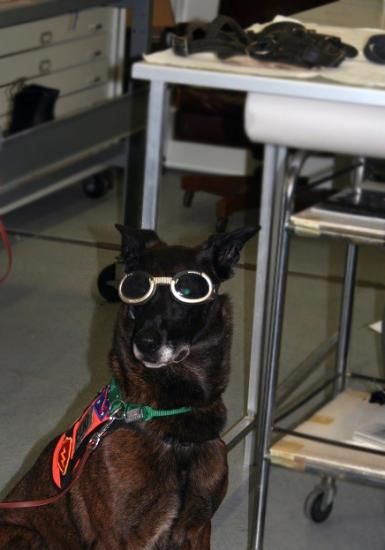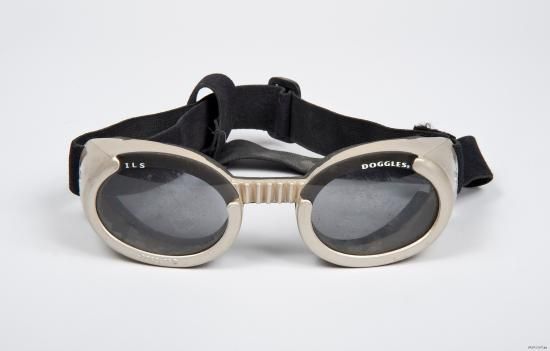 While the staff was interested in the doggles, Fausto eyed his old Kong toy that is part of the donation. I'm sure he wondered why it was just sitting on the table; after all, it should be in his mouth. Kongs, to the uninitiated, are cones of hard rubber with an opening at one end for placing treats inside. Sometimes there's a rope attached to the other end, to play tug. Either way, Military Working Dogs LOVE Kongs. They do what they do because the Kong is the reward for the bomb detected, or the enemy captured. All for a simple piece of super strong rubber invented by a man named Joe Markham.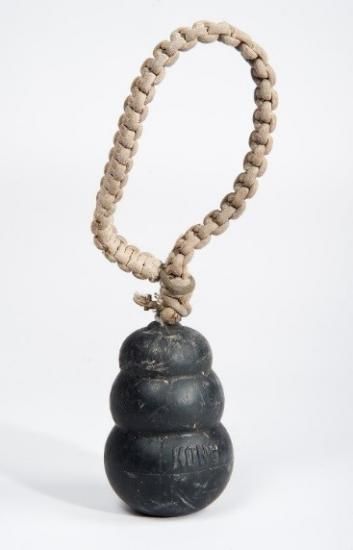 The Kong story began in the 1970s, when Markham accidentally discovered that his German Shepherd, Fritz, got immense satisfaction out of chewing a hard rubber suspension part from an old Volkswagon. Markham worked on the design, and found a rubber manufacturing plant in Colorado to produce them. The name "Kong" refers to a comment made about the shape of the toy looking like "an earplug for King Kong." Today, the company manufactures a variety of dog toys, but the original hard rubber cone is still the favorite in the Military Working Dog community. According to Maria Goodavage in her book, Soldier Dogs, Lackland Air Force Base in Texas, where handlers and dogs go for training, ordered nearly 10,000 Kong toys in 2010, just for the dog school and the handler course. The Kong company also donates Kongs to the military.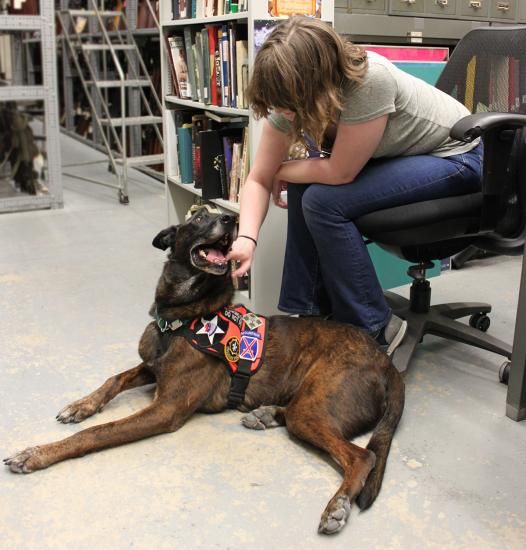 We spent the rest of Jimmy and Fausto's visit touring our firearms vault and pausing for a pizza lunch where Fausto charmed the staff with his playful demeanor. These days, he's taking it easy in his retirement; he no longer finds improvised explosive devices for a living, but instead accompanies Jimmy on fishing trips and helps him catch fish. It's been hard to adjust to not being together 24/7, and he really did love his job. … He's not sure about this retirement thing, but who said it was going to be easy? He'll adjust, though, as long as he's with his BFF, Jimmy.
This post was originally published on the National Museum of American History's blog on August 17, 2015. Read the original version here.