NATIONAL MUSEUM OF AMERICAN HISTORY
Ten Objects That Will Help You Understand Latinx History
In celebration of Hispanic Heritage Month, we've put together a top 10 list of the museum's most exciting Latinx history objects.
---
The National Museum of American History has over 2 million items in its collections, spanning every topic you could think of. And from wooden crosses to baseball uniforms to costume butterfly wings, our collections show that Latinx people have been an important part of U.S. history since the nation's beginnings. In celebration of Hispanic Heritage Month, we've put together a top 10 list of the museum's most exciting Latinx history objects.  
Note: some of the objects featured in this post are not currently on view at the museum. You can learn more about why we rotate what's on display in this post.
1. Selena's leather performance costume (1994)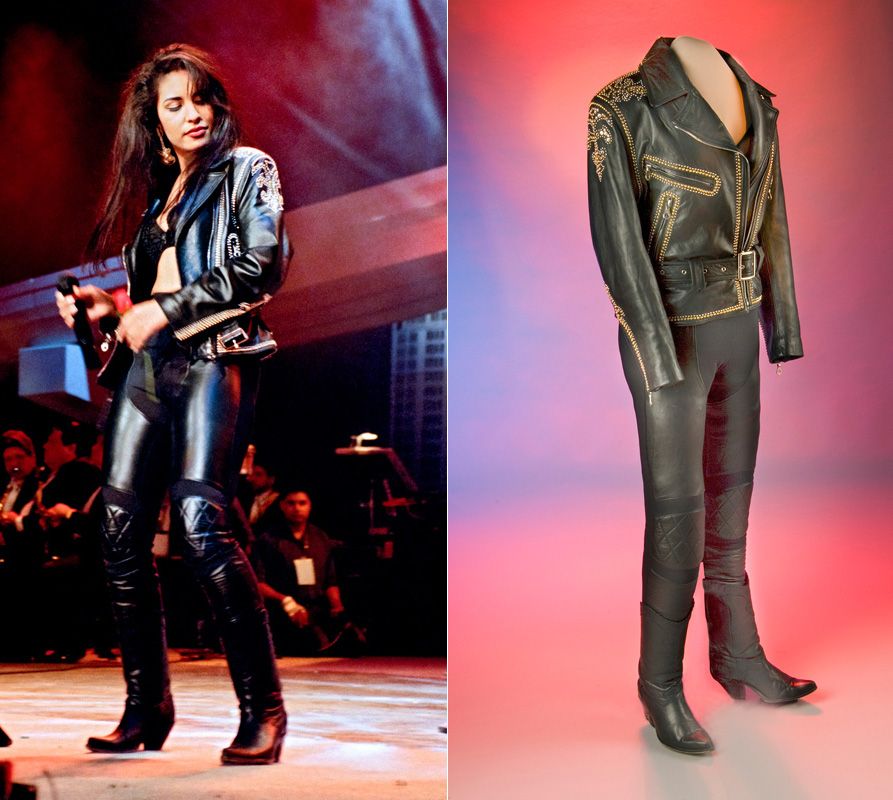 Selena Quintanilla-Pérez, better known simply as Selena, was an American singer-songwriter who became known as the "Queen of Tejano Music." Known for her sense of style—which merged  "sexy rebel and Mexican American good girl," as observed by this outfit's online record—Selena designed this leather and satin performance costume herself. Her meteoric rise was cut short at age 23 when she was murdered by the president of her fan club. Selena's posthumous album, Dreaming of You, her first in English, made her the first Latinx artist to debut at the top of the Billboard 200.
"Selena's music continues to animate family BBQs and celebrations like quinceañeras, as her music and story continue to inspire, resonate, and connect across generations and communities," said Verónica A. Méndez, a curator at the museum. "Almost 30 years after her tragic death, she remains one of the most influential Latina artists of both the 20th and 21st centuries."
The museum recently acquired 18 images of Selena taken by San Antonio-based photographer Al Rendon, who also shot Coca-Cola advertising campaigns of Selena. For more on Selena, check out this Latinas Talk Latinas video, this Learning Lab, and this rare interview footage discovered in a donated video camera. The jacket and bustier are currently on view in the American Enterprise exhibition.
The recent acquisition of Selena photographs by Al Rendon was made possible by the Latino Initiatives Pool fund and the Charles Bremner Hogg Jackson Fund.
2. Blanca Rosa Vilchez's suit from 9-11 (2001)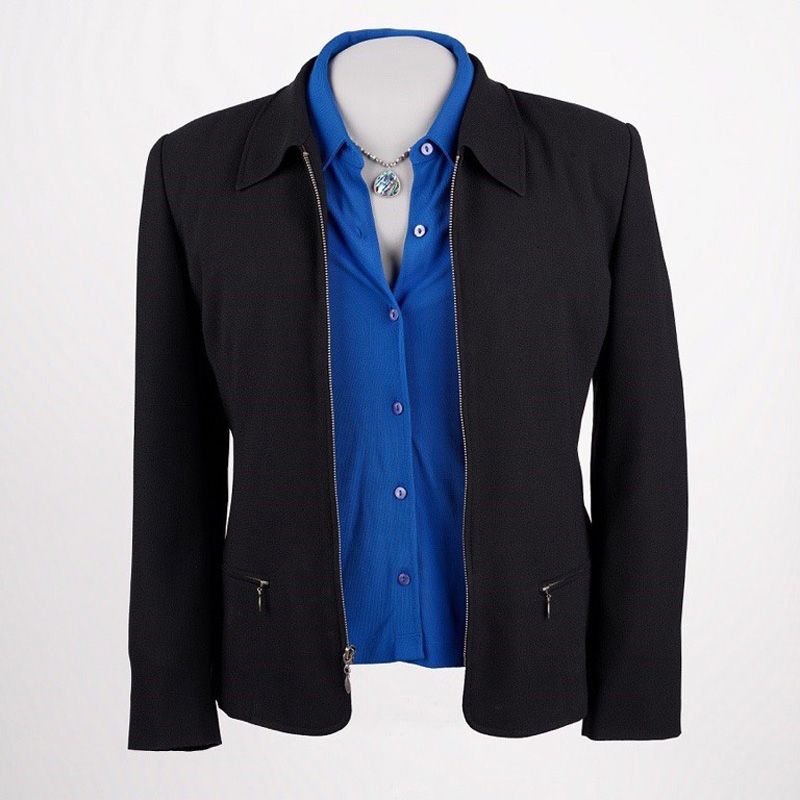 On the morning of September 11, 2001, Peruvian American reporter Blanca Rosa Vilchez and her team were reporting on the early hours of the New York City mayoral election in front of the World Trade Center. During their live coverage, the cameraman spotted an airplane flying into the first tower. Vilchez and her team ran for their lives, back to Univision headquarters, where she broke the news about the attacks to Spanish-speaking audiences around the world. She continued to report on the attacks for three consecutive days.
Vilchez told curators she had selected this blue jewel-toned blouse and black jacket specifically for that day because the weather forecast predicted clear blue skies. She never wore the clothes again. Vilchez donated the outfit to the museum in 2019.
To learn more about this outfit, check out the museum's NYC Latino 9-11 Collecting Initiative.
The New York City Latino 9-11 Collecting Initiative is supported through the Latino Initiatives Pool.
3. DACA butterfly wings (2018)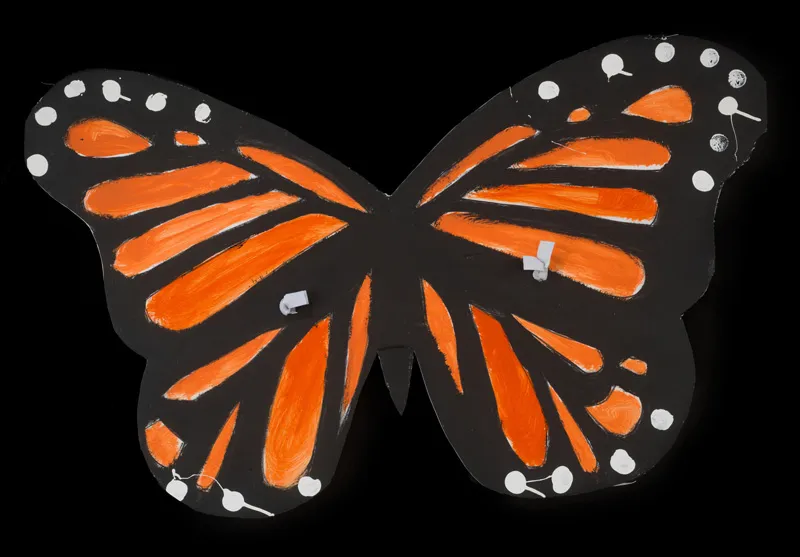 Monarch wings are an important symbol to undocumented organizers, especially Latinx immigrants coming from North and Central America. Each year, monarch butterflies take flight across the North American continent. "The butterflies' journey speaks to migration, survival, transformation, and the power of communities," said curatorial assistant Patricia Arteaga, who helped collect the wings.  
The museum's Girlhood (It's complicated) exhibition describes where these handmade cardboard butterfly wings came from. They were "worn by DREAMers from Nebraska on March 5, 2018, the day the DREAM Act hung in the balance and ultimately failed in Congress. Hundreds gathered in Washington, D.C., to make their voices heard."
These butterfly wings, currently on view in Girlhood (It's complicated), helped launch the museum's Undocumented Immigrant Activism collecting initiative.  
Girlhood (It's complicated) received support from the Smithsonian American Women's History Initiative. The Undocumented Organizing Collecting Initiative received federal support from the Latino Initiatives Pool, administered by the Smithsonian Latino Center, and the Asian American Initiatives Pool, administered by the Smithsonian Asian Pacific American Center.
4. Cesar Chavez's union jacket (1960s)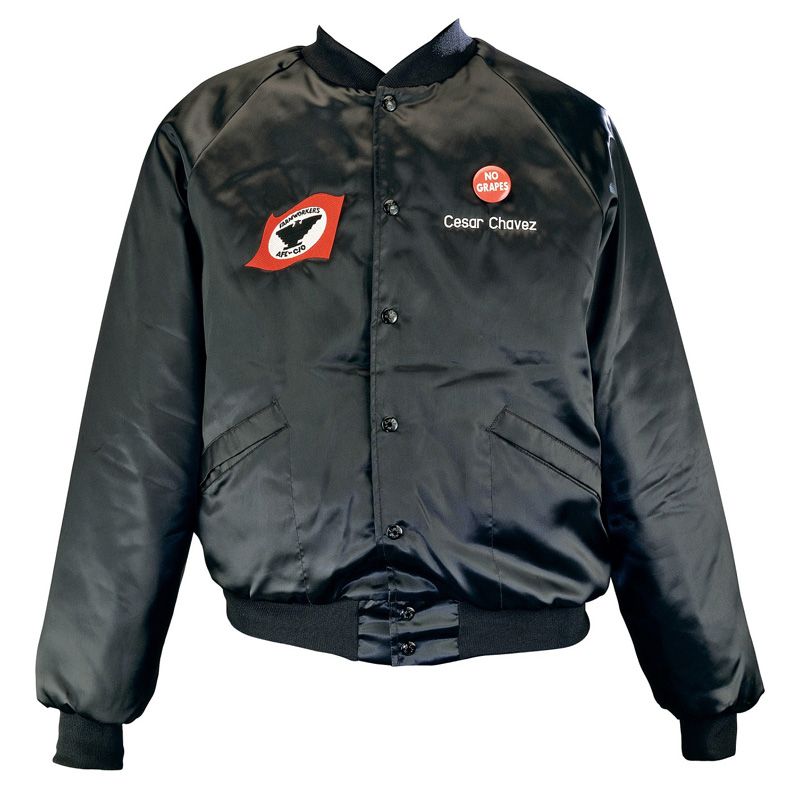 Emulating the values gained during his childhood as a migrant laborer, Cesar Chavez brought justice for the nation's most exploited workers to the fore. For decades, reformers and community leaders had been unable to organize agricultural laborers. This changed in 1962, when Chavez and Dolores Huerta organized the predominantly Latinx migrant workers to form the United Farm Workers, the first labor union of its kind. Chavez and Huerta took inspiration from early organizing by Filipino workers to achieve safer and more favorable working conditions for the most vulnerable American laborers through communal efforts like strikes, marches, boycotts, and fasts. Today, the union continues to fight for farm workers' rights to a safe workplace and a decent wage. After his death in 1993, Cesar's wife, Helen Chavez, donated his black nylon union jacket to the museum.
5. Beautyblender prototype (2005)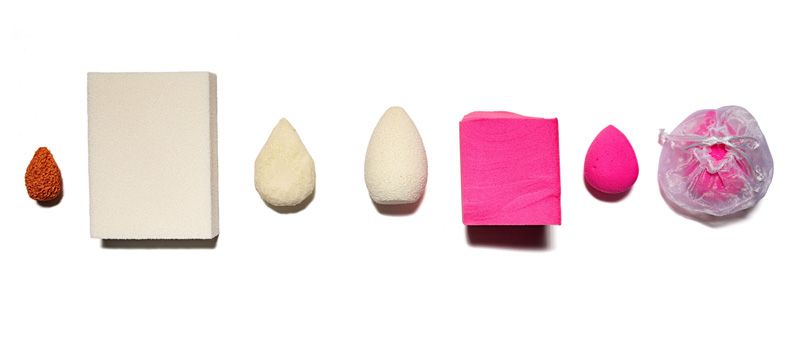 These prototypes are early renditions of the now ubiquitous Beautyblender sponge, created by Latina inventor and professional makeup artist Rea Ann Silva. As some TV and movie directors declined to work with Silva because of her ethnic background, she became known for her work with entertainers of color, including Kerry Washington and Regina King. The evolution of the sponge's design represents Silva's process to create a makeup application tool that met the demands of beauty professionals adapting to the burgeoning HD television and film industry. In 2003 Silva's iconic hot pink sponge hit the market, changing the beauty industry forever.
"In an arena where Eurocentric beauty standards have prevailed," said curator Crystal Moten, "Silva's contributions—not just the sponge but also a foundation line that includes a range of 40 shades—have helped shape a more inclusive beauty industry."
For more on Rea Ann Silva, check out this blog post. The Beautyblender is currently on view in the American Enterprise New Perspectives case "The Only One in the Room."
Leadership support for American Enterprise was provided by Mars, Incorporated; the Wallace H. Coulter Foundation; and SC Johnson. 
6. Frozen margarita machine (1971)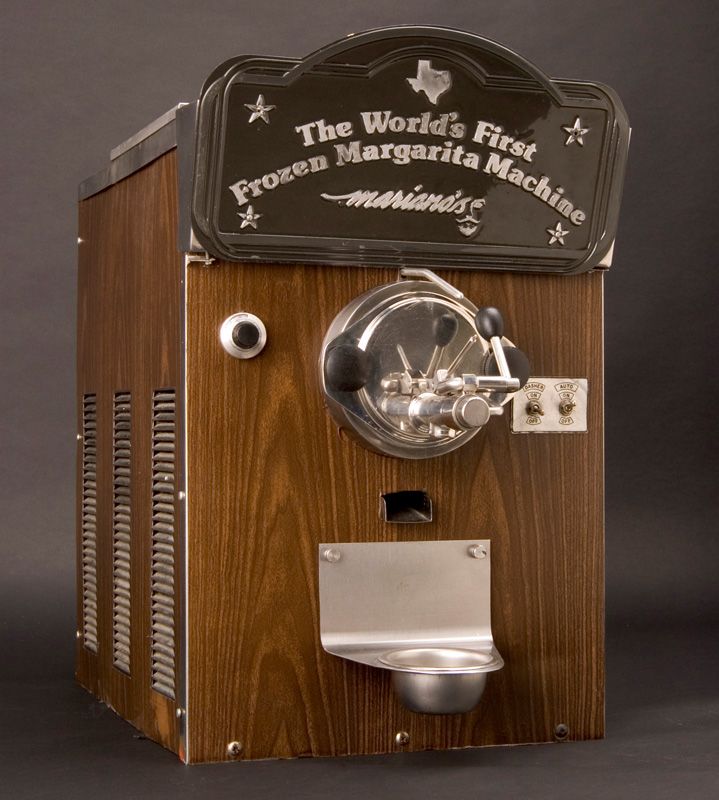 In the 1970s, the margarita surpassed the martini as the most popular cocktail in America, and salsa surpassed ketchup as the most-used condiment in American households. This modified soft serve ice cream machine found itself at the cutting edge of a culinary revolution. Texas restaurateur and entrepreneur Mariano Martínez wanted to help bartenders serve drinks faster to customers snacking on chips and nachos. Inspired by the 7-Eleven Slurpee machine, Martínez invented this appliance that could create frozen margaritas that were drinkable through a straw.
"During the wave of Mexican American and Chicano pride of the 1970s, his innovation helped catapult the popularity of Tex-Mex cuisine globally," said curator Steve Velasquez. After 34 years of blending lime juice, tequila, ice, and sugar into delicious frozen beverages, the world's first frozen margarita machine finally retired to the Smithsonian.
For more on the frozen margarita machine, check out this blog post. This object is currently on view in FOOD: Transforming the American Table.  
Leadership support for FOOD: Transforming the American Table is made possible by Warren and Barbara Winiarski (Winiarski Family Foundation), Brewers Association, The Julia Child Foundation for Gastronomy and the Culinary Arts, Land O'Lakes Foundation, 2018 Food History Gala Supporters and History Channel.
7. Celia Cruz's Bata Cubana (1992)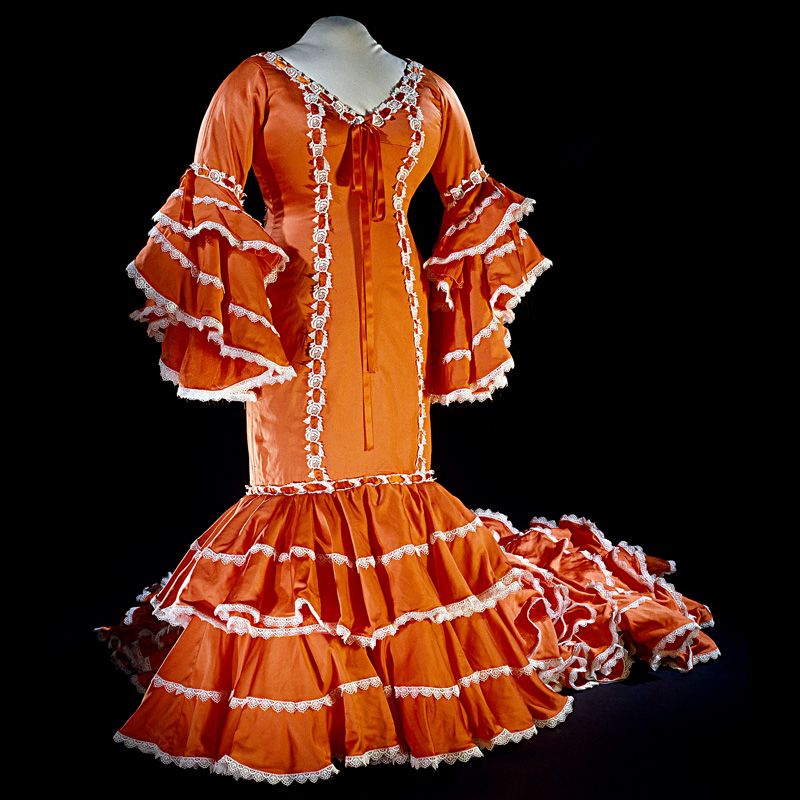 Cuban performer Celia Cruz coined one of the most recognizable phrases in Latin music: "¡Azucar!" ("Sugar!"). Known as the "Queen of Salsa," Cruz's legacy has been honored with a star on the Hollywood Walk of Fame, numerous Grammy and Latin Grammy Awards, and the rare Grammy Lifetime Achievement Award. Cruz donated this Bata Cubana, or Cuban rumba dress, to the museum in 1997. Her preferred performance costume, the Bata Cubana has its roots in the 1800s, with origins as diverse as the multicultural makeup of the Cuban people.
This item is not currently on view, but you can learn more about Celia Cruz's illustrious career through this blog post, this Latinas Talk Latinas video, and this Learning Lab collection.
8. Roberto Clemente's batting helmet and jersey (1960 and 1970)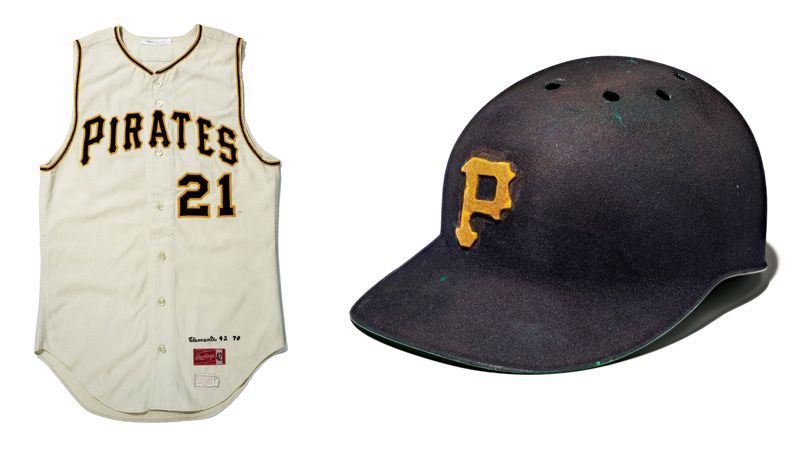 Baseball fans celebrate Roberto Clemente as "The Great One." A native Puerto Rican, Clemente began his 18-year tenure as an outfielder for the Pittsburgh Pirates in 1955. During his career in Major League Baseball, Clemente was a 15-time All-Star, earning 12 Golden Gloves, four batting titles, and the 1966 National League Most Valuable Player Award. Even more importantly, his accomplishments in the sport and resilience in the face of racism and discrimination won him the admiration of fans around the world. He remained committed to his community in Puerto Rico and played in winter leagues on the island. Clemente's career came to an abrupt and tragic end in 1972, when he was killed in a plane crash while delivering humanitarian goods to Nicaraguan earthquake victims. The following year, he became the first Latin American player to be inducted into the National Baseball Hall of Fame.
These objects from Roberto Clemente are just one of the ways the museum has marked Latinx contributions to baseball. Curatorial assistant Robin Morey said, "Latinos have had an outsized impact in Major League Baseball, and baseball has played a critical role in Latino communities across the country. For the past century, Latinos have used the game to organize for rights and social justice causes, to make a better life for themselves and their families, and as a way to build community."
The jersey and helmet are on view in the bilingual exhibition ¡Pleibol! In the Barrios and the Big Leagues/En los barrios y las grandes ligas.
¡Pleibol! received generous support from the Cordoba Corporation and Linda Alvarado, and federal support from the Latino Initiatives Pool, administered by the Smithsonian Latino Center.
9. New Mexican inlaid cross (1850–1900)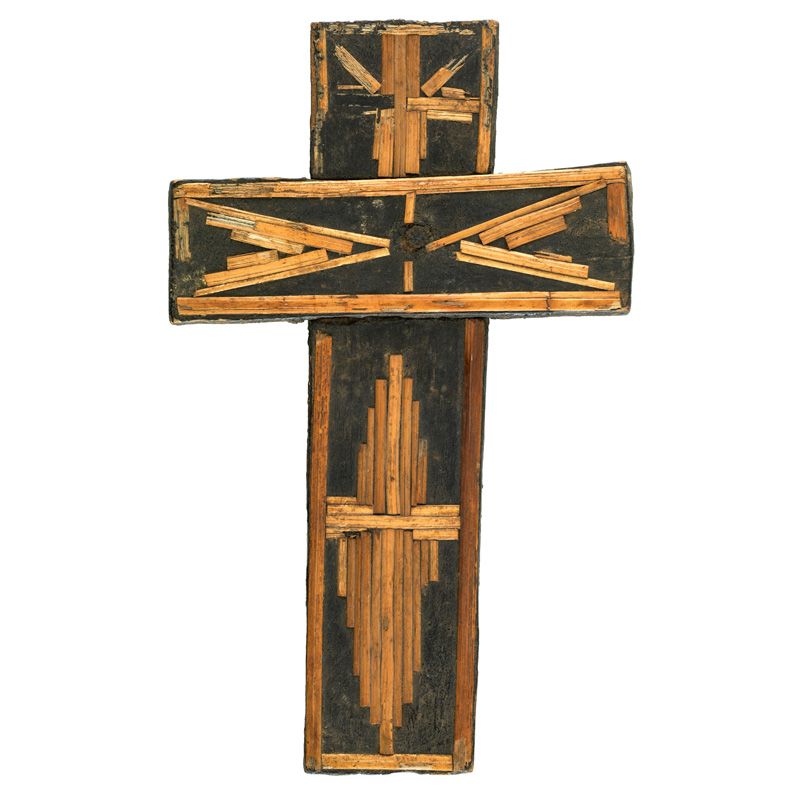 This wooden cross was likely made by members of the Zuni or Navajo community in what is now Gallop, New Mexico. The museum's Many Voices, One Nation exhibition describes how this cross may have originated. "Like many Indigenous groups, the Pueblo people resisted Spanish colonial efforts to suppress their spiritual beliefs and practices. Yet many did find meaning in new Christian teachings."
Across the continent, people joined new and old religious elements to create hybrid belief systems. This straw applique technique originated in Spain and was brought to Mexico at the end of the 1700s, where it was adopted by Indigenous people and became a popular artistic tradition. The geometric shapes and materials of indigenous art combined with elements of European Catholic devotional items created a new tradition carried on by artists and artisans today.
This object is currently on view in Many Voices, One Nation.
Many Voices, One Nation is made possible through major support from the Wallace H. Coulter Foundation │ Sue Van, the Stavros Niarchos Foundation, and the Zegar Family Foundation, as well as the generosity of our Family of Voices.
10. Oscar de la Renta evening dress (2002)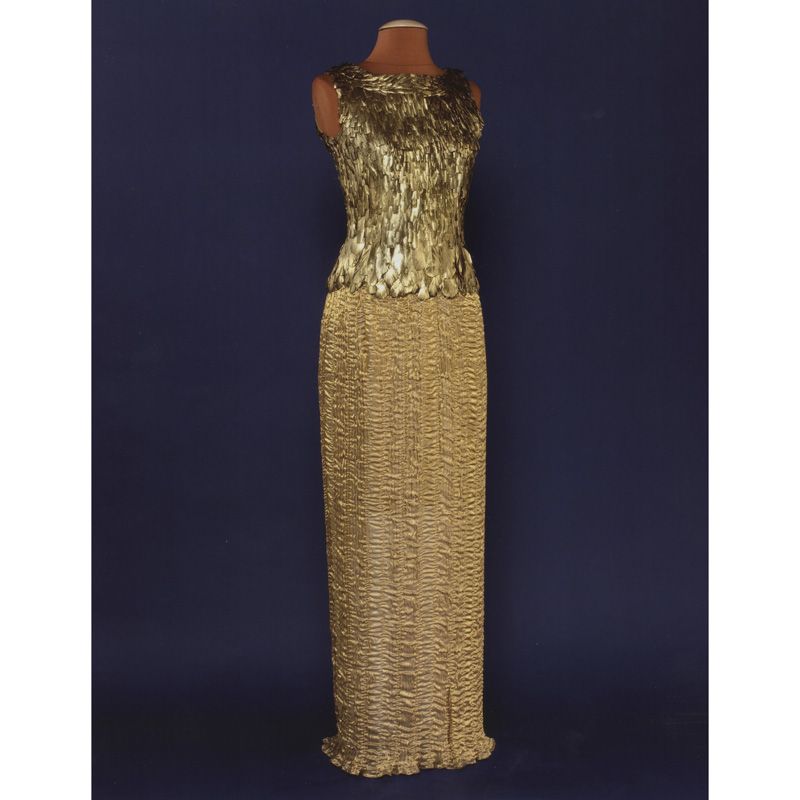 Óscar Arístides Renta Fiallo, known around the world as Oscar de la Renta, became the first Dominican to design for a French couture house. Born in Santo Domingo to a Dominican mother and a Puerto Rican father, de la Renta left home at 18 to study painting in Madrid. To help pay for his studies, he began sketching for leading Spanish fashion houses, where he was trained by renowned designer Cristóbal Balenciaga. De la Renta eventually started his own label and became internationally known in the 1960s as one of First Lady Jacqueline Kennedy's preferred couturiers. In 2002 this gilded dress, from de la Renta's final collection for the House of Balmain, debuted on the runway in Paris before finally arriving at the Smithsonian in 2003.
This post was originally published on the National Museum of American History's blog on September 30, 2021. Read the original version here.