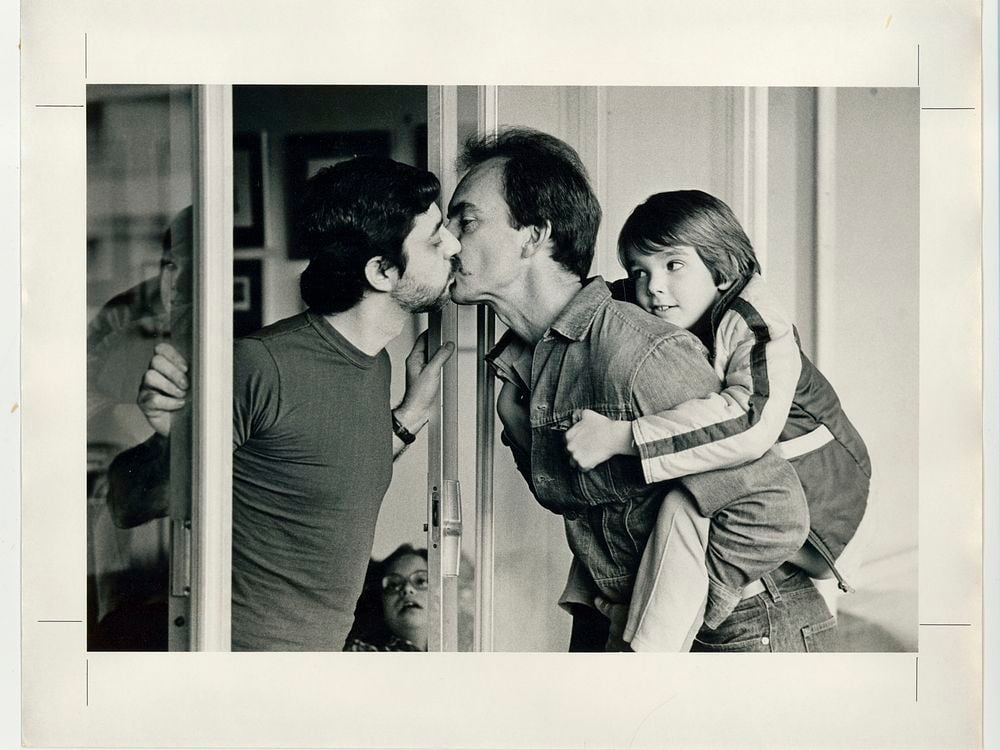 For Michael and Robert, the quick peck before a walk around the lake with Michael's son was an ordinary moment. For J. Ross Baughman, it was the moment he was positioned for and waiting to capture. "Gay Dads Kissing" was a history-making photograph that continues to hearten and resonate with many. The story of "Gay Dads Kissing" is a story about commitment to showing love and the waking up of the publishing world.
Baughman, a photojournalist with an interest in social justice, won the 1978 Pulitzer-Prize for his photographs of the brutal treatment of prisoners by Rhodesian Security Forces. Within a few years he left the Associated Press and opened the photo agency Visions. While running Visions between 1980 and 1986, he also worked on assignments for Life Magazine, pointing his camera to cover Cuban refugees, AIDS, and wars in central America and the Middle East. In his memoir, Angle, Baughman recounted how the powerful image of Robert and Michael—along with Eryn on piggyback—came to be.
In the fall of 1982, Baughman's attention was caught by a small notice, almost missed, in the Village Voice, an alternative newspaper in New York City, for the monthly meeting of the Gay Fathers' Forum support group. Compelled to understand what necessitated these meetings, he was permitted to attend and meet the group's members. In the 1980s most gay men still did not talk about or admit to being gay. Most gay dads lived as straight men in marriages. Baughman learned of the emotional and psychological pain and coping strategies that sometimes led to substance abuse. Baughman was also aware that a pending federal court case would decide whether gay fathers could have custody rights. Men like Michael and Robert worried whether federal power might take their children from them for having same-sex partners. Baughman pitched Life Magazine a story that would explore this question. Life agreed it could be a compelling article and gave him the go-ahead.
Baughman welcomed Anne Fadiman as writer for the article. Their goal was to depict a happy, healthy gay family with dads willing to be visible to the world. For their subjects, the stakes were high in the early 1980s. Life had yet to use the word gay in the magazine, or highlight any person as LGBTQ+, let alone put them on the cover. To be depicted in the prestigious picture magazine in an article titled "The Double Closet" could be personally risky for the couple. The photographer and author, with the help of the Gay Fathers' Forum's network, interviewed 49 couples before all the pieces and requirements fell into place.
Living outside of Toronto, Canada, Michael was a letter carrier and Robert was an applications coordinator at the Worker's Compensation Board while going to night school to earn a college degree. Between them they had four children, one of whom, a daughter with Down's syndrome (you can see her in the background of the photograph) lived with them full-time. Baughman stayed with the family over several days capturing other ordinary family moments, such as playing Pac-Man in the living room and splashing in the swimming pool. At the editor's request, Baughman also made a number of images that were designed for the cover of the magazine.
The pictures and text came together as a significant 12-page spread, but some obstacles began to emerge. One of the men's ex-wives felt anxious about exposing family stories, and worried for her children. Life showed the proposed article to a focus group of advertising executives who made the magazine's managing editor more cautious. The editors pulled the Baughman cover photograph and instead ran a picture of Debra Winger, the actor from the film An Officer and a Gentleman, in a black ball gown sitting in a bathtub full of bubbles. The title of Baughman and Fadiman's article is not listed on the cover. Life published the 12 pages, but without "Gay Dads Kissing." Thus, the most powerful and meaningful of the images landed on the photo editor's cutting room floor.
Baughman knew how important this photograph was for all those men and families he met at the Forum, those he and Fadiman interviewed, those whose relationships with their children hung in legal limbo, and all those who just simply needed to see this loving photograph. So, he sought publication elsewhere. "Gay Dads Kissing" ran in Christopher Street, a gay interest magazine, issue number 75, "Father Knows Best," with accompanying text written by one of the dads, Michael. "Father Knows Best" ran in April 1983, one month before the Life article. However, the Christopher Street article was still not a double-page spread like Baughman had hoped, so he continued to make the photograph available through his photo agency. Finally, Esquire magazine's special edition explored the theme "The American Man, 1946–1986." Baughman's photograph "Gay Dads Kissing" found its double-page spread in the section titled "In Love."
Michael recently shared in an email to me that Robert did have to prep his employer before the Life article was published. Within a few weeks of the article, Robert was being set up to be fired for being gay, but he had wisely set the stage to protect his job by garnering support from the chairman—a black man, who also understood what workplace discrimination meant. Michael also shared that he and Robert remain pleased to have been part of the history that raised the issue of parental rights for gay parents to a wider audience. For a while they were recognized in public and approached by individuals who found comfort and relief in making their story known. They were interviewed on the Phil Donahue Show as well as other print and television outlets. But they began to pull back from media requests when they thought it might have a negative impact on the children.
Michael and Robert have been together for almost 40 years and were married in 2011. Together they have owned successful businesses in the restaurant and leisure industries. Sadly, Michael's daughter, Brittan, seen in the background of "Gay Dads Kissing," passed away at the age of 33 from pneumonia. The other three children are doing well with their various careers, spouses, and children.
This post was originally published on the National Museum of American History's blog on June 20, 2020. Read the original version here.