Will Work for Brain Scans
Your dream job—part-time zombie? candle consultant?—is only a click away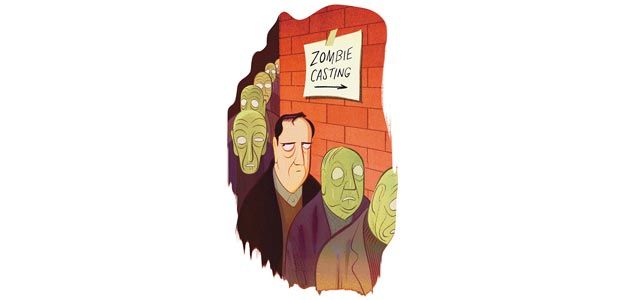 You know those days when your income no longer quite equals your outgo? Or when a friend suddenly discovers that Bangalore is not a party treat, but the new home in southern India of what used to be his career? That's when I turn for comfort to the offerings on Internet job sites like Craigslist.
Naturally I skip past all the practical stuff. I know I would be a truly fine database administrator and an important addition to the team at (INSERT YOUR COMPANY NAME HERE), once I find out what a database is. But I don't sense much magic there. Likewise, the many splendid career opportunities in health care administration fail to appeal because, to be honest, I don't like being around sick people. (Oh, wait, that's a prerequisite.)
What interests me are the unusual jobs, with the potential to tap my tremendous, though so far wonderfully disguised, career potential. And while classified ads in the newspaper are mostly limited to local opportunities ("grease cleaner, must be team player"), Craigslist lets me go global. Thus I spent much of one recent departmental meeting trying to decide, with the help of my iPhone, whether I should become a caretaker for a Buddhist monastery on the coast of New Zealand ("Perfect for a service-oriented person interested in self-development, peace and wisdom") or a pub-crawl promoter in Prague where the Zen seemed to be mostly about finding the sweet spot between strolling and staggering. I applied to become a Zakelijke Uitdaging in Amsterdam, basically because it sounded so cool. Then I found out that it actually means "business challenge" in Dutch, and since my colleagues assure me that I am already a business challenge, this would be a lateral move.
Apart from language issues, it's important to keep a few caveats in mind: any job advertised as "high class" usually requires you to get naked, or cheat grandmothers—possibly both at the same time. Also beware that many Internet job offerings make no sense, like the one seeking "hard-working college students" or another headlined "Rock Stars Wanted!" followed by the words "must pass drug screening." (But, dude, the job is, like, the next best thing to groupies. You sit in a cubicle, phone up total strangers and ask if "they want to lower their phone, cable and Internet utility bills!")
Compensation may be a problem. I was briefly excited by the possibility of earning $50 an hour as a "candle consultant," but the phrase "earn free candles!!!!" set off alarm bells. Another ad offering "Intern Position at Organic Farm" promised "$200 at the end of 120 hours," translation: "Indentured Servant Wanted for Stoop Labor (other leafy greens negotiable)." An ad seeking parents of suicidal teenagers for a scientific study offered $20 an hour PLUS PLUS PLUS a "complimentary CD with images of your brain." And if an ad promises you "an income stream of $6,000 a month, and you only have to pay $27 once," please say hi to all my good buds in Nigeria (and ask when they will be sending the other half of the formula for spinning bellybutton lint into gold).
But I'm starting to sound like one of those ads for a prescription drug where the side effects are worse than the disease. This is my cue to spend a little more workplace time polishing my "Personal Mission Statement" and practicing "Positive Career Management Visualization." That way I will be ready when the right job turns up on Craigslist. Just now, for instance, I spotted a "Casting call for zombie/horror movie" in New Jersey, which would have been perfect, except that I am apparently too old to play someone who has recently been dead. Still, I remain "confident and self-assured," because I know that the opportunity of a lifetime is just another 20,000 or 30,000 clicks away.
Richard Conniff's newest book is Swimming With Piranhas at Feeding Time: My Life Doing Dumb Stuff With Animals.