Where's the Lunch? Looking at Renoir's Luncheon of the Boating Party
"It's like a painting about the most perfect meal that ever was—but you can't tell what most of it was," says a Phillips Collection curator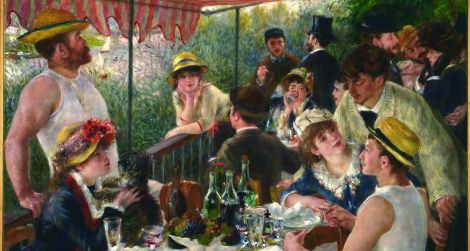 Mealtimes are fairly well represented in fine art. Wayne Thiebaud had an affinity for deserts. Manet gave us images of Breakfast in the Studio and Luncheon in the Grass. And I think Da Vinci may have a dining scene in his oeuvre as well. And then there's Pierre-Auguste Renoir's instantly recognizable scene of a convivial bunch of diners enjoying a summertime meal alfresco. Completed in 1881, Luncheon of the Boating Party is one of the most famous midday meals committed to canvas, but it's curious to note that in spite of the title, there's precious little food to be seen. Taking a cue from Clara Peller, I have to ask: where's the lunch?
"It's like a painting about the most perfect meal that ever was—but you can't tell what most of it was," says Phillips Collection Chief Curator Eliza Rathbone. By the time we see the table, all that's left are a few not-quite-empty bottles of wine and a compotier of fruit such as grapes and pears, perhaps a peach or two. "It's the end of the meal. And I think that's one of the reasons why it's such a beguiling picture. It's of that time that comes when everyone has had a delicious meal, they've all gathered, they've focused on the food and now they're just focusing on each other and this beautiful day and they don't want it to be over. And we've all had those kinds of experiences where you want to linger and those are the best meals we ever have."
The scene takes place at the Maison Fournaise, an open-air café on the Ile de Chatou where people of all social classes mixed and mingled as they enjoyed their leisure time away from the bustle of the city. In its heyday the Maison was a popular hangout for artists. It remains open for business, although the scenic views have changed a bit since Renoir's time.
But it seems Renoir wasn't much of a foodie. In a memoir, son Jean Renoir, who made a name for himself as a film director, remembers his father preferring simple fare, even when finer things—like veal and soufflés and custards—were laid on the table. In terms of food as a subject for his paintings, actual foodstuffs crop up most often in his still lifes, and even then, his attentions turned to raw ingredients instead of finished dishes. "He could paint a beautiful onion," Rathbone says. "They're the ingredients in their most natural form, which is their most beautiful moment. Let's face it, a chopped onion isn't nearly as beautiful as an onion whole. I think Monet and Caillebotte did more prepared food in their still lifes than Renoir did. We have a wonderful still life in the collection that's a ham and it's a marvelous subject in Gauguin's hands. He makes the most beautiful ham you ever saw."
Instead, Renoir seems to prefer to focus on the social aspect of the dining experience. "He was a people person, and people love food. So I think the subject came to him naturally."
Next time you are in the D.C. area, you can enjoy Luncheon of the Boating Party first-hand at the Phillips Collection, which is a short walk from the Dupont Circle metro.