Where Does Your Olive Oil Come From?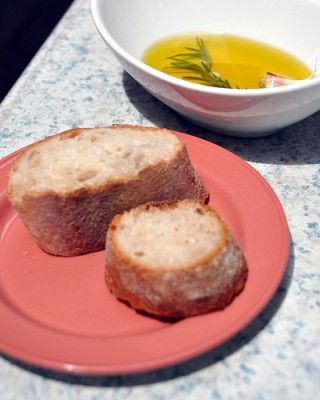 Although people usually associate olive oil most closely with Italy, Spain is the world's largest producer of the stuff. In fact, chances are good that, if you have tasted olive oil, you have tasted olive oil from Spain.
A few days ago I attended a presentation on Spanish agricultural products at a language school and fair-trade store in upstate New York where I used to take Spanish lessons. The presenter, Thilo Ullman-Zahn, imports artisanal olive oil from Spain, which we got to sample, along with some Manchego cheese and Rioja wine.
Frankly, I was more eager to try the Rioja and Manchego—both of which were delicious—than the olive oil, but it was interesting to learn about it. And, as it turned out, interesting to taste. We sampled two types of oil from an estate in southwestern Spain: Marqués de Valdueza extra virgin olive oil, which is best for dipping, drizzling or using in dressings; and Merula, the estate's all-purpose extra-virgin olive oil, intended for cooking. We didn't use any fancy techniques, like aspiration, that professional tasters employ—we just dipped in a spoon and slurped. But the difference between the two oils was easily discernible, even by a novice like me. The Merula, blended to be more robust so that the flavor can withstand heat, was bland initially, then "blossomed" with fruity olive taste. The Marqués de Valdueza oil, Ullman-Zahn told us, is blended for aroma, so that its fragrance and flavor are immediately apparent. The oils are made from a blend of four varieties of olives, in different combinations, each with different characteristics: arbequina is a little sour with a flavor that fades quickly; hojiblanca is "fruity, sweet and peppery"; morisca is sweet, but difficult to grow; and picual has the most robust flavor.
In Spain, he said, it has become fashionable in the last 20 years or so to eat toasted bread drizzled with olive oil for breakfast—not a bad idea, with a good-quality, flavorful oil, since it is considered a healthier fat than, say, butter or cream cheese.
Italy doesn't grow nearly enough olives to satisfy domestic demand, much less feed the international appetite for "Italian" olive oil—which probably has more to do with perception than its inherent superiority. So it imports oil from other countries, including Spain, processes and packages it, and re-exports it with an "imported from Italy" mark. Sure enough, I went home and looked at my bottle of Filippo Berio extra virgin olive oil in the cupboard. In the top left corner of the label it said, "Imported from Italy," but on the back it said, "Packed in Italy with select extra virgin olive oils from Italy, Spain, Greece and Tunisia."
Until July 2009, the European Union didn't require olive oil labels to state the country of origin of the olives used in the product; if it was packaged in Italy, that was good enough. Under the new rules, though, intended to combat fraud in the industry, labels have to identify the origin; if it's a blend, the label must specify whether it comes from EU or non-EU countries.
Of course, this only takes care of the most obvious form of misrepresentation in the business—olive oil fraud has been a problem since at least Ancient Greece. It probably won't stop those who try to pass off hazelnut or sunflower oil as olive oil, using devious methods—like adding chlorophyll and flavorings—recounted in a 2007 article in The New Yorker.
However, it will bring olive oil closer to the way other agricultural products, such as wine, are labeled, and might even give the other oil-producing countries a little more recognition.