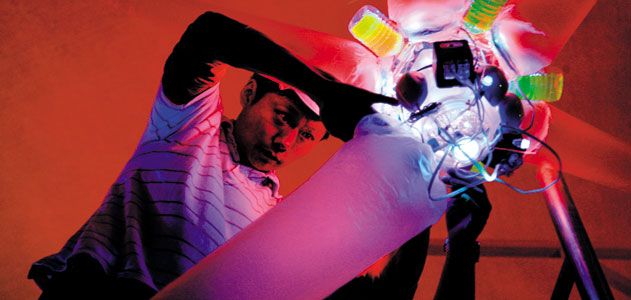 Pop-up Art
Through November 27, the Anacostia Museum celebrates artist BK Adams, who places sculptures in unexpected public locales. Adams describes his work, which is made from everyday objects, as a call to the viewer to get personally involved with art.
Glow in the Dark
Shih Chieng Huang lights up the Natural History Museum with innovative installations inspired by bioluminescent organisms that live in the darkest parts of the oceans. "The Bright Beneath" is open for exploration through January 8, 2012.
Executive Décor
The "People's House" has been home to decorative objects made by the finest craftsmen of their era. Through May 6, 2012, the Renwick Gallery displays 93 White House treasures from as far back as 1814.
Mini-Mementos
During the 18th and 19th centuries, miniature portraits were popular as romantic gifts, keepsakes and even political memorabilia. View more of these tiny masterpieces at the National Portrait Gallery through May 13, 2012.
Laughing Matter
Phyllis Diller, 94, broke the gender barrier in stand-up comedy and pushed the boundaries of humor during the staid 1950s. A cabinet filled with 50,000 of her jokes is the centerpiece of an exhibit about her career, at American History through October 31.