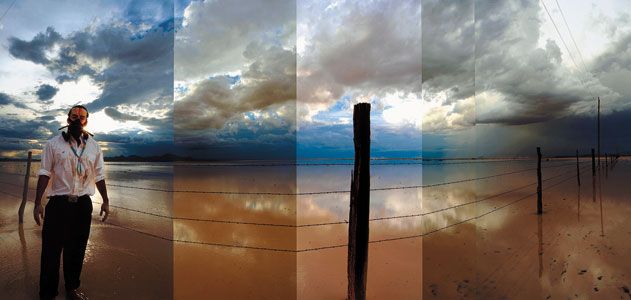 Points of Views
In 2004, artist and photographer Will Wilson created a series of digital collages depicting himself as a traveler through the now-polluted landscape of the Navajo reservation where he spent his youth. Wilson is one of 25 contemporary artists featured in the show "Vantage Point," at the American Indian Museum until August 7.
In For A Pond
John Gossage's The Pond (1985) is one of the most influential photography books ever published. See the book's portfolio at American Art through January 17.
Journalism's Leading Lady
The Watergate scandal transformed Washington Post publisher Katharine Graham (1917-2001) into a journalistic icon. See a chronicle of her career at the Portrait Gallery until May 30.
All Together
"Everything," a survey of abstract works by Argentine artist Guillermo Kuitca (b. 1961), can be viewed at the Hirshhorn Museum until January 16.
Watching Poetry
Fiona Tan's The Changeling, at the Sackler Gallery until January 16, features a photomontage of Japanese schoolgirls, accompanied by a recorded poem Tan wrote about life's journeys.