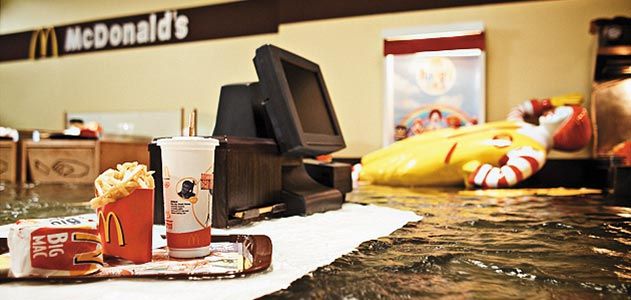 Hail To The King
In 1956, Alfred Wertheimer followed and photographed a little-known, 21-year-old Elvis Presley on the road. See 56 of these images at the Portrait Gallery, beginning October 23.
China Mania
Blue-and-white Chinese porcelain was all the rage in 1870s London. The Freer Gallery displays 23 pieces of porcelain and related artwork through August 7, 2011.
Personal Troves
Opening October 15 at American History, the personal collection of Bernard and Shirley Kinsey chronicles some 400 years of the African-American experience.
Mcflood
A life-size replica of a fast-food restaurant slowly fills with water—courtesy of the Danish art collective Superflex. View its 21-minute film through November 28, 2010, at the Hirshhorn.
American Splendor
This Maya Warrior Figure is one of more than 700 works of Native American art—representing indigenous nations from across North, Central and South America—in a new permanent exhibition opening at New York City's George Gustav Heye Center on October 23.