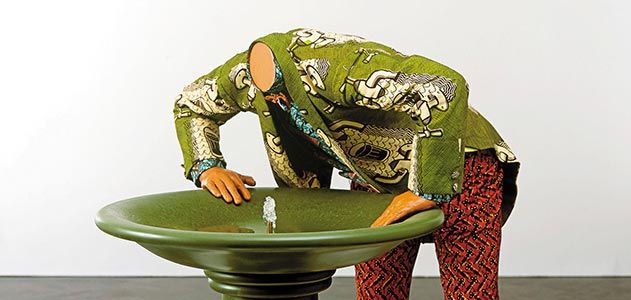 Kilns of Kyushu
Korean potters brought their glazed porcelain techniques to Kyushu in the 16th century, making Japan's southernmost island a pottery paradise. See their works at the Freer through January 9, 2011.
A Little Bit off the Top
Artist Yinka Shonibare specializes in headless sculptures. His Headless Man Trying to Drink alludes to the growing shortage of potable water worldwide. Come face to face with more of Shonibare's wonders at African Art through March 7, 2010.
Sisters For Justice
For 300 years, nuns such as civil rights activist Dolores Bundy have been a force for social change. An exhibit of photographs chronicling their efforts opens January 15 at the Ripley Center.
Hail to the King
The National Portrait Gallery celebrates Elvis' 75th birthday by focusing on idealized images of the King of Rock 'n' Roll created after his death. Opens January 8.
Window Watching
Through September, relive Christmases past at American History, where photographs and posters celebrate the golden age of department store decorations, from the 1920s to the '60s.