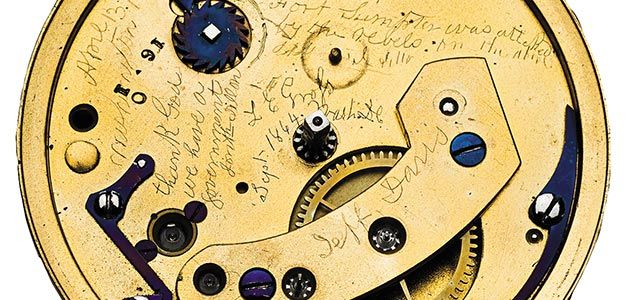 Watchwords
When curators at the National Museum of American History opened Abraham Lincoln's pocket watch on March 10 looking for a rumored inscription by the man who repaired it in April 1861—"Fort Sumpter was attacked by the rebels..."—they also found an unexpected inscription: Confederate President "Jeff Davis," and a signature, "L E Gross, Sept. 1864."
Spirit of the Sea
The many faces of Mami Wata ("Mother Water") reveal themselves at the African Art Museum until July 26. The deity is still worshiped throughout Africa and is often portrayed as a snake charmer or double-tailed mermaid.
Draw Thyself
The late Elaine de Kooning (1918-89) was an Abstract Expressionist who painted JFK's portrait for the Truman Library. Her self-portrait is part of a National Portrait Gallery exhibition through August 16 of famous artists' self-depictions.
Go, Cubs!
Two rare clouded leopard cubs joined the National Zoo family March 24, the first such births there in 16 years. At a half-pound each, they are the most "genetically valuable" litter in North America; bred from Thai parents, they add much-needed genetic diversity to the captive population.
Navajo Wonder Women
Graphic artist Jolene Nenibah Yazzie tells the story of her Navajo roots through illustrations of female warriors. See more than 35 examples of "Comic Art Indigène" at the American Indian Museum until May 31.