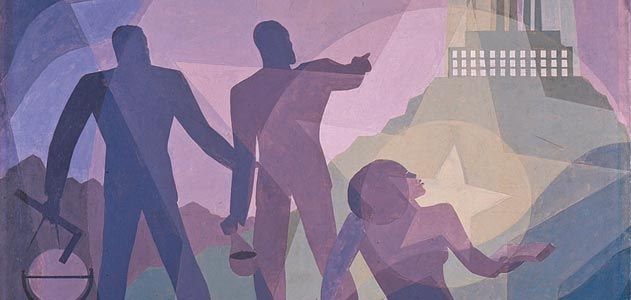 Classic Celebs
Edward Steichen photographed icons of the early 20th century—like Chinese-American starlet Anna May Wong (1930)—for Condé Nast Publications. The exhibit at the Portrait Gallery runs until September 1.
Sound and Color
Jazz music and African art inspired Harlem Renaissance painter Aaron Douglas in works like Aspiration (1936). See his paintings at American Art through August 3.
One Man's Trash...
Ghanaian artist El Anatsui collected 31,500 lids from Peak brand condensed milk cans to create Peak Project (1999). His work, at African Art until September 7, sheds light on waste and consumption.
Did You Know?
Discover why there's a statue of Benedict Arnold's boot in Saratoga, New York, and other little-known, surprising facts in America's Hidden History by Kenneth C. Davis, new from Smithsonian Books.
The Art of Making Tea
Japanese elites brewed fine Chinese tea in this tiny pot, then sipped from small cups to savor the expensive drink. Sample "Tea for Everyone" at the Freer until September 7.