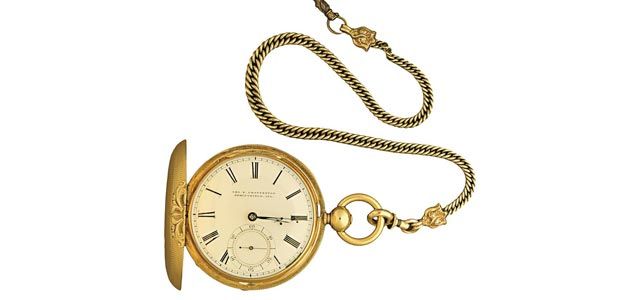 Just In Time
"A personal extravagance" is how curator Harry Rubenstein describes Abraham Lincoln's gold watch. See other items Lincoln held dear in an exhibit at the American History Museum through 2011.
Glass Houses
Architect Philip Johnson originally envisioned the Hirshhorn Museum as a glass tower in a utopian "town of culture" in Ontario, Canada. Tour an exhibit of pictures and architectural drawings of the museum that might have been at the actual Hirshhorn until March 22.
In the Abstract
The 1940s and 1950s saw the birth of American abstract art (Figure in Black [Girl With Stripes], Robert Motherwell, 1947). A traveling exhibit showcases 31 of the most celebrated artists from the era. At the Patricia & Phillip Frost Art Museum at Florida International University until March 1.
Water Worlds
Ocean dwellers galore appear in entries to this year's Coastal America Ocean Art Contest. See artworks by children of all ages at the Natural History Museum until March 29.
Something to Celebrate
Junkanoo and Kwanzaa are among the 50 African-American festivals and rituals portrayed in artifacts and images at the Anacostia Community Museum until September 20.