What's Up
Live Orchids, Japanese art and African masks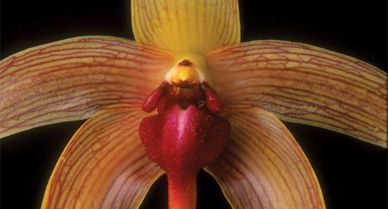 High-Concept
Forty photos taken by satellites reveal the often surprising structure of earthly features. At the Air and Space Museum until January 7, then traveling through 2009.
Impressionable
Many of the 26 paintings in the Halff Collection, at American Art until February 4, reflect the Gilded Age fashion for all things Japanese.
Strange Bloom
Pretty? Yes. But it isn't Bulbophyllum echinolabium's bright colors that attract pollinating flies—it's the putrid stench. Sniff out a few hundred live orchids at the Museum of Natural History starting January 27.
Spicy Spiral
Simryn Gill's first major U.S. show is at the Sackler Gallery until April 29. The Singapore-born installation artist's work is postmodern, multicultural—and meticulous. Sackler staff spent three days reassembling her 16-foot Forking Tongues out of dried chilies and thrift-store cutlery.
Pieces of Africa
The New Orleans Museum of Art, graced with one of the nation's finest collections of traditional African works, is lending sculpture, masks and costumes to the Smithsonian's Museum of African Art until January 28.