What's Eating Us About That "Hauntingly Beautiful" Chipotle Ad
Beyond the scarecrow and the conveyer belts, where is the line between truth and fiction in the viral video?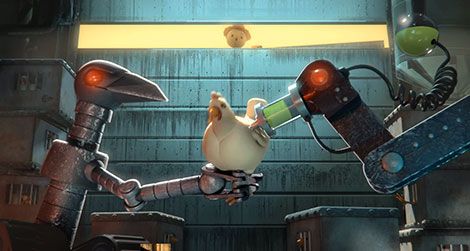 You have to hand it to Chipotle. Not only has the company released a captivating and buzz-worthy viral ad/video game package, with The Scarecrow, but it has also managed – in just a few short years – to position itself as a viable alternative to other fast food menus leaden with industrially produced meals.
Indeed, a slick dystopian storyline and a heart-wrenching soundtrack do go a long way these days. And Chipotle made a smart choice when they hired MoonBot Studios, a meticulous, craft-obsessed media firm, which apparently spent two years  developing nearly 200 incarnations of the brief story before landing on the current scarecrow-as-farmer-who-bucks-the-system narrative. The final product has been called hauntingly beautiful, brilliant, and amazing by more some of the most influential voices online.
Now that the dust has settled, and nearly 6 million people have seen the video on YouTube, some viewers may be left wondering: Could it really be that simple? Does Chipotle really represent the "other side of the food debate," as this article from Midwest-based food and farming reporting collaborative Harvest Media implies? As I see it, the answer is: Yes. And no.
On the one hand, Chipotle has built its brand — and taken a significant business risk — by sourcing higher quality ingredients. In addition to buying some locally sourced produce, the cornerstone of this effort has been a commitment to serving meat raised without subtherapeutic (or growth-promoting) antibiotics. But that hasn't always been easy to do, and finding a consistent source of this meat can be difficult. In Chipotle's 2012 Annual Report, the restaurant acknowledges this fact, saying:
Some of our restaurants served conventionally raised beef for short periods during 2012 and the beginning of 2013, and more of our restaurants may periodically serve conventionally raised meats in the future due to supply constraints. When we become aware that one or more of our restaurants will serve conventionally raised meat, we clearly and specifically disclose this temporary change on signage….
More recently, the company has been in the spotlight for considering a switch to less-stringently produce "naturally raised" meat, and acknowledges that it may take less of a hardline approach to antibiotics. The company, says NPR, is "evaluating if this strict 'never-ever' antibiotic protocol is best for the animals, or whether animals can be treated when necessary and allowed to remain in the herd."
We'll go a little further into these supply constraints later, but for now, it's worth acknowledging that these practices (and the company's expressed interest in remaining transparent about it) has legitimately set Chipotle apart from many competitors.
On the other hand, let's not forget that Chipotle is, ultimately, a giant company that does many things on what is more-or-less an industrial level. According to the latest annual report, Chipotle has close to 1,500 restaurants and, by the end of2012, it employed about 37,000 people, including about 34,000 who work hourly. Their average starting salary is $10.50 an hour, or a little higher minimum wage. In 2012, AOL reported on their employment practices:
A crew member is paid an average of $8.51 an hour, according to Glassdoor.com, compared to $7.63 at McDonald's, $7.69 at Wendy's, and $7.80 at Burger King.

Still, some Chipotle employees gripe anonymously on Glassdoor.com that they're underpaid, given the intensity of the grind.

"Full-time effort for part-time pay," wrote one crew member in Brunswick, Ohio. "The amount of pressure for a burrito joint is unheard of!" chirped another in Austin, Texas. And true enough, most Chipotle employees work full-time hours, Chipotle spokesman Chris Arnold said, although schedules can vary.
None of these employees are unionized or covered by a collective bargaining agreement. Last year, after refusing to do so for six years, the company finally signed on to a fair food agreement that provides tomato pickers in Florida with one penny more per pound.
Chipotle's business model also requires a few other departures from the scarewcrow's quaint little taco stand sourced with produce fresh from his farm. For one, the average restaurant sales were $2.113 million, meaning it sells around 3 billion dollars of food every year, resulting in revenue of over $800 million.
Of course, none of these factors mean that Chipotle can't, or shouldn't be sharing its interpretation of the realities of our food system. But "The Scarecrow" raises other, bigger questions about just how far a private business can truly go to change that system on their own.
In a corporate statement released by the company on the day the video went live, Mark Crumpacker, chief marketing officer at Chipotle said:
In a system that is so heavily dominated by industrial agriculture and factory farms, we are committed to finding better, more sustainable sources for all of the ingredients we use and to helping build a better food system, much the same as the character in 'The Scarecrow' is taking important steps to fix what he perceives as being broken in his world.
Providing a larger market for sustainably raised food has its value. But as the shortage of antibiotic-free meat mentioned above implies: That's not all there is to it. Companies like Chipotle can help drive a small wedge into, say, the highly consolidated livestock industry (where in four companies—Tyson, Cargill, JBS, and Smithfield—process more than half of the meat we eat). But they're much less likely to get involved when it comes to say, helping new farmers access the land or capital required to start the kind of antibiotic-free and pasture-based operations that many consumers are asking for. Food industry consolidation has also resulted in a great deal of  political power for the industry in the states where the nation's farm policy is decided, so that efforts like The Beginning Farmer and Rancher Opportunity Act in this year's Farm Bill, for instance, often lack a solid base of support.
This is not an argument for Chipotle to start lobbying in Washington (although things could get interesting if they did). But let's not pretend that three minutes of dramatic, well-scored animation (nor the upcoming "TV show-length Big-Food-busting dark comedies, Farmed and Dangerous, that Chipotle will post online sometime in 2014") is enough to single-handedly turn a huge, entrenched industry on its head. And we shouldn't expect it to. But this ad – and the response it has generated – certainly says a lot about the increased expectation on big businesses to solve the problems other big businesses have wrought. Or, maybe that's just what we tell ourselves — as we wait for the next sleek video to be released.