What's Behind ABBA's Staying Power?
Don't call it a comeback. With a new movie and new music on the way, ABBA remains as relevant as ever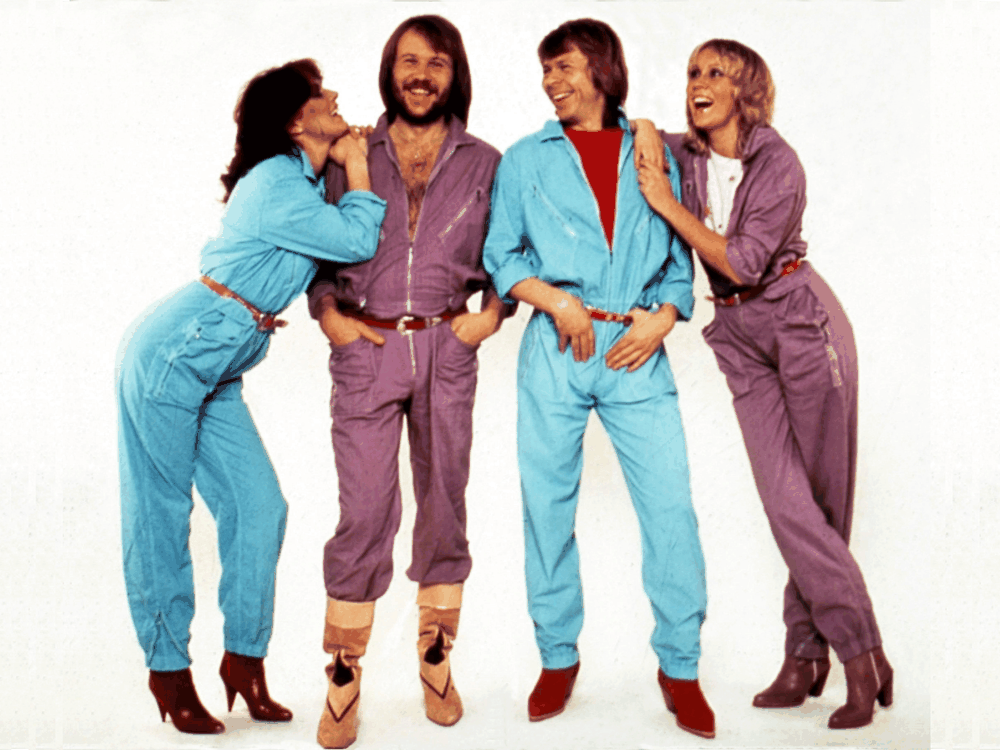 The plan was to see The Pink Panther Strikes Again, the fifth film in the Peter Sellers detective comedy franchise. It was March 1976 in Queensland, Australia, and as Chris Patrick's family prepared for their evening out, someone in the household had left the television on. The sounds of ABBA's "Mamma Mia" filled the room. Patrick, 13, knew he wasn't going anywhere that night.
Reluctant travelers from the get go, the Swedish quartet had finally agreed to fly across the globe for a television special in a nation that implausibly had become fixated on the northern European pop band.
It was the first time Patrick had heard them play, and he was transfixed. "I went to get my little cassette recorder, a little tiny thing, and stuck it in front on a stool to record," he remembers.
He still has that cassette, as well as an impressive discography of ABBA's music. Now a professional cellist and arranger in his own right, in 2008, he published ABBA Let The Music Speak, which chronicles the entirety of ABBA's musical landscape. It's an exhaustive literary effort that shows the substance of a band whose critical merit has long been dismissed by the cultural gatekeepers. He wrote it, he says, because he felt someone ought to.
ABBA, the acronym derived from the first names of band members Agnetha Fältskog, Björn Ulvaeus, Benny Andersson, and Anni-Frid "Frida" Lyngstad, started off as a 1970 Swedish cabaret act named Festfolk. They struggled to break through until they re-formed with a new sound and a new formula that highlighted the vocals of Fältskog and Lyngstad. Soon, they were getting airplay for their early hit "Ring Ring," which they sang in 1973 for the Swedish qualifying competition for the international music competition Eurovision. After a newly minted name change to ABBA, the band returned to try its luck in the competition again the following year, belting out "Waterloo" on stage in a history-making April night to win the 1974 Eurovision, placing them on a path to '70s megastardom with smashes like "Dancing Queen" and "Super Trouper."
When Patrick saw the television special, ABBA was playing the hits off of its 1975 self-titled album. At the time, their sound had not yet fully jelled; it would take songwriters and instrumentalists Ulvaeus and Andersson another go before they totally cracked the DNA that made ABBA, well, ABBA.
Now, more than four decades later, ABBA's musical legacy is no longer so easy to dismiss. With Mamma Mia! Here We Go Again, a sequel-prequel to the 2008 blockbuster based on the smash 1991 musical opening in theaters, and plans for the band to release two new songs and reunite as holograms (yes, holograms) for a tour next year, it's clear ABBA isn't going anywhere. It makes now as good a time as any to pose the question: Just what kept the interest in this odd Swedish experiment in pop going for all these years?
"People have been forced to say, OK, they are still here, obviously they mean a lot to people, and that in itself must mean something," says ABBA biographer Carl Magnus Palm.
ABBA's resilience and ability to stay relevant more than three decades after it disbanded is remarkable when you consider that ABBA was unapologetically pop at a time when socially conscious sounds of progressive rock and the revolution demanded by punk dominated the airwaves and the zeitgeist of the time. Preceded by Phil Spector's "Wall of Sound" philosophy, which layered vocals and instrumentals to produce a fuller, deeper sensation, ABBA's sound was clearly influenced by the Beatles and the growing glam rock scene in the U.K. (That latter inspiration also bled its way into the fantastical outfits the band wore onstage, ostensibly to take advantage of a tax loophole in Sweden that held that stage costumes could get a tax deduction if they were too outlandish to be worn on the street.)
Critics, unsurprisingly, tore ABBA to pieces, dismissing them as artificial, money hungry and cliché. This was especially the case in their home country of Sweden. "The problem with ABBA was not that they lacked skill or talent, but that they were commercial," explains music scholar Per F. Broman in The Journal of Popular Music Studies. "Sweden is and was a society with strong egalitarian tendencies, in which issues of wealth are particularly problematic."
Sweden's tastemakers, namely its influential Music Movement, quickly dismissed ABBA as schlager, wielding the German word as an insult against all Europop music they turned their noses to. It was ABBA's commercial culture, Broman argues, which made it particularly odious. The progressive music coalition put a bullseye on ABBA, reacting against the band's non-reactionary lyrics and ABBA's personal finances. (In order to get around Sweden's high personal taxes at the time, which Broman estimates were around 80-85 percent, the band invested in everything from oil to property; its manager Stig Anderson's particularly unabashedly capitalist impulses, likely fanned that fire.)
Internationally, the band was also dismissed by the rock music gatekeepers of the time who couldn't find the fun or the depth in the quartet that appeared uninterested in responding to the mood of the times. Infamously, in 1979, Village Voice critic Robert Christgau wrote in reference to ABBA, "We have met the enemy and they are them."
But the fans simply did not care. They made "Waterloo" a smash hit, pushing the ebullient track up on the European and U.S. charts. Then after the international market started to write ABBA off as a one-hit wonder, a resurgence of fandom came from a surprising place: Australia. Aussie fans were taken with this mysterious group from Sweden, becoming enamored with "Mamma Mia" that catchy song that started, unexpectedly, with a marimba.
"Mamma Mia" was never planned to be a single, and RCA, ABBA's Australian record company had to fight to make it happen. But when they finally succeeded, the song jumped up to No. 1 on the Australian charts for a staggering 10 weeks. That momentum acted like a shot to ABBA's international reputation. "From Down Under comes this noise, and [Epic Records, ABBA's UK record company] must have been thinking, 'What the hell is this? There is still life in ABBA,'" Ulvaeus later reflected.
With the release of its fourth studio album, Arrival, in 1976, ABBA had ascended to superstardom, finding purchase in tracks like "Dancing Queen," and "Fernando," which appeared on the Australian version of the LP. Musically, the band had also fully come into its own by this time with Ulvaeus and Andersson now taking the band's lyrics as seriously as they took the musical compositions. In turn, ABBA found new ways to relate to its audience, often mining real-life sorrow for art.
ABBA was famously the pairing of two married couples, but perhaps perversely the band kept going after both relationships ended, leading ABBA into untrodden emotional pathos in its later recordings. Just two weeks after Fältskog and Ulvaeus announced on Christmas 1978 they were divorcing, for instance, the band performed a new song "Chiquitita" at a UNICEF concert. It's a heart-wrenching performance, elevated by the real pain going on behind the scenes. As Patrick explains: "If you look at the opening shot of [Fältskog] singing solo 'Chiquitita, tell me what's wrong/You're enchained by your own sorrow' and you look at [Lyngstad], she's in the back of the frame and she's looking [on] with this amazing you can do it girl [expression]; you can do it, you've got to push through."
While the band members dressed almost uniformly in black for the concert, perhaps they couldn't resist adding a few sequins to their costumes, the sparkles in the video footage reinforcing that yes, this was definitely still ABBA taking the stage.
Following the release of The Visitors in 1981, ABBA took a short break. When the foursome came back together the following year to start writing new music, however, it was clear that ABBA's creative juices were depleted and the group disbanded. In the coming years, ABBA could have been written off as a kooky relic of the 1970s. But instead, it was ABBA's rejection of the quote-unquote authentic trappings of its more serious peers that kept gay male fans in particular coming back to its music.
Ulvaeus has consistantly credited this fan base with keeping ABBA relevant in the years after the band went its separate ways. "In the '80s ABBA were distinctly 'uncool', totally out of fashion," as he put it during a 2011 speech. "And I thought 'Well, that's it. It was fun while it lasted, but now it's over. But for some strange reason we still remained popular on the gay scene. And—maybe it sounds like I'm sucking up, but I don't care— when we got a revival in the late '80s, early '90s, I'm sure it's because we had stayed popular on the gay scene."
Palm, the ABBA biographer, agrees with that idea. Considering just how astronomically popular the band was at its zenith, he says there was no way ABBA would just go away, and by the late '80s, it had become increasingly clear that gay men were among those keeping the music going, having never stopped loving ABBA.
It wasn't a coincidence that songs like "Dancing Queen" had become fixtures at gay bars and on the drag scene. This was post-Stonewall, and at the height of the AIDS epidemic. The appeal of ABBA certainly had something to do with escapism. "The "Gimme! Gimme! Gimme! (A Man After Midnight)" and "Voulez-Vous,"—they're about clubbing and hedonism and having a good time despite everything," Palm says. But embracing ABBA, whose ebullient sounds had been so loudly dismissed by the straight, white male gatekeepers of the day, could also be seen as its own act of protest.
For those who kept listening, being ABBA fan became an identity, albeit one that wasn't always easy to own up to publicly. "One thing I've noticed with ABBA fans is they've had such a hard time of it," says Palm. "If you're a Beatles fan that's easy because everyone loves the Beatles, whereas with ABBA there was a long time when you had to hide that fact." Perhaps because of this, ABBA fans held fast to one another; the official international fan club for ABBA, inaugurated in 1986, quickly established itself as a tight-knit community of devotees. (Today, the community still hosts an ABBA Day in the Netherlands, which goes on for, in fact, several days, an almost ritualistic trek for the truly dedicated.) "Maybe ABBA fans are even more eager to hold onto the fan community because they know this is a safe space. No one will ever laugh at me here. They will just respect me for being an ABBA fan," Palm speculates.
Outside of the fan base, though, little to no critical interest in ABBA could be found at the time. "I'm not sure there was a critical conversation," says Palm, who first began studying ABBA himself in the '80s. "[ABBA was] dismissed as very lightweight; what could there possibly be to say about them? If they were talked about in that sense, it was more like they represented everything that you shouldn't be. They didn't have a political message and they didn't care about that sort of thing. Not overtly at least. I think they were just a symbol for uninteresting music."
But the band's continued critical dismissal made it embraced all the more by listeners who also didn't conform to the societal standards of the day. Take the 1994 Australian cult classic The Adventures of Priscilla, Queen of the Desert, which culminates in a drag performance of "Mamma Mia." That same year the heavily ABBA-influenced Muriel's Wedding also debuted in Australia. While not openly queer, the plot is told through the outsider narrative of a social outcast, doubling down on ABBA's ability to reach audiences who identified as being outside of the mainstream.
These films came soon after ABBA Gold was released in 1992. The album, which became a staple on the top-40 charts, teased the rise of a larger ABBA resurgence, a wave that only continued to grow after the Mamma Mia! musical debuted in London in 1999. Ulvaeus had initially rejected the idea of a jukebox musical based on ABBA's songs when show producer Judy Craymer first approached him about it in the late '80s, but after he had a change of heart and the show was greenlit, it became a smash hit, and went on to become one of the longest-running shows in Broadway history in the U.S.
Against the backdrop of the '90s culture wars, ABBA's return to mainstream relevance demanded that the fans who kept ABBA going be pushed aside from the narrative of the band. This clash over who ABBA was for played out most visibly through the ABBA tribute bands. The first wave of parody bands like Björn Again, which debuted in 1989, got their start toying with ABBA's kitschy appeal. "They weren't so careful about the costumes, they just [parodied] these four ABBA members as these 'dumb Swedes' who could barely speak English," says Palm. But the second wave of acts were different. Tracy McMullen, an associate professor of music at Bowdoin College examines these tribute bands for her upcoming book, Haunthenticity: Musical Replay and the Fear of the Real. In her research, she found that this wave of tribute bands went to work erasing the queer read of the music, situating ABBA instead in reassuring, square nostalgia. Dressing in the very same costumes ABBA once wore and playing with ABBA's original backup singers, they marketed themselves as the authentic interpretation of the band.
"These tribute bands will say, well, this is the real ABBA," says McMullen. "They're 'real' because they're not drag. The idea is that drag doesn't get to be seen as recreating or reperforming in a real way."
As this bore out, critics were finally coming around to ABBA. As it beame clear ABBA had stood the test of time, the rock-and-roll gatekeepers of the '70s now sought to push their own ideas of authenticity onto what made ABBA's music last. That gave ABBA's music a new heft. By 2013, ABBA had became an acceptable enough addition to the canon of popular music that in the BBC documentary The Joy of ABBA, the Sex Pistols' founding bassist Glen Matlock even admitted to being influenced by the band, lifting from "SOS" for the riff in "Pretty Vacant."
What Mamma Mia! the musical and movie did to this push and pull over the interpretation of ABBA's legacy is hard to say. On the one hand, the storyline—a escapist romp of a script about a young woman's attempt to find her real father by inviting three of them to her wedding—can be viewed through the lens of camp. Or it can be taken as a tale of that reinforces the embrace of ABBA that McMullen sums up as "safe, white, middle class, and heterosexual."
It's certainly introduced a whole new fanbase to the band. The 2008 movie adaptation starring Meryl Streep and Amanda Seyfried even helped propel the building of ABBA: The Museum in Stockholm, something the band had long resisted. "For them," says Ingmarie Halling, the museum's creative director, "it felt like being almost dead to be in a museum, so that's the reason they didn't want to do it in the first place." But fans had been asking for a place to pay tribute to ABBA, and finally, after Mamma Mia!'s success, she says, "[the band] understood that people were asking for this and the museum was built."
As all of this was going on, Chris Patrick finally decided to write his book on ABBA. All those years, he had been considering what made ABBA's music such an earworm. He remembers bringing up ABBA at his music consortium in the 1980s and being rebuked because "ABBA is not worth putting in the same room" as other bands of "elite thought," as his teacher had put it.
But time caught up with his taste. After a reader of his monthly column for an Australian ABBA listserve urged him to compile his thoughts on ABBA's musical underpinnings, he decided he would finally do so. Adding to the still limited scholarship around the band, he wrote about what made him first fall in love with ABBA's sound. Take the minor key, which made its way into many Andersson-Ulvaeus hits and dampers the joyfulness of their lyrics to create a sort of Dionysian whole. "The minor key is the melancholy key and ABBA does it so well because they come from a place where it's dark most of the year; they have a few months of summer, and the rest of the time it's all dark and snowy and gloomy and that's why they're masterful writers of melancholy," he says.
Fältskog and Lyngstad's vocals, meanwhile, he puts in a league of their own "with Frieda being a very husky mezzo soprano and Agnetha being a high, almost shrieky soprano, as she's demonstrated in some of these really astronomically high vocals that the boys made them sing," he says. "The chemistry of combing those two voices together when you listen to them in unison you can't tell either of them. It's just a one voice sound."
When ABBA broke up, Patrick had resolved to let go of any hope of a reunion of the band. "I just thought I'm very happy to let go," he says. Yet at the same time, a part of him sensed a reunion might happen one day if the right catalyst came along.
Now that appears on the horizon with the upcoming ABBAtar tour and two confirmed new tracks on their way with the first song, "I Still Have Faith In You," set to premiere in a televised special this winter. When the new music unfurls, whatever direction it takes, the reception will be different than it was when ABBA first stepped out onto the international stage.
Says Palm of where ABBA stands in modern times, "Today they are taken more seriously because they went away and then they came back and they never went away again."