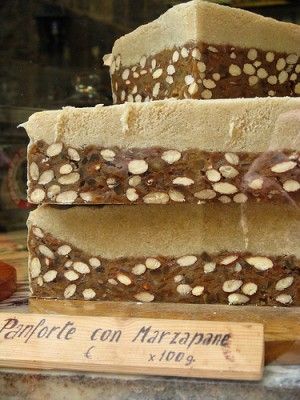 When I tell friends and colleagues that I vacationed in Tuscany, many want to know what I ate there as well as which great works of art I'd seen. Well, of course, I ate lots of gelato -- blueberry, pineapple and tangy lemon were my favorites. More intense flavor and less butterfat are the big differences between American ice cream and the Italian variety.
Panforte, a nut-studded flat cake coated with confectioner's sugar, was displayed in nearly every Siena bakeshop. Traditionally eaten at Christmas time, panforte's main ingredients are candied orange and lemon peels, almonds and hazelnuts, honey and sugar, all held together by a little flour. Hmmm, sounds like grandma's fruitcake. Close, but different. A Siena specialty dating back to the 13th century, panforte literally means "strong bread" because it's heavily spiced with cinnamon and nutmeg, though my family and fellow travelers decided the cake's name derived from its density and chewiness.
We stopped at a farm in Lucca to sample olive oils, but the revelation for me was in tasting traditional balsamic vinegar in a Florentine enoteca, a wine shop. What many Americans are familiar with is a doctored imitation of Italy's artisanal condiment. The real thing is made from cooked grape must (unfermented grape juice), not wine vinegar, sugar and coloring as found in many commercial brands. A good balsamic vinegar is aged at least 12 years, the shop owner told us, and sometimes for decades, in a succession of small wooden casks—such as oak, cherry, chestnut, and juniper—to develop a balance of sweet, sour and woody flavors. It has a deep reddish brown color and a nectar consistency. We sampled three balsamic vinegars at various ages, and the differences were very apparent, ranging from tangy to mellow to sweet and syrupy. It takes only a few drops of true balsamic to perk up salads or cheeses or berries. Good thing, because the cost of the real stuff can leave a serious hole in your travel budget. Prices for about three and a half ounces of the shop's 25- or 30-year-old traditional balsamic vinegars exceed $200. A two-ounce bottle of the 100-year-old variety, prettily packaged like Chanel perfume, sells for about $500.
The chefs favor big chunky shapes for pasta, which they top with savories like rabbit or duck ragout or porcini mushrooms or tiny shrimp and squid. Italian dinners can be long and leisurely and heavy. Pasta is a separate course but not the main course. After appetizers (antipasti) and a hearty bowl of pasta, a meat or fish dish is served. My family members started sharing the pasta course or ordering it as the main course after a couple of "I'm stuffed" evenings, but those innovative pasta concoctions never disappointed.
The reviews were more mixed on an Italian delicacy called lardo, Italian for lard, and in this case the fat right under the skin along the back of the pig . Served in paper-thin slices on bread, lardo is white and silky smooth with a hint of ham and herbs. Lardo is cured for several months with salt, garlic and herbs. It used to be a traditional staple for laborers. Workmen would pack a sort of lardo sandwich that they could take into the marble quarries around Carrara. Now, fatback is haute cuisine.
-- by Marian Smith Holmes