What "Ricki and the Flash" Gets Wrong About the Life of a Musician
The new Meryl Streep vehicle is the latest in a long history of movies about bar singers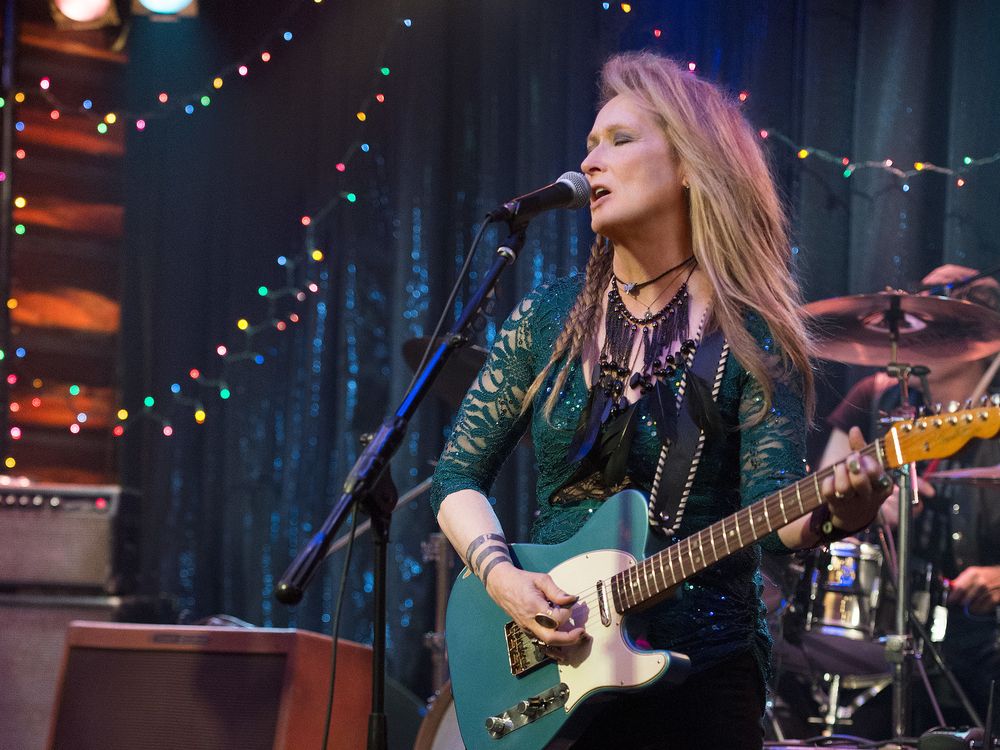 The vast majority of music-making activity in America is done by people you have never heard of: folks who play in local bars, community centers and dance halls. Their stories deserve to be told, for the real mystery of music is not why the wealthy and famous devote their time to music but why the poor and obscure do.
The guitarist who makes $50 a night at his local tavern is pursuing a quest far stranger than the singer who makes $100,000 a night at an NBA arena. That guitarist's struggle to balance the effort to make meaning with the effort to make money is a better mirror on our lives than the spoils of a headlining singer's troubles with booze and drugs.
Those latter topics have been the well-worn path of films including Ray or Walk the Line, but in Ricki and the Flash, screenwriter Diablo Cody creates a woman, played by Meryl Streep, who abandoned her family to chase rock 'n' roll stardom, only to fall short and wind up in San Fernando Valley as a Whole Foods cashier by day and a bar-band singer by night. Like the majority of bar bands the world over, Ricki and the Flash mostly do cover tunes, so Streep gets to sing her favorites by Bruce Springsteen, U2 and Tom Petty, and director Jonathan Demme isn't forced to find a dozen songs that might have credibly been hits for a more famous singer. And when Ricki's daughter (played by Streep's real-life daughter Mamie Gummer) botches a suicide attempt, Ricki has a chance to go back to Indianapolis and patch things up.
Streep and her ringers sound like a bar band good enough to hold down a regular gig at the Salt Well in Tarzana, California, but not good enough to go on tour. And similarly, Streep herself is a good enough singer to be convincing as a bar-band belter, but she's not good enough to be persuasive as an arena-headlining star. Like most bar bands, they are a bit anachronistic; in their case they make everything—including recent songs by Lady Gaga and Pink—sound like '80s heartland rock'n'roll. And Demme is smart to populate the Salt Well not with pretty people from a Hollywood casting call but with the misshapen loners who might actually be regulars at such a bar.
What Ricki and the Flash fails to provide, however, is the texture of a bar-band musician's life. We see Ricki at her cashier job, but we never see her hustling for better gigs, worrying about the size of the audience and complaining about her lot. We never see her obsessing over her instruments the way working musicians always do. We never see her struggling with the musician's temptations of booze and sex—and her attitudes about sex seem implausibly squeamish. We never get a sense of why she sticks with music despite all its drawbacks.
No movie has really nailed this subject matter, but many have done better than Streep's latest. Paul Schrader's 1987 film, Light of Day, is very similar to Ricki. It describes a Cleveland bar band led by a single mother (Joan Jett) and her unreliable brother (Michael J. Fox), who both have unresolved family issues. If Streep is a great actress and an acceptable singer, Jett is a great singer and barely acceptable actress. But Schrader's script rings truer about the daily struggles of such musicians than Cody's.
Alan Parker's 1991 film, The Commitments, is based on Roddy Doyle's novel about a group of young Dubliners who form a horn band to play the music of their American R&B heroes. The picture traces the group's arc from early, exhilarating successes to ultimate squabbles and disillusionment with insider details and some wonderful music. By contrast, the Coen Brothers' 2013 Inside Llewyn Davis gives us the squabbles and disillusionment without enough of the early excitement to make us care about the early-'60s folk singer buried beneath Bob Dylan's shadow.
Some movies purport to describe a fictional musician struggling for recognition in out-of-the-way dives in the early stages of a career. But the stars of these pictures—Prince in 1984's Purple Rain, Willie Nelson and Kris Kristofferson in 1984's Songwriter, or Eminem in 2002's 8 Mile are so obviously talented and so clearly headed for success that these films, all quite enjoyable, are not really about bar bands but about the pre-fame days of predestined stars.
Two of the best movies about musicians trapped in local bars star Jeff Bridges, who like Streep is a respectable singer and a remarkable actor. In 2009's Crazy Heart, his former country-music star has fallen so low that he takes gigs in small clubs with unrehearsed bar bands. Like Streep's, Bridges' character has not only lost contact with his children and ex-spouses, but also the ambition that caused him to leave in the first place.
Even better is 1989's The Fabulous Baker Boys, which stars Bridges and his brother Beau Bridges as Jack and Frank Baker, two pop-jazz pianists who perform as a duo in lounges around Seattle. Jack is the talented one, Frank the practical one, and the growing tension between them, exacerbated by the arrival of Michelle Pfeiffer as a sexy vocalist, reflects the conflict between artistic and survival goals that all musicians struggle with—especially those at the bottom of the success ladder.
A similar movie is Spike Lee's 1990 Mo' Better Blues, the story of a Brooklyn jazz trumpeter (Denzel Washington) whose obvious talent is thwarted by crooked businessmen. This puts a different spin on the usual tale of potential unfulfilled; the blame rests not so much on the victim as on a society that takes advantage of the musician at every turn.
But the very best examination of the life of a working musician in local bars is the 2010-2013 HBO series "Treme," which followed the fortunes of multiple Louisiana musicians—jazz players, R&B musicians, rock performers, Mardi Gras Indians and Cajun musicians as they tried to survive from gig to gig—and possibly express something along the way.
Series creator David Simon has stressed in interviews that he wanted to show that a music career—whatever else it may be—is also a job. This most romanticized of professions is seldom treated that way, but as Simon's characters struggled to get employed, stay employed, get paid and perhaps promoted, they reflected our own workaday lives back at us. We learned that music is always shaped by the context of making a living, just as our own efforts to create something of value are inseparable from our efforts to pay our bills. It's this dynamic that goes unexamined in Ricki and the Flash.