What Is the Most Influential Oscar Dress of All-Time?
Far from being a sideshow of the awards hoopla, the fashion of the Academy Awards means big business for designers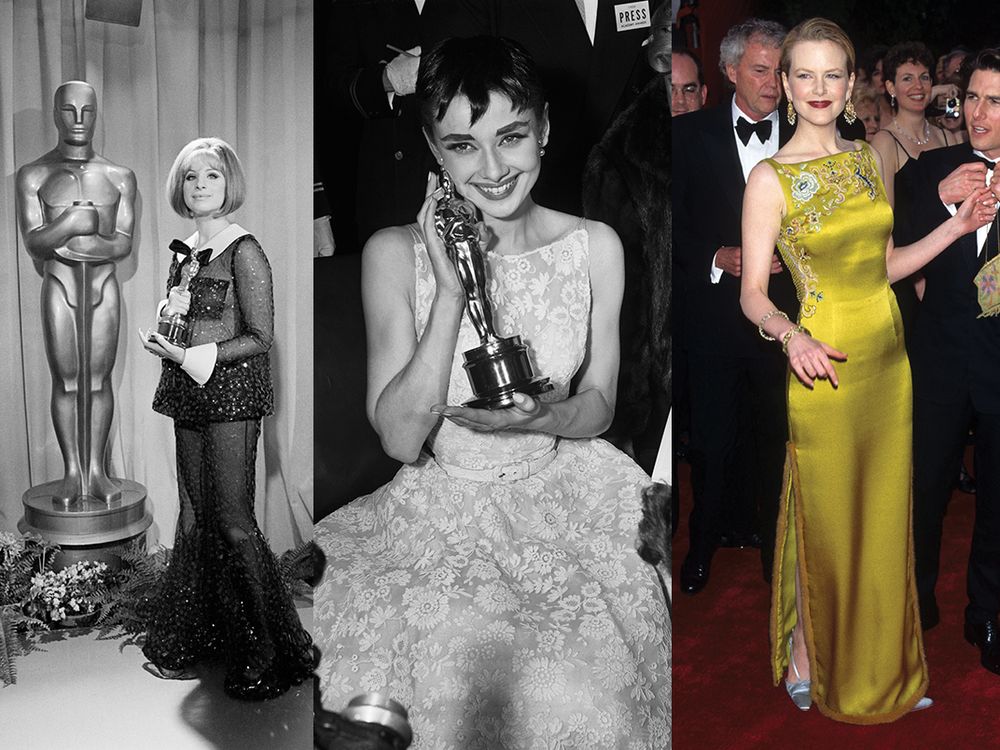 More than 30 million people will watch the Oscars this year, and most of them, at some point, will be bored.
Even before the ceremony was three hours long, it was considered dull. "Surely, some material would be preferable to the interminable list of awards," complained one New York Times critic in 1960.
Before the awards, NBC experimented with something new that year and aired its first fashion cocktail party preview, hosted by costume designer Edith Head. Educating households on trends and showing gowns up close, the broadcast was an early indication of the juggernaut that red carpet fashion would become.
These days, E! devotes nine hours of coverage to the Oscars, mostly to the red carpet. Overkill, surely, yet Oscar dresses are not frivolous. They can jump-start designers' careers and blemish those of stars. Their memes haunt the internet for years. They inspire innumerable knock-offs, helping teenagers look their best on prom night and condemning bridesmaids to unfortunate shades of orange.
Which dress in the ceremony's 87-year history has been the most influential? There's no easy answer, but digging for one illuminates some fascinating stories about the economics of Hollywood image-crafting. From the swaths of fabric, three outfits stand out—Audrey Hepburn's lace Givenchy dress in 1954, Barbra Streisand's bell-bottomed pantsuit in 1969 and Nicole Kidman's Dior sheath in 1997. 
Let's start with the controversial one. Streisand's hairstylist advised her not to wear the sparkly trousers and top with a big black bow on its neck. But Streisand was known as a funky dresser and didn't take the advice. The look—a change from the classic eveningwear most attendees donned—was called "ravishing" by some and "a monumental salute to bad taste" by others, Bronwyn Cosgrave writes in her history of Oscar fashion, Made for Each Other. When Streisand walked on stage to collect her award—best actress for Funny Girl—the outfit became the Oscars' first televised fashion goof. "Her butt cheeks [were] rendered totally sheer due to the powerful glare of the auditorium's 153 hot, beaming kleig lights," Cosgrave writes. "STREISAND NUDE," read one headline.
Dullness be gone! While Streisand didn't mean for the fabric to be so sheer, she did intend to take a risk. In this way, she set the stage for the Oscars as a place where celebrities could command attention and distinguish themselves. Without the sparkly pantsuit, would there have been Cher's Vegas mohawk, Whoopi Goldberg's cape/pant/dress set or Björk's swan? Maybe, but it's always harder to be first. 
Audrey Hepburn's 1954 dress made waves for different reasons. If Streisand established a tradition of Oscar eccentricity, Hepburn made a case for Oscar polish. Her dress' lace bodice, full skirt and delicate belt were much less entertaining on TV than the actress wearing them. But, they also helped cement the Oscars as a marketing opportunity for designers.
According to Cosgrave, Hepburn first met the dress' designer, Hubert de Givenchy, in 1953, when she showed up at his Paris salon to shop for costumes for Sabrina. The dress she wore the following year, when she won the Oscar for best actress in Roman Holiday, was a sneak peak of what people would see in Sabrina when it hit theaters a few months later. Her outfit shared that same high "boat" neck and bare shoulders that Hepburn considered flattering. Once Sabrina came out, everyone wanted that iconic boat-neck dress, and Givenchy rebranded the style: "I named it 'décolleté Sabrina,'" he told Vanity Fair years later. (Studio costume designer Edith Head, displeased at Givenchy's involvement from the get-go, always claimed the Sabrina designs were hers.)
Hepburn and Givenchy's relationship—for which the actress received no compensation other than free clothes—lasted decades, and had a substantial effect on the designer's business. These days, actresses are paid for such an arrangement: Jennifer Lawrence reportedly received $15 million to be Dior's face for three years, which includes posing in the company's advertisements and wearing its gowns on the red carpet. Anne Hathaway reportedly got $750,000 from Tiffany & Co. to wear its jewels when she hosted the awards.
Designers don't divulge how well these investments pay off, but the fact that they continue to make them speaks for itself. "Kate [Winslet] wearing my red dress to the Oscars last year was incredible for business," Ben de Lisi told Vogue in 2003. "And now, every time anyone writes about her they use the picture of her in the dress and so it just goes on and on."
When Nicole Kidman wore a dress by John Galliano, newly appointed at Dior, to the Oscars in 1997, it took him from fashion name to household name. The dress was influential in another way, too: it inspired knock-offs. The embroidered chartreuse silk, with a slit up the side lined with surreal mink, was "the first true couture dress on the red carpet," Melissa Rivers, who covered the event that year for E! with her mother, Joan, told Vanity Fair. But Alan B. Schwartz, designer of the formalwear line ABS, created a $250 version to sell at Macy's, as part of a collection that also included versions of Courtney Love's and Susan Sarandon's gowns. As Women's Wear Daily reported, ABS' Dior-inspired frock came in acetate and rayon instead of silk, and without mink. At the request of Macy's, Schwartz did two versions, one in chartreuse, and one a more "mainstream" color, burgundy.
These days, dozens of cheaper versions of recent Oscar dresses are available online, including Lupita Nyong'o's light-blue Prada, Charlize Theron's white Dior, and Emma Stone's bow-necked Giambattista Valli. Overall, though, even the originals are less avant-garde than they were in the '90s. Perhaps it's because we observe them so closely. Per Hollywood Reporter's Merle Ginsberg, Oscar fashion criticism in the '90s and '00s, specifically that of Joan and Melissa Rivers, turned the red carpet "mass." The turning point in this democratization, Ginsberg writes, was Kidman's 1997 dress. When Joan Rivers she saw it, she remarked, "I hate that color!" and made retching sounds in Kidman's direction.
Now, actresses tend to have teams of stylists skilled at avoiding such scenarios. As a result, they're looking quite monotonous. "The umpteenth Versace gown no longer feels special — even if it happens to be an especially nice one," Robin Givhan observed in the Washington Post. Oscar dresses influence us, but then again, we also influence them.