What Does it Mean to be Seriously Amazing?
The Smithsonian's secretary introduces the Institution's new campaign to highlight its best and most innovative work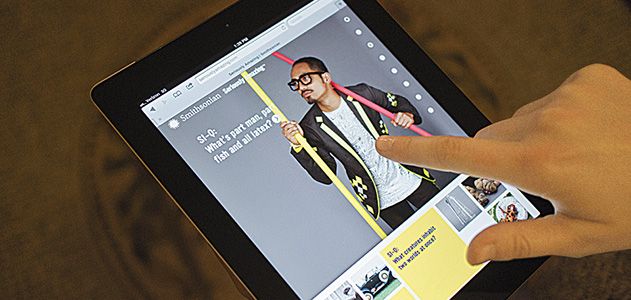 From oceans deep to Mars' surface, from the age of dinosaurs to the age of plastics, from the art of the great masters to the art of video games, and from saving our nation's historical treasures to rescuing endangered species—the Smithsonian does the unexpected. And we want as many people as possible to share in the excitement. So this fall, for the first time in our 166-year history, we're launching a national advertising campaign to proclaim that if you thought you knew the Smithsonian—think again.
While we've stayed true to our traditions, a spirit of renewal runs through the Smithsonian today, in our museums, research facilities, galleries and educational initiatives. We are on target to welcome 30 million people to our museums and galleries and the National Zoo this year and will have presented 100 new exhibitions. Many visitors designed their trips using our website or a Smithsonian mobile application. Over 50,000 downloads of our educational materials helped teachers around the nation and the world, and more than two million people follow us on Twitter and Facebook. Our scientists discovered new planets and new species, and soon you will be able to curate your own exhibitions using digital versions of our collections. And that is just the start. All of this is Seriously Amazing—the theme of our campaign.
To get the word out about how much innovative work is going on here, our ads—online, in national magazines (see p. 25) and on signs in several major cities—feature colorful costumed characters representing every aspect of the Smithsonian. These characters pose quirky questions such as, "How is hip-hop like the microchip?" "What is part man, part fish and all latex?" and "What has given us water from Mars and daggers from India?" To find out the answers to these questions and many more from our vast array of Smithsonian experts, check out our new website Seriouslyamazing.com. (Warning: It's addictive!)
Like the Smithsonian, Seriously­amazing.com is about learning through discovery and collaboration, and about making unexpected intellectual connections. More and more people are growing up accustomed to being their own curators of online information; the new site gives you the tools to get started, building on the exciting digital resources we've created in recent years, and it includes many opportunities for social-media sharing.
From the beginning, the Smithsonian has always asked the right questions. Questions that lead to more questions, new discussions, new discoveries and greater wisdom. We invite you to rethink the Smithsonian at Seriouslyamazing.com and take a journey of discovery propelled by all of the learning tools that technology has to offer. We look forward to proving just how Seriously Amazing we are.