What Do Jackson Pollock, Tennessee Williams and Norman Mailer Have in Common?
Cape Cod's dune shacks are American culture's home away from home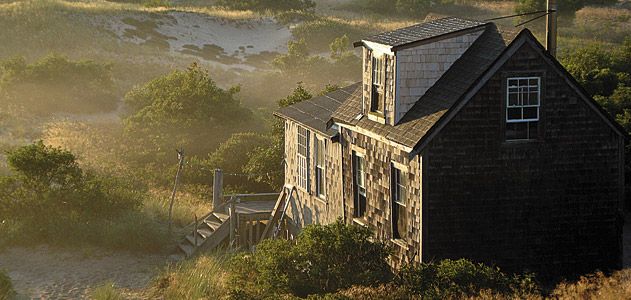 There are no more storied shelters in America than the dune shacks of Cape Cod, an encampment of 19 primitive huts on an isolated stretch of beach near Provincetown, Massachusetts. In 1916, the playwright Eugene O'Neill first arrived in this seaside wilderness, "a grand place," as he put it, "to be alone and undisturbed." He produced Anna Christie (1920) and The Hairy Ape (1922) inside a structure later lost to erosion. Jack Kerouac, by his own account, conceived part of On the Road at the enclave in 1950.
From the 1920s on, major figures in American arts and letters—Jackson Pollock and Willem de Kooning, Tennessee Williams and E.E. Cummings—gravitated toward Provincetown, and it was common for many of them to drop in on friends staying in the shacks. "It was an amazing scene out there," says Stephen Borkowski, chairman of the Provincetown Art Commission. "It was a crucible of American modernism. Everyone had license—one could lie nude under the stars or plunge into the ocean. No telling what one might encounter—Norman Mailer arm-wrestling Robert Motherwell?"
The properties came under the aegis of the National Park Service (NPS) in 1961. By then, Provincetown's bohemian heyday was ending, as property values began to escalate. The shacks were entered on the National Register of Historic Places in 1989.
The shacks are still in regular use and still lack electricity and running water. Today, several Provincetown nonprofits help the park service oversee summer artist-in-residence terms, awarded by jury selection and occasionally by lottery, at several shacks. In May, 50 winners from 150 applicants were announced. (The other cabins have been leased long-term by individuals through the NPS. Many leases expire in 2014; the public may then be able to enter an NPS lottery for stays in the shacks.)
Michael Lyons, a watercolorist, recalls vividly the August afternoon in 2007 when he began a three-week sojourn in the shacks. Accustomed to the din of Manhattan, he slept wearing earplugs that first night—to blot out the skittering of field mice in the rafters. By the next morning, however, he was painting in the open air. He returned in 2010, continuing to record the evanescent beauty of the shore.
During 2008 and 2010, Suzanne Lewis produced a major series of abstract paintings in the huts. "The history of all who came before me drew me there," she says. "It was as if their spirits were there with me." She hopes to return this autumn.