What Do Alicia Keys, the Boss and Wagner Have in Common?
From the classical era to modern music, flames have lent a spark to some of the greatest tunes of all time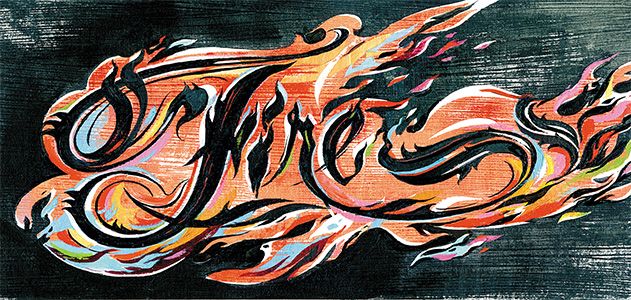 There are two kinds of flames in Bruce Springsteen's "I'm on Fire." From the first measure there's the sharp tap of the snare drum rim, with the emphasis on the third beat constantly unexpected, keeping the rhythm slightly off-kilter. Those are the sparks, while a few seconds later Springsteen's voice—low, airy, sometimes almost mumbled—enters, smoldering in an unhurried melt.
In art and music—as in science and engineering—fire has been the fuel of creativity, the very symbol of inspiration. "The artist must create a spark before he can make a fire," the sculptor Auguste Rodin said, adding that the artist must also "be ready to be consumed by the fire of his own creation." Fire itself is an irresistible combination of contradictory qualities: something to celebrate, something that illuminates and yet also always a threat.
Its many elements—from the flickers to the embers, both the seduction and the ability to burn—seem as though they should be easy to capture in music. But they're surprisingly elusive. As opposed to the churning strings, old-fashioned thunder machines and pounding drums that together sound like a storm, fire brazenly challenges us to approach it from different angles.
There's the Bruce method, emphasizing those low embers. It's descended from Johnny Cash's "Ring of Fire," in which the Mexican trumpet raps add an element of menace. Both songs exhibit the easygoing intensity of rockabilly.
Earlier, though, in classical music, fire was more frantic and consuming. It's a sound epitomized by what we could call the Haydn method. His Symphony No. 59 is commonly known as "Fire" because of its unusually fast opening movement, or perhaps because of the dazzling runs and shining horns in the last movement.
Wagner, in his mighty four-opera "Ring" cycle, combines the Haydn and Bruce strands. Fire represents both safety and hazard, personified by the slippery fire god Loge, who is alternately trustworthy and trickster. In one composition, "Magic Fire Music"— which builds on the themes that Wagner wrote for Loge—horns rise, and swirling, trilling strings represent the main blazes. Flutes and other winds twinkle, throwing up sparks. Later, "Magic Fire Music" yields to an achingly lyrical melody, in keeping with fire's ambiguous nature.
Fire in pop music tends to be less philosophical and more sexual. It is the inspiration for Adele's despondent wail in "Set Fire to the Rain" and Jim Morrison's feral moans and screams in The Doors' "Light My Fire."
Calling her new album Girl on Fire, Alicia Keys takes away the sexual connotations, replacing them with a wholesome girl-power message aimed at teens like Gabby Douglas, the Olympic gymnast, who did backflips during Keys' performance of the song at the MTV Video Music Awards this past September. As with Springsteen, the "fire" here comes from the percussion, though Keys' aggressive drum-machine beats are light-years from the gentle patter of "I'm on Fire."
Fire can also be life-giving, even for an artist as moody as the Man in Black. Cash's late-career revival, which was capped by his stark version of "Hurt" by Nine Inch Nails, was helped along by another cover: his unexpectedly sunny take on an intense tune, with the organ providing a saintly sheen.
The song? "I'm on Fire."