West Side Glory
Out of Hell's Kitchen came an image that would epitomize one of Broadway's greatest love stories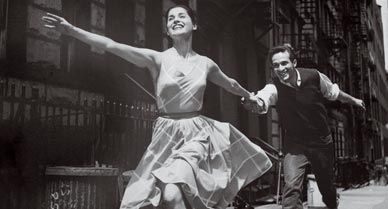 For theater lovers who can chart their lives by the plays that left them laughing, crying or humming in the shower, the right photograph is a gift that fixes stars in the firmament of lost time. No one gave fans better gifts than Leo Friedman, who with his partner, Joe Abeles, created a photographic record of some of Broadway's greatest hits.
Abeles did portraits at the pair's studio on Manhattan's West 54th Street, but Friedman worked in the theaters themselves, usually at dress rehearsals or out-of-town openings, sitting in the first few rows to see things as members of the audience would see them. From the first play he photographed, Silk Stockings (1955, with Don Ameche and Hildegarde Neff), to the last, Coco (1969, with Katharine Hepburn), Friedman captured moments from such major musicals as My Fair Lady, Cabaret, Gigi, The Sound of Music and Fiddler on the Roof as well as countless dramas.
For those lucky enough to have seen the first run of the Leonard Bernstein-Stephen Sondheim musical West Side Story in 1957 (as I was), the photograph Friedman made for the cover of the original cast album will recall a highlight of American musical theater. In one bright instant, the picture of Carol Lawrence and Larry Kert running along West 56th Street evokes the anthem that brought hope to this dark, modern variation on Romeo and Juliet: "There's a place for us."
Now 88 and living in Las Vegas, Friedman recalls an episodic journey through several successful careers. "I started out as a child actor in a show called White Horse Inn," he says. "I was 16 and the part was for a 12-year-old, but when I walked to center stage at the tryout, the director shouted, 'That's who I want!' Then he said to me, 'You cut your hair and I cut your pay.' "
After a Broadway basketball league teammate got a job as an assistant press agent for producer Mike Todd, Friedman followed him, running errands as office boy and then shooting Todd's production stills. Ultimately, he worked frenetically as a freelancer for Look, Playbill, newspapers and many producers. But in 1969 he left New York, photography and his partnership with Abeles (who would die in 1991) to manage real estate in Los Angeles for Playbill owner Gil Kraft. "I was tired of sleeping only two hours a night," Friedman now says.
To get his West Side Story album photograph, Friedman tried various locations. "We shot for days," recalls Lawrence, who now lives in Los Angeles. (Kert, too, died in 1991.) "All around Central Parkóup and down staircases, jumping through greenery. Everything." They wound up shooting just a few blocks from Friedman's studio, in a pre-gentrified Hell's Kitchen. The West Side location let him contrast the gritty neighborhood with the heedless optimism of young, star-crossed lovers. "Because I usually worked with available stage lighting, I couldn't think about a picture without thinking of light," he says. "I wanted them running out of the darkness toward the sun. Carol wasn't a big star yet, so she didn't mind running up and down a public city street."
He remembers making fewer than 12 exposures to get that particular image. Lawrence recalls a marathon.
"Leo may remember it as an easy shot because he was standing still, but we must have run up and down that street 300 times on a very hot summer day," she says with a laugh. "We didn't have any police help, so there were pedestrians going by. We even knocked down a little old lady and got yelled at. I was a dancer and Larry was an athlete, so we were in good shape. But we were in better shape after that picture."
Owen Edwards is a frequent contributor to Smithsonian.