Welcome to Your World
This year's photo contest winners reflect decidedly international points of view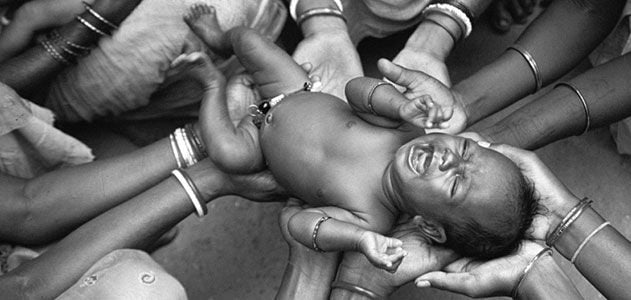 A strong current swept in a bounty of jellyfish that September day, along with an irresistible opportunity for Thomas Vignaud, who was free-diving with underwater camera gear in the Mediterranean off the South of France. The 22-year-old marine biology student positioned his strobe light near one yellow jelly so that it seemed to glow, and held his breath to compose the (breathtaking) shot that won the Natural World category of our 5th Annual Photo Contest.
This year we received nearly 7,000 entries in five divisions: The Natural World, People, Travel, Americana and Altered Images (for manipulated photography). Amateur photographers from 50 states and 82 countries submitted work, and our winners are from all over. Three are from India (including Abhijit Dey, whose portrait, of a newborn in a West Bengal village won the grand prize—a Smithsonian Journeys trip for two); Vignaud is French. Even Hal Schneider, a Californian who won the People category, shot his winning photograph in Burkina Faso.
Lance Wills, an American who took the prize for Americana, travels the world as a deckhand aboard oceanic research vessels. Unable to sleep during a stay in the nation's capital, Wills photographed the Washington Monument just before midnight. Even at that late hour tourists were snapping photos by the monument's floodlights. Did they see what he saw in this familiar subject? Almost certainly not, judging by the similarity of submissions we receive of the iconic obelisk year after year.
A gallery of winners and more finalist images are available on this site. "Eyes on the World: Smithsonian Magazine Photo Contest," an exhibition of the images, will be on display at the Smithsonian Castle from July 1 through January 15, 2009.
Grand Prize Winner, People
Abhijit Dey, age 35 • Barrackpore, India
Photographed August 2007
Six days after Betka Tudu's birth, female relatives and neighbors in the West Bengal village of Purulia gathered to bless him and "to protect him from harm's way," says Dey. Born into the Santhal tribe, Betka "unknowingly drew his distant kin closer than ever."
Marseille, France
Photographed September 2007
"I'm an underwater photographer before all," says Vignaud, who photographed these juvenile fish and the jellyfish while diving off his father's sailboat. Some underwater photographers think "almost everything has been done already," he says. "I don't believe it."
San Diego, California
Photographed November 2006
Masked dancers greeted Schneider's tour group on a visit to the village of Boni, well off the beaten track in West Africa's Burkina Faso, but he was drawn to a group of watchful boys instead. "I wanted to capture that look of curiosity of these kids," says Schneider.
North Charleston, South Carolina
Photographed April 2007
Photographing the Washington Monument late one night, Wills watched tourists get up close to stroke the stone. "It struck me that like America itself, the Washington Monument could not be fully appreciated from afar. Its grandeur grows as you approach."
Kanpur, India
Photographed December 2007
The fountain was shot in Pennsylvania and the children (the photographer's niece and nephews) in Chakdaha, India. "The person in the background is me," says Pal. "The idea was to show the necessity of cleaner and safer water, not just for drinking but for everything."
Santa Ana, California
Photographed June 2007
"This was the play that scored the winning run in the bottom of the last inning," says Weiderhaft of a championship Little League game between crosstown rivals in Orange County. "I focused my camera through the chain-link fence" to capture the moment of both thrilling victory and stunning defeat.
Agra, home of the Taj Mahal, Hindu women immersed in water pray to the sun for prosperity for two days. They celebrate the setting sun first, says Sengupta, then "welcome the fresh rising sun on the very next morning."
Abigail Tucker is Smithsonian's staff writer.