The True Story of "Trust," Yet Another Interpretation of the Getty Kidnapping
Writers of the FX program have a much different spin than the recent movie on the same subject matter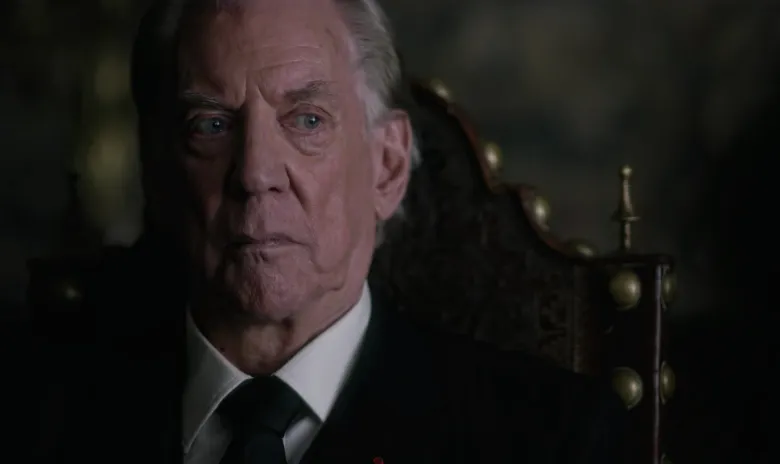 The story of billionaire oil tycoon J. Paul Getty, in his day the richest man in the world, and the kidnapping of his teenaged grandson John Paul Getty III in 1973 had not often been told, but in recent months, it's been the subject of both a Ridley Scott film All the Money in the World and now in a lavish FX series "Trust," that premiered Sunday.
What's unusual is that the stories are quite divergent: what was a straight kidnapping in the film starring Christopher Plummer is a faked abduction in the series starring Donald Sutherland.
Which is closer to the truth?
"The truth is a complicated word isn't it?" asks "Trust" creator and writer Simon Beaufoy in an interview. But says he's fairly confident in his sources. He looked specifically to Kidnapped: The Tragic Life of J. Paul Getty III, in which journalist Charles Fox spoke extensively with the younger Getty and other family members, building upon his contemporaneous reporting from the '70s, as well as other materials.
"It became clear, reading in between the lines … that he actually kidnapped himself," Beaufoy told reporters at the TV Critics Association earlier this year.
It's a bizarre notion, but bizarre was something quite common in the Getty household where, in the initial episode, the glowering patriarch brings in a lion into the mansion for sheer amusement.
"It was a hoax gone wrong," says Beaufoy of the kidnapping scheme. Young Getty "owed money to some guys in Rome. Like all the Gettys, they were multi-millionaires but couldn't pay for a drink because they had no cash. And he'd run up a debt, quite a large debt, and couldn't repay it."
The teen's solution was a grim one. "The only thing he felt he could use was his name as a Getty," Beaufoy says. "So he cooked up a kidnap plot."
That he did so with "some of the most financially mean people in the world" was his big mistake, he says. Getty was sold to the Mafia in southern Italy — " a whole other, much more serious bunch of people."
And while he had some control over his self-kidnapping at first, when the Mafia took over "he obviously had no control over events whatsoever."
Evidence came in what was perhaps the most famous severed ear since Van Gogh —four months after the abduction, Getty III's right ear showed up in the mail. By then, the initial demand for $17 million (a figure that would be closer to $100 million in today's dollars) had been reduced to $3.2 million (nearly $18 million) with the promise that the other ear would come next if was not paid in ten days. "In other words," the ransom note said, "he will arrive in little bits."
The father, J. Paul Getty Jr., negotiated a $2.9 million ransom for the return of his son. But throughout, the much richer grandfather, J. Paul Getty Sr., steadfastly refused to consider paying. The eccentric patriarch, living in a huge English mansion, was infamously parsimonious; he insisted house guests use a pay telephone when they visited. But it wasn't because he was cheap that he wouldn't pay the ransom; he said he feared every one of his 13 grandchildren would be targets for kidnap if he gave in.
"I think what was amazing about John Paul Getty Sr. is that he didn't play by anybody else's rules," says Beaufoy, whose previous screenplays have included The Full Monty, Slumdog Millionaire and 127 Hours. "So in 1970s Britain, which was very hidebound in its social norms, he had five women living with him. He had a harem and a pay phone and his huge, great Elizabethan pile and a pet lion. Why not? And that kind of character who just will not play society's game, to me, was so fascinating."
There was also a lack of empathy as J. Paul Getty Sr. relied solely on logic, Beaufoy says. "People have always said, 'Oh, he's such a monster. He won't pay for his grandson.' But actually, all the way through, he's playing a logical game with the kidnappers by his own rules. But it's bound by a logic and he can can't understand why anyone else won't play this very logical game."
Getty wasn't being antagonistic, says Sutherland, 82, who plays the old man, and conducted extensive research into his character. "He had a very specific paradigm," says the veteran actor. "He was a mathematician, a linguist. He was a brilliant man, and people who didn't fall within that frustrated him."
As with most historical events turned into feature film or television, there were some liberties taken. "There are huge parts of the story that nobody really knows about," adds Beautfoy "I had to make educated guesses to dramatize what happened. But we're trying to tell a Shakespearean epic at the same time as threading the facts through. So it's a bit of both: It's a dramatization of what happened, but with some Shakespearean flourishes."
All the Money in the World, meanwhile, was based on John Pearson's 1995 book, Painfully Rich: The Outrageous Fortunes and Misfortunes of the Heirs of J. Paul Getty, and depicts the abduction of the teenage Getty as a straight kidnapping by an organized, if inept, crime ring. While it got an Oscar nomination for Christopher Plummer as the elder Getty, and Golden Globe nominations for Plummer, director Scott and actress Michelle Williams, the film was nearly eclipsed by the story surrounding its production: A month before its release, all of the footage of Kevin Spacey, who originally played the elder Getty, was cut after a number of sexual misconduct allegations. He was replaced with newly shot footage of Plummer in the role — at an additional cost estimated at $10 million (far more, of course, than was actually paid for the ransom).
Shot in a number of lavish actual English countryside mansions, including Hatfield House and Audley End subbing for the Gettys' Sutton Place, "Trust" also stars Hilary Swank as John Paul Getty III's mother and Brendan Fraser as a big, Stetson-wearing ex-FBI agent on the case.
Swank, who plays the mother of John Paul Getty III in eight episodes of "Trust," says she found a couple of books about her character Gail Harris. "I started reading them and researching them and diving in."
Should there be a second season of the series, it would cover the backstory. "The idea is to go back to the 1930s to discover how John Paul Getty I became this extraordinary person, with this huge hole in his soul," Beaufoy says. Executive producer Danny Boyle, the Oscar-winner for Slumdog Millionaire who also directed three episodes of "Trust," adds that he found both grandfather and grandson Getty similar in that they weren't all that motivated by money, after all. "I think what exercises them is willpower," he says. "That means shaping the world the way you want it."
Why all the interest in the Gettys now?
"It's a good question," he says. "I think wealth is always fascinating to those of us who don't have it. You know, everyone sitting here dreams of this lifestyle where you don't have to get out of bed in the morning, but if it actually happens to you and you have no purpose in life, it's difficult. And watching there's a kind of terrible schadenfreude about watching the most rich people in the world collapsing around you that is kind of fascinating.
"But we're currently in a place where the extremely wealthy are beyond any imaginings of wealth," he adds. "We're going back to the days of kings and queens of England in terms of wealth. The poorest people are so incredibly poor, and the rich are incredibly rich at the other side. And I think that to all of us is a kind of fascination. And if you can comfort yourself by saying, oh, well, at least they don't have any heart, at least it all goes wrong for even the terribly rich, there is some comfort for those of us who aren't, you know, in Sutton Place, in Elizabethan mansions."