The True Story of "The Assassination of Gianni Versace"
Did the designer meet his killer seven years earlier?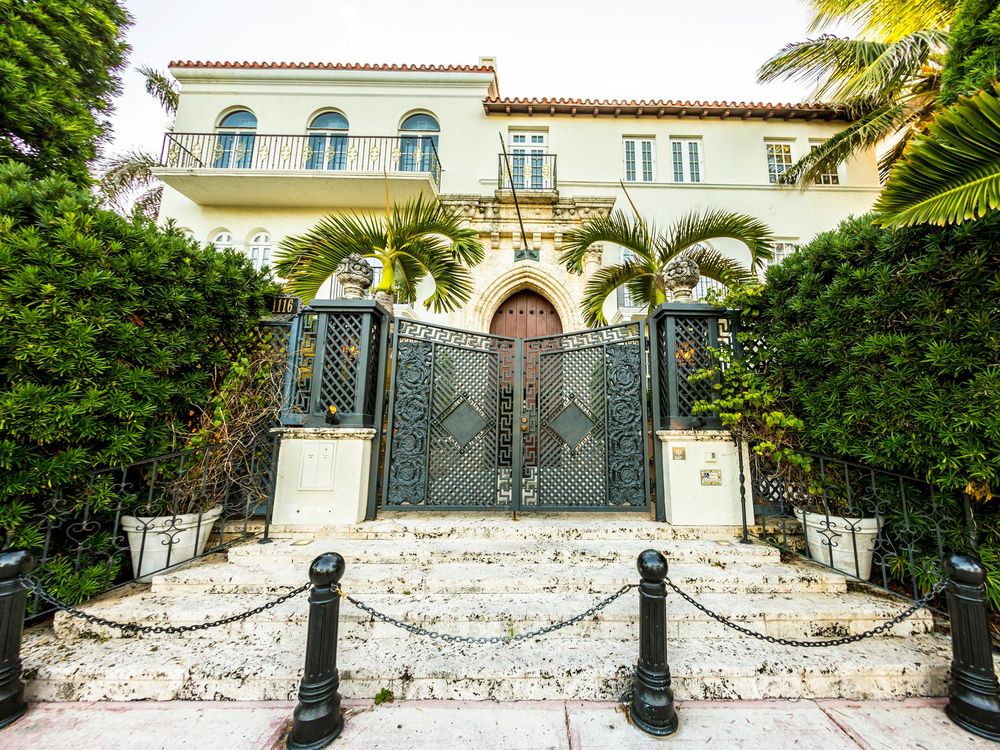 When Ryan Murphy, the producer of TV shows from "Glee" to "American Horror Story," began a new anthology series on celebrated criminal cases, his "The People vs. O.J. Simpson: American Crime Story," a celebrity-filled recreation of the trial, received nine Emmy Awards and two Golden Globes.
And while the bloody murders at the heart of that case were never showed in the 10-part series that aired in 2016, the lavish new installment of the series "The Assassination of Gianni Versace: American Crime Story" that premieres tonight on FX begins with the blunt and brutal shooting murder of the design icon.
It occurred just over 20 years ago, on July 15, 1997, on the steps of opulent Casa Casuarina mansion on Miami Beach's Ocean Drive. The influential 50-year-old designer was just returning home from a jaunt to get cigarettes and magazines. The perpetrator was Andrew Cunanan, a troubled 27- year-old with no fixed address, who was obsessed with wealth and fame, and was already on the FBI's Top 10 Most Wanted list when he arrived in Miami. He had killed four people in the four months before the Versace murder. Witnesses chased Cunanan, who shot Versace in broad daylight, but failed to catch him. The killer was found eight days later in a Miami houseboat, dead of a self-inflicted gunshot to the head, from the same gun he had used on three of his victims. 
Darren Criss, who gained fame as a singer on Murphy's "Glee," plays the killer Andrew Cunanan; Edgar Ramirez, the Venezuelan actor who earned an Emmy Award for his title role in the series "Carlos," is Versace. Penélope Cruz plays his sister Donatella; Ricky Martin is his partner Antonio D'Amico.
But is what happens over the nine episodes — which mostly goes back and follows Cunanan's murderous trail — close to what actually happened? 
Its producers are confident it is very close, as it is based on Maureen Orth's 1999 book Vulgar Favors: Andrew Cunanan, Gianni Versace and the Largest Failed Manhunt in U.S. History.
Though Orth is listed as a consultant on the project, she said last week in an interview, "I didn't see the finished episodes until after they were completed.
"They weren't asking me, 'Did this happen or did that happen?'" said Orth. 
"I would say my sourcing in the book is 95 percent or more on the record, and I talked to over 400 people," Orth told reporters at the TV Critics Association winter press tour panel last week. "And so, so many things that you might think were made up aren't made up. They happened."
One that comes up quickly is a flashback to a time when Cunanan met Versace seven years before the murder when Versace was called in to do costumes at the San Francisco Opera. Cunanan, a University of California, San Diego, dropout who was living in San Francisco's Castro District, made it a point to meet the fashion icon. 
"Cunanan was invited to a party to meet Versace," Orth said during the press session. "And I talked to at least, I'd say, five different people on the record who went to the party, who saw them talking. And then I also talked to one of Andrew's friends who claims that Andrew was riding around in a white convertible with Versace and Antonio one night and a kind of decadent socialite from San Francisco who was well known, and Andrew had him bring the car over to the curb so he could introduce and make them see that he was with Versace."
These days, someone would take a selfie and post it on all manner of social media. And that's the kind of celebrity proximation Cunanan sought, Orth says. 
"Today you can be an Instagram star or YouTube star," she says. "If he had been born later, maybe that's what he would have gone for. But in order to be recognized, he wanted to be famous so much that he was willing to kill for it.
"He presages the Kardashians making a sex tape to become famous or whatever you do to become famous these days."
"The story about him meeting Versace is told by Andrew and told in a flashback," says "American Crime Story" executive producer Brad Simpson, "because we wanted to dramatize the story Andrew was telling and present it as 'This is what Andrew said happened.'" Their meeting is presented as if it was something that Cunanan, an inveterate liar, might have made up. And as detailed as the book was, screenwriter Tom Rob Smith still had a challenge, Simpson says. 
"A lot of the first-person accounts of what happened were not possible," he says. "Maureen obviously had an incredibly researched book, but the people who knew Andrew, who were killed by him, can't tell their stories."
So, what transpires when his first victim Jeff Trail was murdered in Minneapolis in April 1997 or when his second victim, David Madson, was taken at gunpoint across several states a month later necessarily has to be imagined.  
"We did the same on the 'O.J.,'" Murphy says. "We didn't have access to what Marcia Clark said to Christopher Darden. We didn't meet Marcia until we were done shooting episode six. So, we had no access to exact conversations and idealizations that took place on that show either."
Murphy says he trusts Smith's scripts, which he calls "very emotional and accurate at the same time."
"You have these tiny points of truth, and you then try to connect the tissue between it.," Smith says. "But I would never use the word 'embellishing' or 'making up.' It's trying to join those pinpoints."
But the family of the designer had less faith.
"The Versace family has neither authorized nor had any involvement whatsoever in the forthcoming TV series about the death of Mr. Gianni Versace," the family said in a statement last week. "Since Versace did not authorize the book on which it is partly based nor has it taken part in the writing of the screenplay, this TV series should only be considered as a work of fiction." 
FX replied that like the "O.J." series, its new "American Crime Story" was based on a nonfiction bestseller that was "heavily researched and authenticated nonfiction" and concluded, "We stand by the meticulous reporting of Ms. Orth."
For her part, Orth says of the Cunanan question, "He absolutely did know Versace. To what extent he had a relationship with him or was seen with him afterwards or anything like that, I don't know." Cunanan told more than one person that when the designer came up to him at the dance club Colossus in San Francisco in 1990 he said, "Hi, I'm Gianni Versace," and Cunanan had responded with the brash line, "If you're Gianni Versace, then I'm Coco Chanel." Orth says, "He definitely said that line…Three or four people told me that."
Simpson says it is important that the series remind the public of the importance of Versace "as this disruptor and as this creative genius."
"I think Versace hasn't been given due credit," says Smith. "I think all you have to do is a simple research check and ask why hasn't a great biography been written of Versace when you look at what a pioneer he was both in fashion and in sexual politics."
In his day, Versace was not only a renowned designer, whose fashion house also produced makeup, fragrances, accessories and home furnishings, whose work was featured in films and theater, but he was also a friend of such stars as Elton John, Cher, Sting, Madonna and Eric Clapton. His friend Princess Diana attended his funeral. He was also a successful, gay icon at a time when there were fewer openly gay prominent people.
"Being declared a 'Most Wanted' didn't happen until after the fourth murder," Orth says, of Cunanan. And the FBI moved cautiously at the time, she adds, because "they were freaked by the O.J. trial. They were so worried that in a circumstantial evidence trial, how were they going to try it? What were they going to do? They had to cross every 't' and dot every 'i' and that gave him valuable time to get away."
"This is the largest FBI failed manhunt of all time, and I couldn't find podcasts on it," Smith says. "Why has this story not been told? Why has Versace not been given credit as this genius, and why has the great story only been told by Maureen's book? Why are there not multiple takes on this story?"
The nine-part "The Assassination of Gianni Versace: American Crime Story" begins Wednesday, Jan. 17 on FX. 
A Note to our Readers
Smithsonian magazine participates in affiliate link advertising programs. If you purchase an item through these links, we receive a commission.