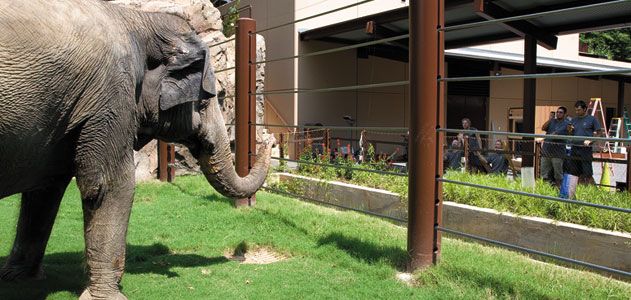 Annie Bissell is passionate about opera and elephants, but for now she is favoring elephants—as a volunteer at the Smithsonian's National Zoo. She has given up her Washington National Opera subscription as well as wine tastings and three book groups so she can instead get up at 4 a.m. three times a week to prepare meals for the elephants, shovel manure and help bathe them. "Working with these magnificent animals is a joyful commitment," she says. Last fall, I joined Annie, Zoo director Dennis Kelly, diplomats, reporters, major donors, volunteers and staff to celebrate the opening of Phase 1 of Elephant Trails, the new home for Asian elephants. As I addressed the group, two elephants—34-year-old Shanthi and her 8-year-old son, Kandula—sauntered toward us. Kandula helped declare the facility a success when he waded into its new large recirculating pool and began taking his morning bath.
Elephant Trails includes spacious yards; an elephant barn designed to maximize both animal comfort and opportunities for scientific observation; a quarter-mile-long Elephant Exercise Trek; and an information center called the Homer and Martha Gudelsky Elephant Outpost. Here visitors can view a map showing 100 years of Asian elephant habitat reduction, interact with a simulated elephant tracking station and examine simulated elephant dung at a "poop station," which is especially popular with kids; scientists use the real stuff to evaluate an elephant's health.
By 2013, Elephant Trails will be complete and able to accommodate an entire matriarchal herd and individual bulls.
The facility also boasts several environmental innovations, including 30 geothermal wells drilled approximately 450 feet deep. These wells help keep temperatures and humidity in the new buildings at elephant-friendly levels. Cisterns capture and store rainwater for landscape irrigation. Low-maintenance native vegetation planted on the rooftops reduces storm water runoff, provides natural insulation and creates a bird and butterfly habitat.
Only 30,000 to 40,000 or so Asian elephants now exist in the wild in South and Southeast Asia; they are highly endangered. Smithsonian researchers were among the first to use satellite tracking technology to study elephants, and to gather data about elephant hormone levels and practice artificial insemination to breed them.
The Smithsonian is conducting a number of elephant research projects, some funded by Annie Bissell, who is also a major Zoo donor and recently joined the Friends of the National Zoo (FONZ) board. Other Zoo initiatives, such as a new genetics lab and a joint degree program with George Mason University, help us train conservation biologists—ensuring that our work with Asian elephants and other endangered species will continue, strong and growing into the future.
G. Wayne Clough is Secretary of the Smithsonian Institution.