Toast With Beer This New Year's Eve, Not Champagne
Two breweries have teamed up to unveil a bubbly beer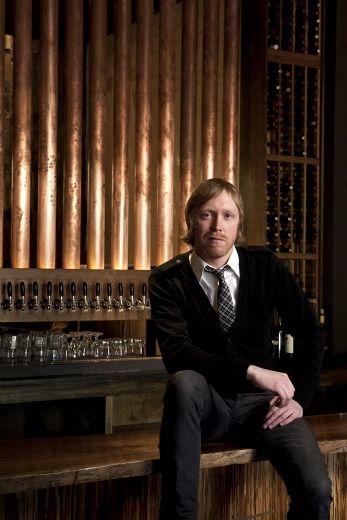 Perhaps it is because I associate it with that stomach-ache-inducing sparkling grape juice I gulped down during so many New Year's Eves as a kid, but I am not a huge fan of champagne.
So my ears perked up when I heard that the Boston Beer Company (the maker of Samuel Adams) and Germany's Weihenstephan, the world's oldest brewery, were teaming up to unveil a bubbly brew called Infinium that blurred the line between sparkling wine and beer, just in time for the holidays. The festive effervescence of champagne with the hoppy flavor of beer sounded like it could be the perfect combination, and I wondered if there were other "toastable" hybrids out there.
Greg Engert seemed to be the guy to ask. He is the beer director at ChurchKey, a swanky beer bar in northwest Washington, D.C., and Birch & Barley, its sister restaurant downstairs, where he curates an impressive collection of craft beer: 500 bottles, 50 taps and five cask-conditioned ales. Both the bar and restaurant, which opened in October 2009, have been huge successes, and Engert's hand in them hasn't gone unnoticed. In April, Engert became the first-ever beer professional to be named one of Food & Wine magazine's "Sommeliers of the Year."
Engert was preparing for ChurchKey's big New Year's bash (tickets still available for an open bar of 55 drafts and samples from Greg's "secret stash") when I spoke with him earlier this week. "I wouldn't say I dislike champagne per se," he said, "but I find that flavor options for sparkling wine are only subtly different. Craft beer, on the other hand, always provides the effervescence of a sparkler, but can do so with a wider range of tastes and aroma. You can enjoy roasty or even smoky flavors, caramel, toffee, toasty and nutty notes, herbal and citric hop freshness, or even fruit and spice aromatics that tend toward the darker side—plum, raisin, cherry—or lighter—peach, banana, apple."
Engert seemed as ebullient as the beers he has on tap, explaining how the methods of making beer and champagne can be quite similar. A popular trend, he says, is for beers to undergo a secondary fermentation at a winery, in much the same way that sparkling wine does. And, as I had hoped, he offered up some recommendations.
So, now, without further ado, I present to you Engert's top picks for beers to toast this New Year's Eve!
Bubbly & Brut-esque: DeuS: Brut Des Flandres | Brouwerij Bosteels | East Flanders, Belgium
This beer is fittingly titled the "Brut" of Flanders, as much of its production mirrors that of the finest brut wines of France, albeit crafted of malted barley initially in the Flemish north. The straw pallor signals the intense dryness to come, no doubt engendered in congress with the méthode traditionnelle*. Post primary fermentation it is dosed with sugar and wine yeast, then carried to Rheims, France (the capital of all things Champagne). Only there is it bottled where it can continue to re-ferment for three to four weeks. More than a year's maturation at cellar temperature then occurs, after which is riddling (3 to 4 weeks), then disgorgement. What remains is an ethereal brew, delicately emboldened.
* Note: Though Engert's other three picks are brewed by similar methods, this is the only one made in the méthode traditionnelle.
Bubbly & Roasty: Black OPS | Brooklyn Brewery | New York
​Here is an imperial stout loaded with intensely deep flavors of cocoa, caramel and espresso that is further layered by its four-month maturation in oak barrels once used to age Woodford Reserve Bourbon. Vanilla, spice, toast and coconut tastes abound in a brew that might have ended up heavier on the palate had it not been bottled flat, then re-fermented with wine yeast normally reserved for primary fermentation in sparkling wine. Black OPS ends up neither heavy nor sticky, but rather creamy and tantalizing while losing nothing of its mature character.
Bubbly & Tart & Funky: Hanssens Oude Gueuze | Hanssens Artisanaal | Flemish Brabant, Belgium
The "Champagne of Beers" as a moniker could have originally been applied to Gueuze Lambic, the classic-rustic brew of the Payottenland, a valley surrounding the river Zenne, which flows through—and even under—Brussels. While beer has been brewed in countless regions for hundreds, if not thousands, of years, this region has altered their brewing path very little over the centuries. Airborne wild yeasts and bacteria begin the ale's ferment, and continue along with a hoard of microscopic brethren in oak casks for a number of years. The Gueuze style is naturally re-fermented, but not by some careful "méthode" or more modern bottle conditioning practice; the Gueuze is a blend of Lambic that has wildly fermented in oak barrels for one, two and three years. The still hungry and now starved micro flora of the three-year-old thread feed upon the as yet unfermented one- and two-year-old beers' sugars and a natural fermentation results. Sparkling, yes. But wildly tart, earthy and even funky. These are rare craft-made ales that not only astound in their astonishing simplicity, but also stand as a sort of revenant of what beer once was...and is. And will be.
Bubbly & Hoppy: Sierra Nevada 30th Anniversary Grand Cru | Our Brewers Reserve, Sierra Nevada Brewing Company | California
This is the final installment in the series of artisanal beers brewed to celebrate Sierra Nevada's 30 years of craft brewing. It consists of two hoppy brews (Celebration Ale & Bigfoot), aged in oak barrels, then blended with fresh Sierra Nevada Pale Ale. While malty and firm on the palate, with vanilla notes from the wood, it exudes huge herbal and citric hop notes in the nose. Stunningly generous, as the re-fermentation serves to exude powerful effervescence that both brightens the texture and pushes the aromatic envelope as well.