These Architects Have Created Fun and Weird Ways to Stay Warm in the Winter
It'll make it worth your while to visit Winnipeg in February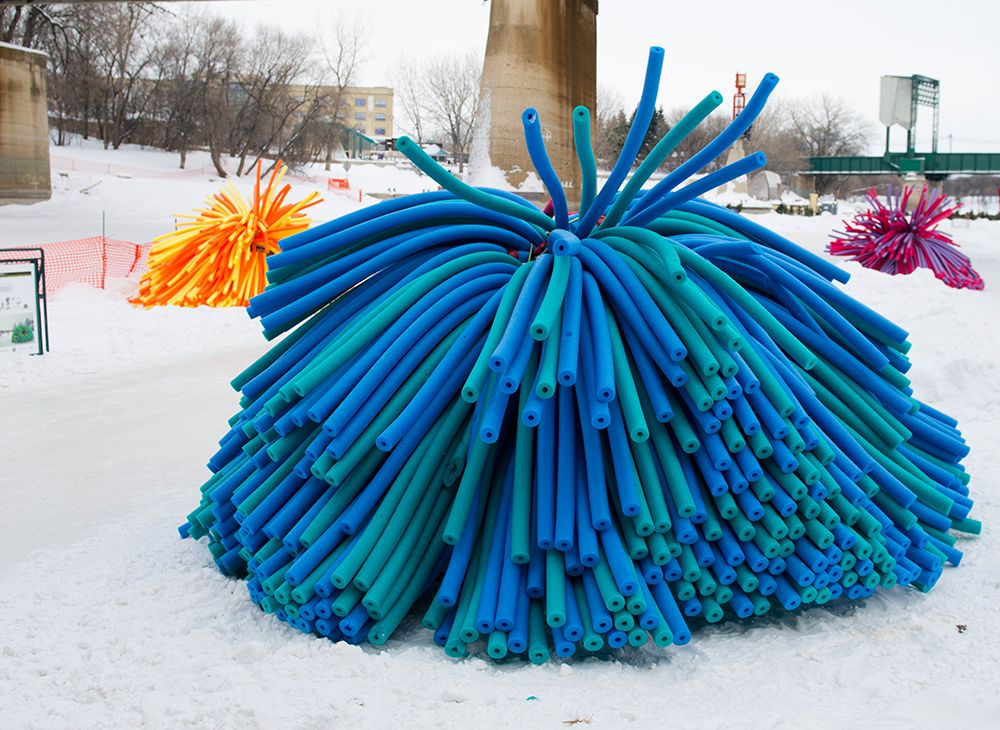 In Winnipeg, Manitoba, cold winters are a seasonal sentence. But instead of hibernating for four months, local residents have embraced it, holding winter carnivals, sponsoring a recent convention of winter cyclists and getting active on a six-and-a-half-kilometer-long skating trail on the Red and Assiniboine Rivers that intersect at a tourist development known as The Forks downtown.
Still, February's average temperatures, which range from -4 to 16 degrees Fahrenheit, call for at least periodic respite from the chill. Addressing the need for shelter, a group of local architects launched a warming hut competition to bring good design to rest stops along the Red River Mutual Trail, as the skating route is officially known, the longest such trail in the world per Guinness World Records.
"We wanted to do something on the river trail that exposed the community to good design combined with the exposition of art," said Peter Hargraves, a principal at Sputnik Architecture in Winnipeg and one of the founders of the contest.
The competition, currently in its fifth year, drew over 190 entries from around the world, resulting in five winners, coincidentally all from Canada this year.
But if you're picturing a cozy series of log cabins with open hearths within, you're thinking inside the box. This year's set of winners include a series of red drapes suspended from a bridge overpass that skaters can bundle into; "Red Blanket" was designed by Workshop Architecture in Toronto. Winnipeg-based Etienne Gaboury designed a two-stack hut that resembles an upside down pair of pants worn by colonial French traders known as "voyageurs." Students at the University of Manitoba created "Skybox," a ceiling-less room walled completely inside in mirrors to reflect the sky.
The huts were built on 8-by-12-foot skids in January and hauled out onto the ice late in the month where they will stay until the river begins to thaw, usually in early March.
Each year, huts that can be salvaged are stored and reused; 12 of this year's 17 huts date from prior competitions and include a design that looks like an overturned, oversized canoe decorated in fir boughs titled "Fir Hut" by Nova Scotia architect Richard Kroeker. Winnipeg firms Plain Projects, Urbanink and Pike Projects collaborated on "Hygge House," a backwoods, three-sided cabin decorated with snowshoes, a stuffed duck on the wall and freestanding rocking chairs all doused in neon yellow paint.  "Wind Catcher" by Norwegian architects Tina Soli and Luca Roncoroni features a wind funnel piercing an open-sided box painted bright blue outside, vibrant orange within.
The snowbound, metal cave-like structure called "Apparition" was designed by Albuquerque-based designer Antoine Predock. "Under the Covers" by Philadelphia-based Robert B. Trempe features a fake-grass-walled cave within an ice hut. And Hargraves himself designed "Carcass," a cresting, barn-inspired wood frame with a transparent skin.
Some of prior entries, including a composition made of ice and designed by star-chitect Frank Gehry, are ephemeral. This year, one winner lasted only a week. An entry known as "Nuzzles" by Raw Design of Toronto made of foam pool noodles to resemble oversized sea anemones in which skaters were supposed to nest couldn't withstand a bus load of schoolchildren. When the first foam appendage broke off, a noodle fight worthy of a water park broke out. "They weren't being destructive," said Hargraves. "Everybody knows what to do with a pool noodle."