There Oughta Be a Law
Centuries hence, historians may wonder: Where exactly did Congress store all those pork barrels?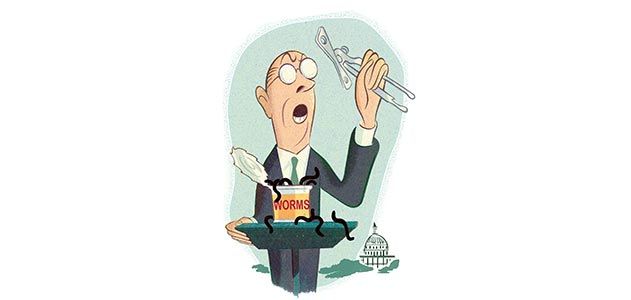 Washington, D.C., July 4, 2509: The General Services Administration today announced completion of an exact replica of the United States' Capitol building—designed from C-SPAN videos that recorded debate in both houses of Congress in the early years of the 21st century.
The grounds surrounding the Capitol have also been faithfully reproduced. There are bushes, which were beaten around, and a row of haystacks in which members of Congress used to look for needles. The driveway is paved with stones, none of which was unturned, and there are three bandwagons in front of the building upon which they frequently climbed. There are no fewer than seven flagpoles for the running up of ideas.
There are slippery slopes and level playing fields to accommodate whole new ballgames. Directly in back of the building is a lake from which the tips of icebergs protrude, and anchored there is a ship named Titanic, whose deck chairs can be rearranged.
Several handsome doors, which were always open and upon which opportunity tended to knock, lead to the restored Capitol's interior. Near the entrance sits a small waiting room for ideas whose time had come. The first floor also contains a gymnasium where lawmakers could exercise their prerogatives and a pediatrics ward for the babies that were thrown out with the bath water.
The kitchen features a large bakery, where the ancient solons prepared half loaves that were better than none, pies in the sky and cake that they could have and eat too. There's an abundant supply of salt, which lawmakers often took grains of, and pans that once held flashes. An oversized pantry accommodates hundreds of pork barrels. A huge butcher block was used to trim fat from the federal budget, which was sometimes cut to the bone. Geese were frequently cooked here.
An attached barn is a veritable Noah's ark of busy beavers, proud peacocks, sly foxes, mad wet hens, gored oxen, slow-paced snails and ducks (some sitting, some dead, some with water running off their backs). The video debates indicate that the most common animal of all was the bull, which was taken by the horns before it was loosed in the china shop, where it had a tendency to defecate, about which lawmakers often exclaimed. Pigs were kept in a poke.
The stable housed horses—some of a different color—with carts before them. Some of these animals were changed in midstream, and there were even dead horses that, sadly, appeared to have been beaten. Spurs of the moment hang throughout the stable. Although there is a separate room for one lone 800-pound gorilla, it was rarely mentioned. The kennel housed many old dogs, some that wouldn't hunt and others that couldn't be taught new tricks. If sleeping, the dogs were allowed to lie—unless they barked up the wrong tree. A special holding pen was reserved for "Blue Dogs," a breed that went extinct long ago.
The basement storage area includes shelf upon shelf of Pandora's boxes, both opened and unopened, and many cans of worms. There's a grindstone to which noses were put and bins of brass tacks.
From his office directly across the street from the restored Capitol, Speaker of the House Maxim Bromide said that making such good use of the videos was a stroke of genius. "From time immemorial," he went on, "our nation's legislators have had a way with words and always managed to hit the nail on the head. It's high time we preserve this national treasure. Nothing succeeds like success..."
William Ecenbarger is a freelance journalist who lives in Hershey, Pennsylvania.