The Tuskegee Airmen Plane's Last Flight
The final voyage of a World War II biplane evokes the exploits of the legendary fighting force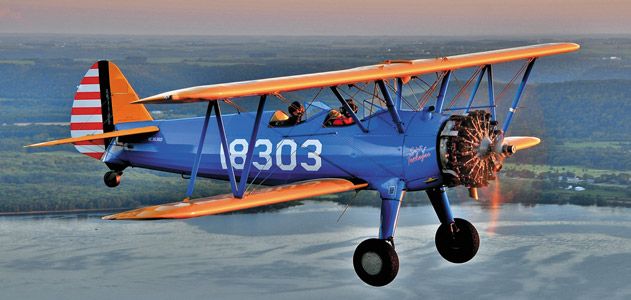 Parked on the tarmac at Lincoln, California's municipal airport, the open-cockpit biplane looked as if it had just rolled off the assembly line, circa 1944. This past July, the World War II-era two-seater's pilot and owner, Air Force Capt. Matt Quy (pronounced Kwai), took off from Lincoln in the PT-13D U.S. Army Air Corps Stearman, bound for Washington, D.C. and, ultimately, the Smithsonian's National Museum of African American History and Culture (NMAAHC), whose new home is slated to open in 2015.
The Stearman was standard issue for training fledgling pilots during the war. But what makes this particular plane—with its Air Corps blue, yellow, red and white color scheme—an important addition to the new museum's holdings is its backstory. It was used to ready America's first African-American military pilots, the Tuskegee Airmen, for aerial combat.
Primary training took place at Moton Field in Tuskegee, Alabama, which is where Quy's Stearman was originally based. The first class of five Tuskegee pilots graduated in March 1942, three months after Pearl Harbor.
The Airmen manned both fighter planes and bombers. Their 332nd Fighter Group was commanded by West Point graduate Lt. Col. Ben Davis Jr., the son of America's first African-American general. The 332nd was deployed in April 1943 and flew more than 1,500 missions over Italy and the Mediterranean from various bases in North Africa.
Quy's love affair with the PT-13D seems almost fated. "I grew up in Apple Valley, Minnesota," Quy recalled as he and I prepared to board the plane for a flight over California farmland. "When I was 7 or 8, my family lived at the end of a grass runway. There was a guy with a Stearman who dragged advertising signs. He'd come right over our house pulling those banners, and I was hooked." After graduating from Minnesota State University in Mankato, Quy became a pilot for Sun Country Airlines. In 2002, he reversed the typical pilot's career path and joined the Air Force. He bought the Stearman, which had been wrecked in a crash, in 2005, sight unseen, by telephone.
In Houston, Quy, along with his wife, Tina, a pharmaceutical rep, and an aircraft-mechanic friend, Robbie Vajdos, began a three-year effort to make the plane as good as new. "Luckily for me, after the war many of these planes became crop-dusters," he said, "so there are still parts available." And, in Texas, there was ample space available too. "We had three garages for all the stuff," Tina told me. In 2008, Quy and Vajdos finally got the plane aloft, taking it out for a 40-minute spin. "That first flight," says Quy, "was pretty emotional."
Not long after buying the plane, Quy discovered through research that it had been used by the Tuskegee pilots at Moton. Once restoration was complete and the Lycoming engine was back in working order, Quy—who flew a tour of duty in Afghanistan during this period—began taking the plane to air shows and meeting Tuskegee Airmen. Today, the underside of a fuselage compartment door contains the signatures of 45 Airmen. In 2008, an article in the U.S. Air Force Journal brought the story of Quy and his aircraft to the attention of Smithsonian National Air and Space Museum curator Dik Daso; he alerted NMAAHC curator Paul Gardullo.
Gardullo and Daso attended an air show at Edwards Air Force Base in Southern California in 2009, where they met Quy, his wife and two Airmen, Lt.Cols. Alexander Jefferson and Bill Holloman. The Quys agreed that their plane belonged at the Smithsonian, where it would symbolize the Tuskegee Airmen's story for millions of visitors.
On August 2, after a transcontinental journey that included stops at the Air Force Academy in Colorado, air shows in Minnesota and—most significantly—at Moton Field, Quy and his plane touched down on August 5 at Dulles Inter­national Airport outside Washington for the official hand over. The landing was timed to coincide with a national convention of Tuskegee Airmen in nearby Oxon Hill, Maryland.
Gardullo witnessed the landings at Moton and at Dulles. "It was a powerful experience seeing that plane brought back to its original home," he says of the Stearman's arrival at Moton. And of the plane's final touchdown, he told me, "When this tiny airplane came in among all the big airliners, for several minutes everything was just quiet. That was when the impact of this story really hit me."
Owen Edwards is the author of the book Elegant Solutions.