The Tour Bus Has Landed
The ups and downs of a lunar vacation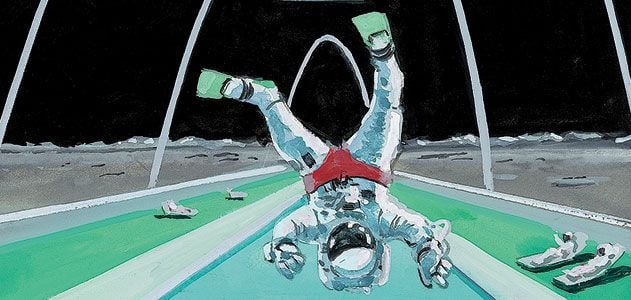 Trip-Pal.com Lunar Vacation Reviews:
"Swell intro to LunaWorld"
Fred and Frederica, Ohio
Reviewed June 6, 2034
Rating: ◊◊◊
We found the tourist orientation upon arrival most interesting. For instance, we never knew that electric fans don't work on the Moon because there is no air to blow around. We also learned that lunar rover speed limits vary from 10 mph (Japanese zone) to 100 mph (French zone), so pay attention to those road signs!
"Avoid the 'Bargain' Restaurants"
Bob and Bobbie, New Mexico
Reviewed October 9, 2034
Rating: ◊
There ought to be more supervision of the fast-food joints. A cheeseburger at the Buzz Aldrin Grill costs 50 bucks U.S. (without fries) and the cheese is this gooey green stuff. Made we wonder if that old tale about the Moon being made of cheese has some truth to it.
"Expect Crowds at the Sea of Tranquility"
Tom, Kansas
Reviewed September 25, 2033
Rating: ◊◊◊
I had to wait three hours in line to see the Apollo 11 landing site. Unfortunately, you can't get too close. Three years ago, the NASA Park Service built a fence around the site after some idiot tourist tried to step in Neil Armstrong's footprint. (Hello? This isn't Grauman's Chinese Theatre.)
"Bring Lots of Pep Pills!"
Vic and Sadie, New York
Reviewed January 1, 2036
Rating: ◊◊
None of the brochures tell you that rocket-lag is a killer. You can barely stand up for the first 48 hours or so. And you see double for days, which really affects sightseeing.
"Fine Wines and All the Trimmings!"
April and May, Oklahoma
Reviewed October 15, 2033
Rating: ◊◊◊◊
We dined like royalty! (If you enjoy wine, I recommend the Chateau de la Lune, '23.) I probably gained 20 pounds—but hey, on the Moon that's just 3.3 pounds! "Low gravity is not for amateurs" Dick and Jane, United Kingdom Reviewed September 19, 2035 Rating: H Our Fun Director handed out pogo sticks; one guy immediately went bounding off over the horizon. The search parties are still out!
"Discount Package Not Ideal"
Jack & Jill, Russian Federation
Reviewed May 10, 2034
Rating: ◊
We'll never take a Moonbuster Bargain Package Tour again. They put us up in an inflated tent on the dark side of the Moon. The kids didn't even get to see Earth from our vantage point, so the ads lied. Yes, a significant price break, but going all the way to the Moon for this was a big letdown.
"A Souvenir Shopper's Paradise!"
The Gorman family, Australia
Reviewed November 11, 2033
Rating: ◊◊◊◊
The Russian-owned shops in the Aitken Basin Mall are a must! We picked up four lovely small titanium serving bowls, made from the hubcaps of a Soviet lunar lander, for just four rubles. Avoid the U.S.-run Krazy Krater stores in the Sea of Despair—mostly junk, e.g., rocks carved in the likeness of Michael Jackson doing his Moon Walk.
Bruce McCall wrote about famous apps throughout history in the January 2011 issue of Smithsonian.