The Muppets Take the Smithsonian
Elmo, Fozzie Bear, the Count, Miss Piggy and 17 other Jim Henson puppets are coming to the American History Museum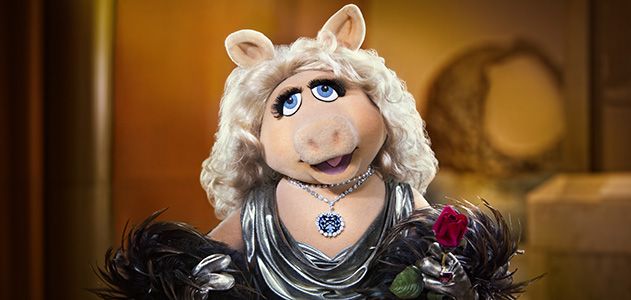 For the past 19 years, since being donated to the American History Museum in 1994, Kermit the Frog has languished alone in a glass case, unable to see his beloved. But today, the museum announces that the Jim Henson Legacy organization and the Henson family is donating 21 of Henson's most cherished puppets from "The Muppet Show," "Sesame Street" and other shows and films—a group that includes Elmo, the Swedish Chef, Fozzie Bear and, perhaps most important for Kermit, his longtime love, Miss Piggy. Fans of the Muppets will be able to see some of these latest additions to the collection in December in a new exhibition on puppetry (The Count, Oscar the Grouch and others will take a bow first with other Muppets rotating in every few months.) Miss Piggy will take a star turn as part of the museum's permanent "American Stories" exhibition.
"We cannot believe it's finally happened," says Dwight Blocker Bowers, a curator at the museum. For years, he explains, museum staff were in discussion with Jim's wife Jane Henson. Shortly before her death in April 2013, she agreed to a donation, which has since been carried out by Bonnie Erickson, who designed and built many of the puppets and now serves as executive director of the Jim Henson Legacy. "Generations of people grew up on 'Sesame Street,' and Jim Henson had an unmistakable influence on American entertainment as a whole," Bowers says. "In many ways, these will be the real jewels of our entertainment collection."
A few months ago, shortly after the puppets first arrived at the museum, a team of conservators and curators gathered secretly in a basement conservation lab to assess the state of the puppets, which were laid out on large stainless steel tables. Erickson paused in front of Miss Piggy and reflected on the character's humble beginnings. She'd made a generic female pig puppet as a background character for an early "Muppet Show" sketch in 1974, but before filming began, Henson got a request to perform on a TV special, and the script called for a young starlet puppet. "We quickly ran to the eye drawer, got some very big eyes with long eyelashes and changed her wig," Erickson said, "and I draped some fabric for a dress and put some pearls around her neck." 
At the time, the character was known as Miss Piggy Lee, but soon she was in a sketch that called for her to argue with Kermit the Frog. The puppeteer Frank Oz was performing with her at the time. "He did a karate chop with a really funny 'Harrumph!' that had us all rolling on the floor laughing," she said. "The minute that happened, everybody knew that the love affair with the pig had begun."
Rechristened Miss Piggy, she quickly evolved into what Erickson called a "high-maintenance diva"—the show's only character with her own costumer and stylist. Seeing the characters gathered together again at the museum stirred other memories for Erickson. "If you think watching on TV was fun, being there and seeing the performances live was incredible," she said, looking wistfully at the Swedish Chef. "There were times when I was sitting under the table when all that salad was being thrown around, and believe me, it was hilarious."
To welcome Miss Piggy, Smithsonian magazine's editors treated her to a photo shoot featuring two of the Institution's most valued treasures—Dorothy's Ruby Slippers and the Hope Diamond. Pairing the Muppet with the diamond required a secret, predawn escort to the Natural History Museum and an armed guard at the museum's Gems Hall. After staging and art direction by Erickson, she was photographed wearing a necklace bearing the 45.52-carat stone by the award-winning fashion photographer Cade Martin.
The donation, announced on what would have been Jim Henson's 77th birthday, means that Miss Piggy will have a position worthy of her stature. And even though she'll be next to storied artifacts such as Dorothy's ruby slippers and Muhammad Ali's boxing gloves, Bowers imagines that the pig will steal the show. "When we get her on the floor," he says, "I expect to see many noses pressed firmly against the glass."