The More the Merrier
Photographer Neal Slavin captures the night some Santas bent the rules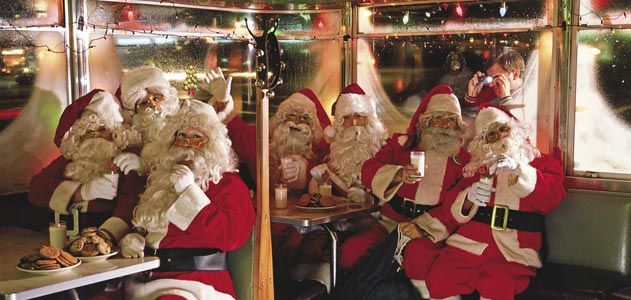 'Twas the season, and photographer Neal Slavin was racking his brain for a holiday picture. This was 1987, and Slavin had been doing a series of group portraits for the Washington Post Magazine. "I got to thinking," he says. "What happens while Santa isn't working?"
After rejecting a few ideas (among them, 20 figure-skating Santas), it occurred to Slavin that what Santa might most want to do after work was have a snack. "I figured he'd go in and have a hot toddy or something," he says. So he sat seven Santas around two tables at the Tastee Diner in Silver Spring, Maryland, and served up some milk and cookies.
The Post Magazine group portraits were an extension of the work that has defined Slavin's career. In the early 1970s, the photographer, now 67, was helping a friend research a film about the '50s when he came across an old group photograph of a Boy Scout troop. He had studied Renaissance art on a summer scholarship at Oxford University and was making a name for himself as an art photographer, yet he felt strangely moved by this bit of Americana.
"I just got so intrigued with it—it took me by surprise," Slavin says. Group shots, in his view, are endlessly fascinating because they bring out something in subjects rarely found in individual portraits: "You discover people are showing their public faces," he says. Your eye goes from figure to figure as you try to discern how the presence of one affects the behavior of another.
Within days of seeing the Boy Scout picture, Slavin took his first group portrait, of the Flushing Volunteer Ambulance Corps in Queens, New York. In short order, he embarked on what he calls "an odyssey across America," photographing groups. The resulting book, When Two or More Are Gathered Together (1976), is like a snapshot of the nation: on one page, a bingo club is poised to play a round in St. Petersburg, Florida; on another, the crewmen of the SS Skate stand in neat rows atop their nuclear attack submarine at port in Groton, Connecticut; on yet another, 33 boys show off their waistlines at a weight-loss camp in Loch Sheldrake, New York. The book seems heir to all sorts of visual traditions, from Leonardo da Vinci's Last Supper to August Sander's photographic portraits of the people of Weimar Germany to the Boy Scout picture from which Slavin fatefully blew the dust.
After his book was published, the photographer thought he would move on. No such luck. "No matter what I do, these group portraits keep coming back," he says. His 1986 book, Britons, examined similar groups in the United Kingdom, and he is now planning a project on religious groups in America. "The subject doesn't stop," he says. "It gets deeper and deeper."
Only rarely does Slavin get in touch with his group subjects again, but he often wonders about them. Examining the Santas, he tries to read their poses—their postures, their gazes, the manner in which they hold their cookies. "I'm still fascinated by who these guys are," he says. "How much did they reveal of themselves while they were posing for that picture?"
Slavin's Santas were the cream of the crop. Today, Leslie Collins, who waves from the center of the picture, draws a firm distinction between the men in Slavin's photograph, who commanded $100 to $250 an hour for private or corporate events, and the run-of-the-mall variety that he calls "pee-on-the-knee Santas." Collins, now 72, offers a take on Santa personification that echoes Slavin's on group portraits: it's all about revealing part of yourself as you inhabit a well-known role. "When you are a Santa, you're trying to be the character—but in your own way," he says. "I don't say 'Ho ho ho,' ever. There are just certain lines you stay away from."
Michael Levick, to the immediate right of Collins in Slavin's photograph, donned his first Santa suit at age 16—39 years ago—assuring skeptics that "to children, anyone older than them is old." He is the only Santa in the picture without eyewear. "Les [Collins] always said, 'Why don't you wear glasses?' And I said, 'I'm not reading notes—I'm visiting people!'" Levick points out Santas used to be portrayed wearing glasses only when reading letters sent to the North Pole.
"It's hard work," Collins says of being Santa, and so the Slavin shoot, which simply involved showing up and posing with some buddies, was a piece of fruitcake. A rarity, too, since professional code dictates that Santas avoid each other for fear of confusing children. Says Jerry Clarke, 53, the rightmost Santa daintily dunking his cookie: "Very seldom do a bunch of Santas get together."
David Zax is a freelance writer in Washington, D.C. He wrote about photographer Emmet Gowin in December 2007.
Go beyond the photos with Neal Slavin as he discusses some of his favorite group portraits.