The History of the Lunch Box
From a working man's utility product to a back-to-school fashion statement, lunch boxes have evolved with technology and pop culture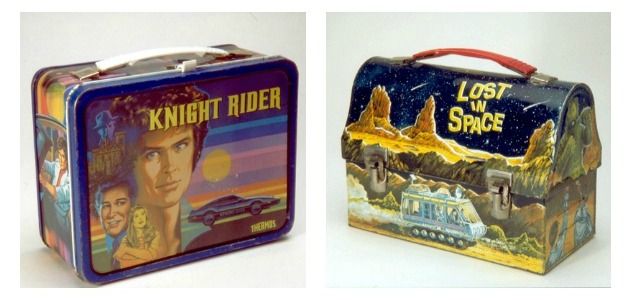 ​Considering what passed for children's fashion in the 1970s when I started elementary school—patterned polyester pants with coordinating turtlenecks—it's no surprise that picking out new clothes was not my favorite part of back-to-school shopping. Instead, I considered my most important September decision to be choosing the right lunch box. It had to last all year, if not longer, and it was a personal billboard, much like the concert T-shirt was to older kids, that would tell my classmates what I was into. The message I hoped to get across was: "Hey, I dig Snoopy. Wanna be friends?"
An added bonus of my Peanuts lunch box was that it was covered in comic strips, so just in case the lunch box failed to provide a conversation starter, I always had something to read as I ate my cheese and crackers, apple, and alphabet soup from the coordinating Thermos that fit neatly inside the metal box. (I guess my mom didn't get the memo about Quiche Lorraine, which was a popular lunch item in the 1970s, according to a fun series of food history posts, called What's In Your Lunch Box?, that Smithsonian intern Ashley Luthern wrote for the blog).
Sadly, the metal lunch box has mostly gone the way of the overhead projector. Today's kids often tote their lunches in soft insulated polyester versions that fit easily into backpacks, just the latest development in the long and distinguished history of midday-meal transporting devices.
The seemingly inactive Whole Pop Magazine Online has an illustrated history of the lunch box—cutely named Paileontology—that traces the origins to the 19th century. Back then working men protected their lunches from the perils of the job site (just imagine what a coal mine or a quarry could do to a guy's sandwich) with heavy-duty metal pails.
Around the 1880s, school children who wanted to emulate their daddies fashioned similar caddies out of empty cookie or tobacco tins. According to the timeline, the first commercial lunch boxes, which resembled metal picnic baskets decorated with scenes of playing children, came out in 1902.
Mickey Mouse was the first popular character to grace the front of a lunch box, in 1935. But the lunch box as personal statement really took off in the 1950s, along with television. According to Whole Pop, executives at a Nashville company called Aladdin realized they could sell more of their relatively indestructible lunch boxes if they decorated them with the fleeting icons of popular culture; even if that Hopalong Cassidy lunch box was barely scratched, the kid whose newest fancy was the Lone Ranger would want to trade in his pail for the latest model.
Cheap vinyl lunch boxes made a brief appearance in the 1960s, but metal continued to dominate the lunch box scene until the 1980s, when molded plastic—which was less expensive to manufacture—took over. Aladdin stopped making lunch boxes altogether in 1998, though Thermos continues to make them.
The Smithsonian's National Museum of American History has a sampling of images online from its lunch box collection, which includes some cool-looking miner's pails and popular models from the 1950s and 60s, many of which are in this post.
What kind of lunch box did you carry?