The History of the Drive-In Movie Theater
The continued attraction of viewing movies under the stars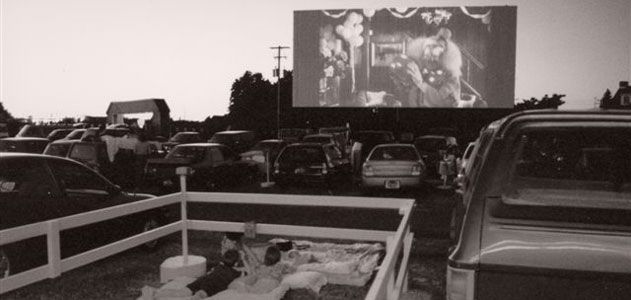 On June 6, 2008 the flag flying over the U.S. Capitol commemorated the 75th birthday of a distinctive slice of Americana: the drive-in movie theater.
It was on that day in 1933 that Richard Hollingshead opened the first theater for the auto-bound in Camden, N.J. People paid 25 cents per car as well as per person to see the British comedy Wives Beware under the stars.
The concept of showing movies outdoors wasn't novel; people often watched silent films on screens set up at beaches or other places boasting an abundance of sky. However, it took an auto-parts salesman such as Hollingshead to see the genius in giving a car-loving society one more activity they could do in their vehicles.
He first conceived the drive-in as the answer to a problem. "His mother was—how shall I say it?—rather large for indoor theater seats," said Jim Kopp of the United Drive-in Theatre Owners Association. "So he stuck her in a car and put a 1928 projector on the hood of the car, and tied two sheets to trees in his yard."
Hollingshead experimented for a few years before he created a ramp system for cars to park at different heights so everyone could see the screen. He patented his concept in May 1933 and opened the gates to his theater the next month.
The second drive-in, Shankweiler's, started a year later in Orefields, Pa. A few others followed, but the concept didn't really get traction until the advent of in-car speakers in the early 1940s. By 1958, the number of drive-ins peaked at 4,063.
"Drive-ins started to really take off in the '50s," Kopp said. "They offered family entertainment. People could sit in their cars, they could bring their babies, they could smoke. Drive-ins offered more flexibility than indoor theaters."
The indoor theaters were more flexible about scheduling, however, and could show one film five or six times a day instead of only at night. So to sell as many tickets as possible, the movie studios sent their first-runs to the indoor theaters. Drive-ins were left to show B movies and, eventually, X-rated ones. And being naughty helped some drive-ins survive.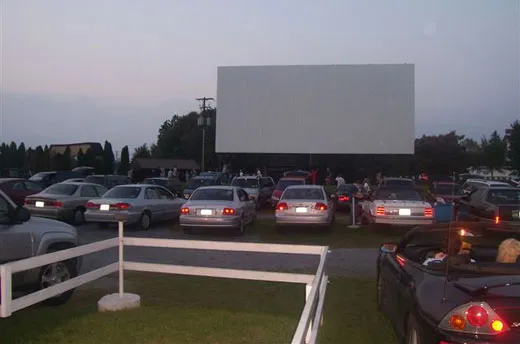 D. Vogel, owner of the Benjies Drive-In near Baltimore, Md., said the price of land is the real reason many drive-ins folded.
"People would build on the outskirts of town, and the town would grow," he said. Combine that with the fact that so many drive-ins were mom-and-pop businesses that few descendants chose to continue running, he explained. The results were a sinking number of drive-ins throughout the country.
"There's not enough income in it or else you'd see AMC or others getting drive-ins," Vogel said. "It's hard-earned money."
Today some 400 drive-ins remain in the United States, a number that has not changed much in the past five years. Another 100 drive-ins exist outside the United States, mainly in Canada and Australia. Kopp said the concept is suddenly becoming popular in China.
More than 75 percent of the drive-ins in this country are privately owned small businesses, according to the National Association of Theatre Owners.
"Digital cinema will be both an opportunity and a threat for drive-in owners," said the association's director of media and research Patrick Corcoran in an e-mail. "An opportunity because digital will allow them to get new movies sooner than they do—they are often weeks behind the break for new films. It's a threat in that the digital transition will be expensive to manage, and some may not be able to do it."
Kopp of course bets on the drive-ins' survival. In 2005, he and his wife bought the Raleigh Road Outdoor Theatre in Henderson, N.C., for $22,000 on eBay. He said they've invested about $300,000 since to clear the seven acres of weeds and modernize the technology. Today the theatre can accommodate 265 cars and show movies in a 60-foot-by-80-foot screen. The sound comes through car radios.
Film fare of the Raleigh Road and other drive-ins typically consists of G-rated films, Kopp said. Disney movies thrive, as do animated films.
"We've had some folks that come out on a weekly basis. It's almost like a tailgate party," Kopp said.
He's seen his share of fogged-up windows too, including a middle-aged couple too "passionately involved" to notice that the theatre's lights were off and gates were locked.
And then there are the people who sneak in without paying.
"Last week we were patrolling the property in the golf cart, and we saw a hole in the fence," Kopp said. "Some kids had been running through. So we put some chairs up and some popcorn out and left a sign that said, 'At least sit down and watch the movie.' We were kids once too."
The next day, the popcorn was gone.