The Great Bicycle Ride Across Iowa
Now in its 37th year, RAGBRAI is the longest, largest and oldest touring bike ride in the world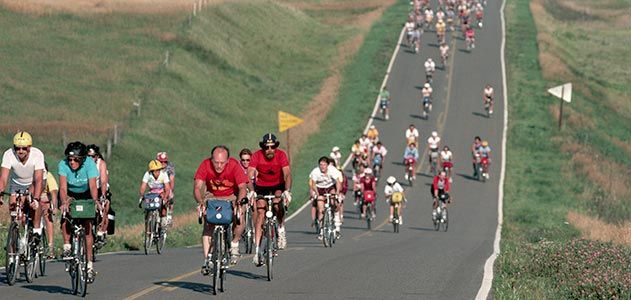 In the late 1960s, John Karras, a copy editor for the Des Moines Register, and his colleague Donald Kaul, a columnist for the paper, began to pile their ten-speed bicycles into Karras' Volkswagen bus and drive outside of Des Moines, where they'd ride a couple times a week. They were city boys. Karras grew up in Cleveland and Kaul in Detroit, and neither had spent much time on bikes since they were kids. But they were soon enamored with cycling, especially as a way to explore rural Iowa. Eventually they ventured further and further from home and by 1971, Karras and Kaul rode 125 miles from Des Moines to Iowa City. Karras recalls the trip took them about 13 hours, and the accomplishment got them thinking, why not pedal across the entire state in one week?
The journalists pitched the idea to the Register as a promotional event; they'd file stories about their experience in the saddle. Really, Karras admits, they wanted to see if the newspaper would cover their expenses. The managing editor approved, but with one suggestion: Open it up to the public.
"I wrote a little story, about six inches maybe," says Karras, now 79. "Donald Kaul and I had this incredibly stupid idea to ride across the state and anybody who wanted to come with us was welcome to do that." The actual announcement, worded slightly differently, ran on July 22, 1973, and the six-day, 410-mile ride was scheduled to start in Sioux City, near the Nebraska-Iowa border, on August 26.
"We didn't expect anybody to show up, maybe three or four teenagers," says Karras. To his surprise, about 250 cyclists greeted them at the official start, a motel parking lot. As the peloton, which swelled to about 500 people in the 40 miles or so between well-populated Ames and Des Moines, snaked through the cornfields, farmers offered up their hoses, towns supplied free sandwiches and school kids were let out to slap hands with 83-year-old Clarence Pickard, the oldest on the ride. At the end of the day, Karras and Kaul retired to motel rooms, where they would write stories on their portable typewriters and dictate them over the phone to the paper's city desk. Other riders staked out places to camp, often right on the motel grounds.
Though only 114 of the riders on the Great Six-Day Bicycle Ride Across Iowa made it to the finish in Davenport, a tradition was born. Now in its 37th year, the Register's Annual Great Bicycle Ride Across Iowa, or RAGBRAI (pronounced Rag-bray by Karras, and Rag-brye by most everyone else), held the last full week in July, is the longest, largest and oldest touring bike ride in the world, with some 20,000 day- and weeklong-riders from 27 countries.
As Karras would later describe in his book RAGBRAI: Everyone Pronounces it Wrong, the gaggle included cyclists such as Carter LeBeau of Davenport. LeBeau was on a three speed in jean cut offs and red-striped rugby socks. He bought a 12-pack of the socks and convinced three friends to come and wear them too. Now 82, LeBeau has ridden in all 36 so far, sporting his trademark tube socks each time. He had just gotten off his stationary bike when I called him. "I don't care if you're in Germany or Sweden," he said. "Bicyclers know two things, the Tour de France and RAGBRAI."
By LeBeau's definition, I became a true bicycler last year, when I entered my first RAGBRAI. The west-east route varies from year to year, and the 2008 ride would be a 471-mile stretch just north of Interstate 80, from Missouri Valley on the Missouri River to Le Claire on the Mississippi. With the mileage per day ranging from 52 to 83, all but the shortest day would be longer than my personal best of about 55 miles. But I had heard that RAGBRAI was a party on wheels and figured that if people could do it hung-over, sometimes even in costumes, I could manage it sober and with the proper gear.
My boyfriend Ryan and I registered by the April 1 deadline and paid the $140 fee, guaranteeing us designated campsites at parks, fairgrounds and school campuses along the way and the ability to throw our baggage on a semi truck each morning to be hauled to the next overnight town. The event's organizers cap the numbers at 8,500 weeklong and 1,500 daylong riders, understanding that up to 10,000 riders jump in unregistered and have friends or family drive support vehicles along the way. We found out we made the lottery in May, and by late July, strapped our Treks to the back of Ryan's Ford Explorer and drove to Iowa.
About a hundred miles outside of Missouri Valley, we started witnessing the circus-like quality of RAGBRAI. Reconditioned school buses painted bright colors, inscribed with wacky team names and outfitted with rooftop bike racks barreled past us on the interstate and were peppered throughout the town once we arrived. A cotton-candy pink one transporting the "Sigourney Weavers" was parked right near the playground where we pitched our tent the first night, between the swings and the monkey bars.
Then, there were the riders to gawk at come morning, as we set out in a steady stream. Like the originals, they are still a rag-tag group—whole families on tandems, people blaring "Thunderstruck" or "Sweet Home Alabama" from sound systems in wagons trailing behind them and riders on towering unicycles. Teams go to comical lengths to identify themselves; "Team Pie Hunters" doggedly pursued pie sold at churches and school fundraisers in each town and wore Styrofoam slices of their favorite kinds—cherry, apple, key lime—on top of their helmets.
The vendors and onlookers along the route are often as entertaining as the riders. Within the first few miles on the first day, we were just gaining momentum when we circled a bend and spotted a mass of cyclists forming a line just off the road. The Pancake Man, Jim Kuper of Council Bluffs, Iowa, was busy tending to a grill that he jury-rigged to make 96 pancakes every two minutes. A box that slides over the grill dispenses batter four pancakes at a time. "We flip them over our heads, around our back and onto a plate," says Kuper, a RAGBRAI personality for 24 years now. "They always challenge me to see if I can throw a pancake 50 or 60 feet. I'm good to about 40 feet."
Further down the road, we found Mr. Pork Chop, who sets up a pink bus with a corkscrew tail and hawks pork chops. In Coon Rapids, Iowa, we held a squealing piglet at a makeshift petting zoo in the main street of town. "The thing that has really astonished me over the years is the imagination of these people," says Karras, who is taking Spinning classes to train for his 33rd ride. Karras remembers a bunch of farmers in northwest Iowa who got together and figured out how to square dance with tractors. "They were steering like hell, dosey-do-ing," he says.
Amidst the circus, there are also signs of old-fashioned America. Lemonade stands spring up at the ends of driveways, Slip 'N Slides spread across yards and cheerleaders and mayors often greet riders at the entrances into towns. When we made it to Underwood, the first town about 25 miles outside Missouri Valley, little kids in cowboy boots were handing out silver sheriff badge stickers. "The hometown goodness of Iowa still applies today like it did back in 1973," says T.J. Juskiewicz, RAGBRAI's director. In fact, he says, it's RAGBRAI's greatest resource.
When it comes to hospitality, towns maneuver to outdo each other. People offer up rooms in their homes and yards for overnight campers, home-cooked meals and dips in their swimming pools. "They have this mi casa, su casa mentality," says Juskiewicz. One time, LeBeau and a friend had made arrangements to stay at a stranger's home along the way, and when they showed up there was no one home, just a note on the door directing them to their rooms and the keys to the Oldsmobile parked in the garage.
The preparation it takes for a town of 3,500 or less to handle the onslaught of 20,0000 cyclists is a feat in itself. Towns hosting the event are responsible for coordinating public safety and signage right down to how much ketchup is needed for the barbecues. And, in the end, it seems as though the sense of accomplishment felt by the towns is as great as that of the riders.
It's the things you can't control, like the weather, that are the most stressful, according to Juskiewicz. On my journey, we experienced this in Harlan, Iowa, on the second night of the ride, when we awoke to sirens, the thrashing of our tent and a loudspeaker advising everyone to take shelter. A band of storms coming through was bringing high winds, lots of rain and a possible tornado. "It's July in Iowa," says Juskiewicz. "It can get kind of dicey sometimes."
The truly treacherous days in RAGBRAI history are always remembered. "Soggy Monday," of 1981, left many hitching $5 rides from Iowans with pickups and cattle trucks. "If you want to know what Monday was like, get on your exercise bike and crank down the tension so that you can hardly turn the pedals then, have someone spray you lightly with a hose while a high-speed fan blows on you. Pedal for 10 hours," wrote Donald Kaul in his recap of the day. Then, in 1995, on "Saggy Thursday," winds of up to 40 miles per hour left many piling into the ride's sag wagons, for tired riders. Commemorative patches were made for both days; the harder the ride, the prouder the riders are for having weathered it. Headwinds, heat rashes and cold showers (both outside, and inside locker rooms) are all part of the adventure.
For Ryan and me, it didn't take long to decide that we'd be back for RAGBRAI again, joining the 66 percent of riders every year that are repeaters. Under bright blue skies and with the wind at our backs, we spent the last day's 52-mile ride devising a team jersey for the crew of friends we hoped would join us. Would we get an RV? Doctor up a bus? Camp? Those would be details to work out, but it would be done. We sailed downhill into the river town of Le Claire, birthplace of Buffalo Bill, dunked our wheel in the Mississippi, as is tradition, and lifted our bikes above our heads in victory. We had done it—all 471 miles.
Heading home, we drove back across Iowa on the interstate. What took us seven days by bike took us four and a half hours, but when we noticed the names of towns we had ridden through listed on exit signs, we found ourselves reminiscing about the young violinist who serenaded us in Mount Vernon, the little market where we ate corn on the cob and fed the husks to the goats in Homestead and the monster hill between Ogden and Boone, Iowa, birthplace of Mamie Eisenhower. "From a car, Iowa is fairly dull," says Karras. "But from a bike seat, it can be beautiful."