The Farmer and the Dell—or the iPhone
New technology is taking the farmer-consumer relationship to another level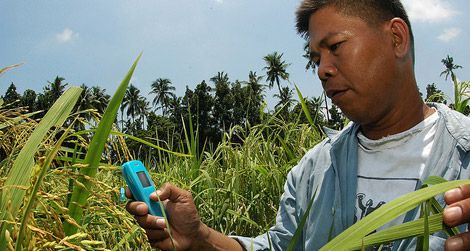 Conscientious eaters want to know all about where their food came from, how it was grown and who grew it. Part of the appeal of farmers' markets is getting face time with those who spend their days with their hands in the dirt. Suddenly, consumers want to have a "relationship" with their small-scale farmers, ranchers and cheese makers — people who once toiled in obscurity. (This is still usually the case in the larger agricultural industry, where the vast majority of our food comes from.)
One unintended consequence is that, now, personality counts. A grower with a winning smile or the gift of the gab may get the sale even when the wares at the next table are just as fresh and succulent-looking. There's a pair of young, attractive male farmers in my area whose tent always seems to be crowded with female customers.
Now, technology that wasn't around a decade ago—blogs, smartphones, Facebook and Twitter—is taking the farmer-consumer relationship to another level. It's how CSA members can find out what's likely to be in their share soon, get recipes for what to do with bok choy or celeriac, and read cute little stories about how the farm animals are doing. The farmer gets to communicate with current and potential customers, and office-bound readers get to live vicariously through their computer or phone screens.
Ree Drummond, who has parlayed her rural life as the wife of a cattle rancher into a wildly successful site called The Pioneer Woman, gives a glimpse of the possibilities for savvy online self-marketing. She doesn't quite qualify as a rancher herself—although she often rides along and helps out with the chores, she seems to usually have a camera in hand—but her gorgeous photographs and folksy anecdotes about life on the range are about as good an advertisement as any for making a living off the land.
Most farmer blogs are far simpler (and, some might argue, more authentic). The Dairyman's Blog, written by a young Alabama dairy farmer, offers "MooTube" videos of life on the farm. Self-described farm wife Jill Heemstra focuses on the funny side of farming at Fence Post Diaries, with blog titles like "You Might Be a Farmer's Wife If…" (example: "…you use the phrase 'semen tank' in casual conversation").
Blogs and tweets are also providing a new platform for farmers of all stripes to express their views on agriculture and politics. Missouri hog farmer Chris Chinn advocates on her blog for fewer government regulations and conventional farm practices that she feels have gotten a bad rap, while small-scale farmer Gavin Venn tweets as @morethanorganic with his thoughts on animal welfare and genetically modified foods.
Social media has become a stand-in for the kind of conversations farmers have always had in person, about the weather, what's growing, advice and opinions. The Twitter hashtag #agchat encompasses discussions of parenting on the farm, venting about too much or too little rain, links to agriculture news and just about everything else of interest to the ag-minded.
But tweeting from the tractor has its perils. As Stewart Skinner, a Canadian pig farmer with the Twitter handle @ModernFarmer tweeted recently about his gadget, "The blackberry can't stand up to the rigors of the barn. RIM needs to come up with a smartphone for farmers."