In late October 2022, a big-time streaming star returned to the city where it all began for him. Ralph Macchio (most recently of "Cobra Kai" fame) was in Tulsa, Oklahoma, to promote his memoir, Waxing On: The Karate Kid and Me. Hosted by Magic City Books, the live conversation in the Art Deco auditorium at Will Rogers High School featured another pop culture icon: S.E. Hinton, the writer whose teenage words would forever be emblematic of young adult literature and whose most famous creation, The Outsiders, helped launch Macchio's career some 40 years earlier.
Prior to the event, Hinton was quietly going about her business, wandering the school's halls absent-mindedly. "It was funny when I first came into the building," she said near the end of a phone conversation last Halloween, a week and a half after her appearance with Macchio. "It's been a long time, so I was kind of looking around … and a woman came up and asked me, 'Is this your first time inside the school?' I said, 'No, not really.'"
More than half a century ago, Susie Hinton (soon to be known by her gender-neutral pen name) was a student at Will Rogers, where she received a D in creative writing because class assignments were nowhere near as important to her as working out the plot and characters of The Outsiders. The story would come to define her life—even though these days she would rather discuss just about anything else.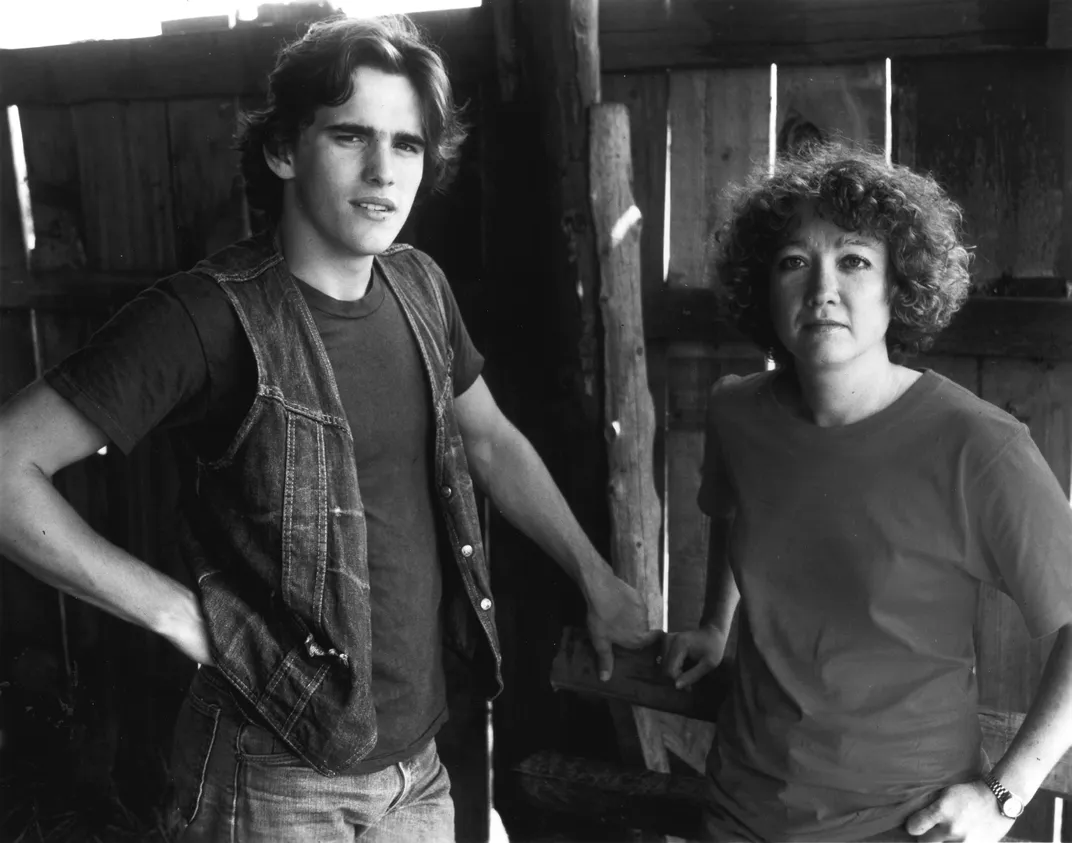 "I am very tired of talking about [it]," says Hinton, now 74. "I don't give speeches about it anymore. The thought of getting into it one more time is almost paralyzing. You're lucky. This may be the last interview on The Outsiders I'll ever give. … Oh god, for once, I'd like to discuss Rumble Fish."
While Rumble Fish is certainly a fine book (and a terrific artsy film), it isn't ranked 32nd in PBS's "The Great American Read" poll of the top 100 English-language novels. Over its 56-year lifespan, The Outsiders has sold more than 15 million copies, been published in more than 30 languages and never gone out of print. The 1967 book is a foundational text in the young adult fiction canon, and the 1983 movie version (featuring Macchio as 16-year-old Johnny Cade) plays an outsized role in bringing tourists to Hinton's lifelong home of Tulsa.
Hinton has nine books to her name, from children's picture books to a horror novel to a collection of intertwined short stories with adult characters to the coming-of-age works that built her literary career. But none of the others matches the ongoing cultural phenomenon that is The Outsiders. It's still an English class staple, taught (and occasionally banned) in middle and high schools across the country. The heartfelt movie adaptation has staying power, too. One of its ramshackle filming locations, the Curtis brothers' home, opened to the public in 2019 as the Outsiders House Museum. And in 2021, the film underwent a 4K restoration that reinstated several beloved scenes from the book that failed to make the original cut.
Hinton may have said all she has to say about The Outsiders, but it remains an American classic, as relevant and beloved today as when it was published more than five decades ago.
The origins of The Outsiders
Writing was an oasis from a rough upbringing Hinton rarely mentions but did describe to the New York Times in 2005. As author Dinitia Smith wrote:
Ms. Hinton's, father, Grady, was a door-to-door salesman, her mother, Lillian, an assembly-line worker. "My mother was physically and emotionally abusive," Ms. Hinton said. "My father was an extremely cold man."

 

It's clearly a difficult admission to make, and one she has almost never made. The family attended a "fundamentalist, hellfire and brimstone" church, she said. "It turned me off religion."
By the time she was 15, Hinton had already been churning out stories and poems for eight years. She wrote about what she knew: the ongoing battles between the haves and have-nots. In interviews over the years, Hinton described herself as an observer who grew up in North Tulsa "greaser" (slang for their greased-back hairstyles) territory but wasn't beholden to any one group. She was a tomboy who loved to read and yearned for honest teenage representation.
The genesis for The Outsiders was an incident in which a friend of Hinton's was jumped by a carload of upper crust "Socs" (short for "Socials") and beaten up for being a greaser. The escalation in the high school cliques' long-running rivalry fueled a creative burst that found the 16-year-old finishing the first draft in a week in 1966.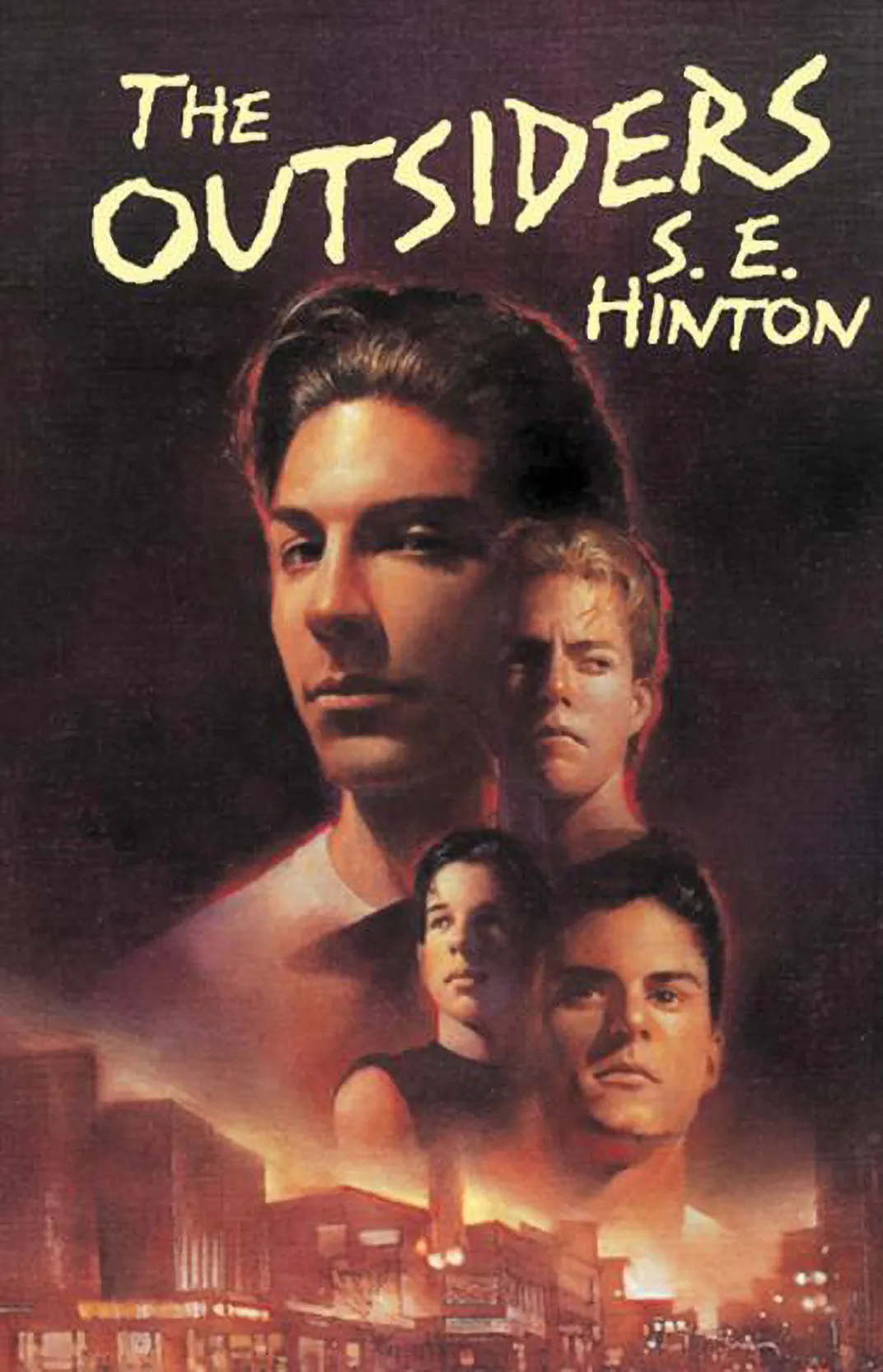 "What I was talking about was real," Hinton says. "Books at that time for teenagers were 'Mary Jane goes to prom,' but [they] didn't include sneaking in the liquor, which was the main point. Nobody was writing about what was going on in my high school: the social and class warfare."
The Outsiders is a coming-of-age novel told through the eyes of 14-year-old Ponyboy, the youngest of the three orphaned Curtis brothers. He's a sensitive, Robert Frost-reciting soul whom Hinton once described as "the closest I've come to putting myself into a character." She aimed for realism, so the Socs and greasers smoke and drink, chase girls, and fight.
The book covers two weeks in the chaotic lives of Ponyboy and his best friend, Johnny. The plotting is concrete and relatively sparse. In short order, Johnny kills a Soc who was trying to drown Ponyboy, forcing the greaser friends to go on the run. Seeking shelter in an abandoned church, the boys bond over cigarettes, sunsets and a yearning for life without socioeconomic unrest. Deciding to return home to the face the music, the outlaws become heroes, rescuing children from a burning building at great personal cost.
By the book's end, three characters are dead, including Johnny and Dallas Winston, a rebellious East Coast transplant who goes down in a hail of police bullets. The violence is frank, as is the utter lack of nurturing adult figures. But what stands out is how much these tough, wrong-side-of-the-tracks teenagers care for one another. They share a depth of feeling and a fraternal love among young American men that hadn't been displayed before Hinton put her experiences on paper.
"I've known many men in my life with an availability of compassion underneath that they're afraid to show, which is not the case with Susie's main characters," says Rilla Askew, an author who has written multiple novels set in her home state of Oklahoma, including the award-winning Fire in Beulah. "They have a tenderness and a decency about them, and it's probably not a coincidence that it was a young female author writing young male characters."
Bringing the book to the public
Not long after Hinton finished the manuscript, a friend of a friend advised her to send it to an agent named Marilyn Marlow. In response, Marlow wrote that the novel, originally called A Different Sunset (other rejected titles include The Switch-Blade Boys and The Leather Jackets), had "captured a certain spirit." On Hinton's last day of high school in 1966, she learned Viking Press wanted to publish her book. It came out in 1967—Hinton's freshman year at the University of Tulsa—with "S.E.," a gender-neutral name suggested by editor Velma Varner, on the cover. Susie Eloise went out and bought herself a Camaro.
Initially marketed as a dime-store paperback alongside books by pulp fiction writer Mickey Spillane and the like, The Outsiders saw sluggish sales. Eventually, Viking caught on that the book was selling well where teachers were teaching it. Students and educators kept sales growing year after year through word of mouth, proclaiming that this was the book in which teenagers could see themselves.
"I think The Outsiders is the biggest of all my books because I wrote it at the right time in my life," Hinton says. "By the time I wrote [the companion novel] That Was Then, This Is Now four years later, I could well remember what it was like being 16, but it's still not the same as being 16. The Outsiders still resonates because it captures how teenagers feel—the mix of over-the-top emotions and idealism."
After years of turning down offers from film studios, Hinton eventually sold the rights to The Outsiders to Francis Ford Coppola, an Oscar-winning director in need of a hit. Soon, a large cast of fresh-faced young actors—a future "who's who" of Hollywood—descended upon Tulsa. The movie would find a whole new audience for Hinton's debut novel and permanently alter the city for the better.
Bringing The Outsiders to the screen
In 1972, Jo Ellen Misakian was a parent with a new job as a librarian at the Lone Star School in Fresno, California. She gave the book to her 13-year-old son, later telling the New York Times, "I had been so frustrated because the kids, the boys especially, didn't read. Somehow, The Outsiders caught on." Misakian decided the book should be turned into a movie, so she contacted a Fresno Bee newspaper columnist who pointed her to Parade magazine's movie editor. The editor, in turn, suggested contacting Hinton, who never responded.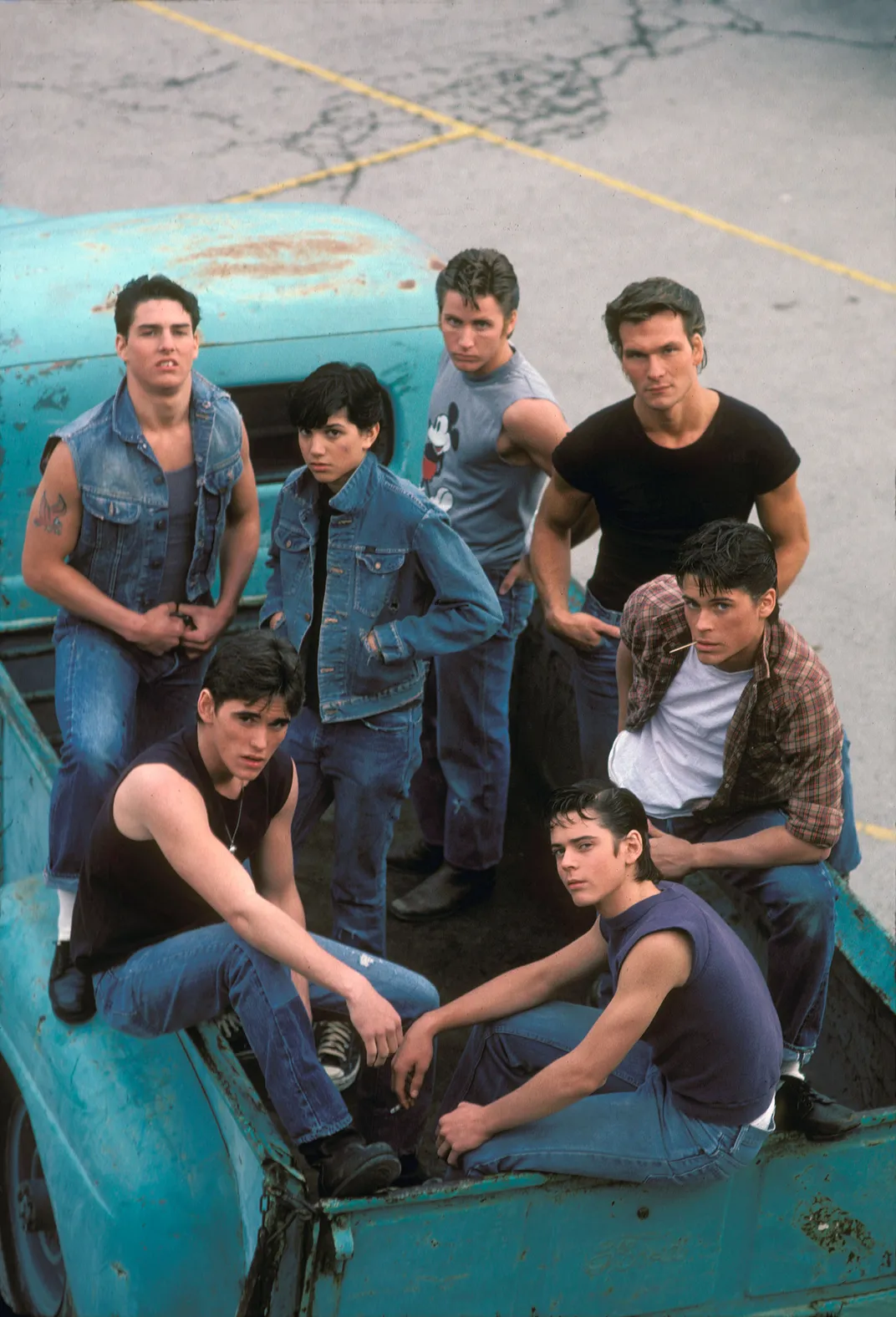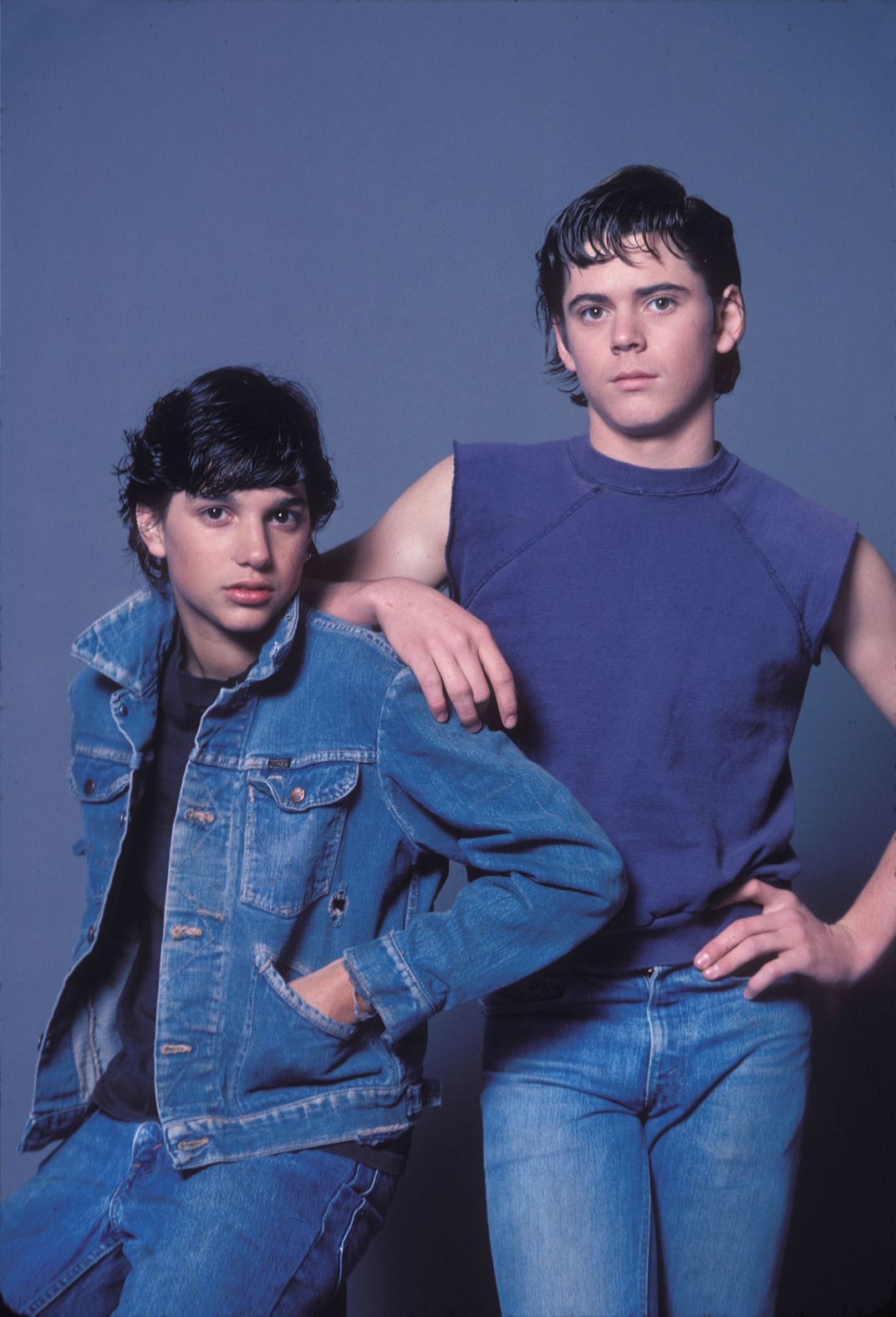 Undeterred, Misakian wrote a letter to Coppola, who had recently produced The Black Stallion, a 1979 film adapted from the classic 1941 children's book. She pitched him on The Outsiders with an enclosed paperback copy of the novel. Luckily for her, she mistakenly sent it to his New York City office, where he received almost no fan mail. Coppola handed the book off to producing partner Don Roos, who found the cover illustration tacky and didn't crack it for weeks, but eventually decided to give it ten whole pages on a flight to see if it was any good. Roos read it cover to cover. Not long after, he flew to Tulsa to meet with Hinton. She wasn't dazzled by Coppola's cinematic pedigree, including films like The Conversation, The Godfather and Apocalypse Now, but as Roos explained when The Outsiders was released in March 1983, "she likes horses and felt The Black Stallion showed we had some affinity for young adult fiction."
Coppola began filming in March 1982, secure in knowing The Outsiders could be completed on the cheap. He'd just blown $26 million, a huge sum at the time, directing One From the Heart, a wayward musical that grossed a mere $636,796 at the box office and eventually bankrupted Coppola's Zoetrope Studios. The director found salvation in the Socs and the greasers, once saying, "I used to be a great camp counselor, and the idea of being with half a dozen kids in the country and making a movie seemed like being a camp counselor again. It would be a breath of fresh air. I'd forget my troubles and have some laughs."
A wide-net call that auditioned virtually every known Hollywood actor—a grueling process for all—produced a cast that is, in hindsight, remarkable for its talent: Matt Dillon, Tom Cruise, C. Thomas Howell, Macchio, Patrick Swayze, Rob Lowe, Emilio Estevez and Diane Lane. The nimble, stripped-down nature of shooting The Outsiders allowed for a lot of back and forth and a lot of down time, creating a real bond between the actors (or the greasers, anyway).
"It always does something when you take a group of people out of their own element and stick them in a new space. It forces them to turn to each other for support," says 56-year-old Howell, who played narrator Ponyboy Curtis and will soon appear in the Netflix series "Obliterated." "On the weekends, we were playing football and basketball against the Socs. Coppola set it up in good nature, but subconsciously and psychologically, it was creating a real competitive atmosphere and a dislike that wasn't malicious by any means but definitely gave us a needed sense of rivalry."
Photojournalist David Burnett saw the insular vibes firsthand after being asked to take publicity stills. Photos that weren't used for promotion at the time were placed in a reject box and stashed away in a file cabinet. Some 35 years later, Burnett, now 76, heard about the opening of the Outsiders House Museum in Tulsa and offered to dig up and donate some snapshots. This, in turn, led to Burnett's new book, The Outsiders: Rare and Unseen, a collection of long-shelved stills of the bright young cast. Burnett, whose illustrious career has taken him all over the globe, shooting events like the liftoff of Apollo 11, the Iranian Revolution and a Bob Marley tour, has fond recollections of his week in Oklahoma.
"It was a very low-key operation, so I just hung around, and every time an actor had a break, I'd ask them for five minutes to get a few shots," he says. "Nobody knew who these guys were, so they were happy to do it. They were all striving to do something interesting and career-building in ways they didn't even realize."
Burnett adds, "If The Outsiders were filmed today, they would be bulkier and in peak physical shape, but what the movie called for was a cast of skinny, innocent-looking, young working-class boys. Tom Cruise didn't even hide his gnarly teeth. [These were] different times. Being part of it was a real pleasure."
Howell recalls Hinton's presence as an important part of the process. She offered wardrobe and hairstyle tips, answered questions about Tulsa back in the day, gave personal insights, offered character motivations, explained the differences in the everyday lives of Socs and greasers, and generally acted as the group's den mother. She still keeps in touch with most of her "guys," which is why she acquiesced to Macchio's overtures to join him on stage last fall.
Though neither Hinton nor Coppola received a screenplay credit—it went solely to Kathleen Rowell, an early drafter of the project—the duo shaped the story and the scenes to keep it authentic to the author's world.
As a reward for getting the book into Coppola's hands, Misakian and her Fresno community got their own early screening attended by cast members including Howell, Macchio and pop star-turned-Soc Leif Garrett. Misakian received a standing ovation, calling the experience a fairy tale—and her story didn't end there.
In September 2021, the name "Jo Ellen Misakian" went up in lights on Tulsa's Circle Cinema marquee, where the librarian appeared as a guest star at a special screening of the movie she made possible. Misakian also autographed the celebrity wall inside the Curtis brothers' home, a gathering place for Hinton devotees that was rebuilt by a former hip-hop luminary repaying The Outsiders for helping to save his life.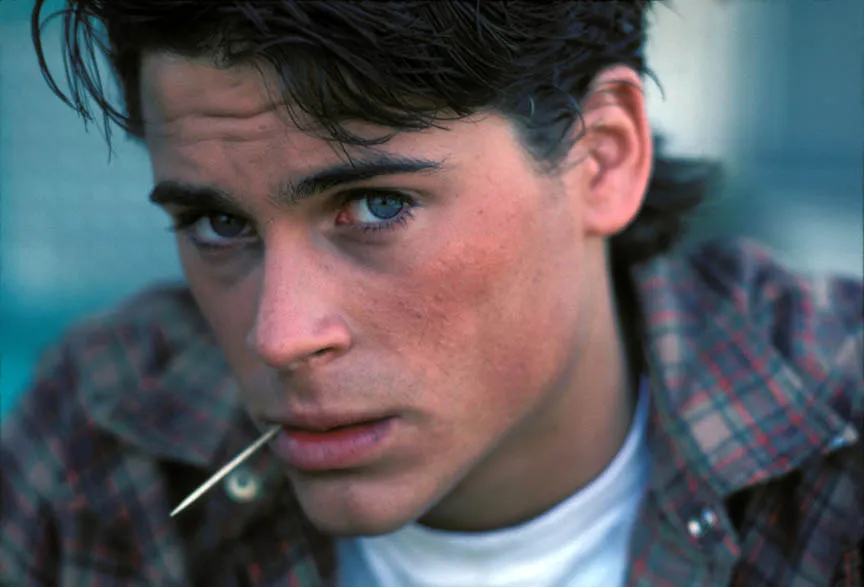 Preserving The Outsiders' legacy
Located in North Tulsa's Crutchfield neighborhood at 731 North St. Louis Avenue, the 1920s Craftsman bungalow looks more or less the same as it did when Coppola used it as the home of Darry, Sodapop and Ponyboy Curtis. It's a simple one-story dwelling, a cream-and-white wooden abode featuring a concrete porch dotted with midcentury metal porch furniture to ride out those steamy Oklahoma nights. A rusty chain-link fence surrounds the modest property, where the 1949 Plymouth Special De Luxe driven by Two-Bit Matthews (played by Estevez) rests on the lawn and personalized donation bricks encourage guests to "stay gold."
In 2009, Danny Boy O'Connor, whose defunct hip-hop group House of Pain hit it big with "Jump Around" in 1992, was touring in Tulsa when inspiration struck. He paid a cabbie $100 to drive him around in search of Outsiders filming locations. Discovering that the Curtis brothers' house still existed led him to found the Delta Bravo Urban Exploration Team ("Delta Bravo" sounded less corny than "Danny Boy," he thought), a group of online friends who make pilgrimages to pop culture and true crime sites to photograph them for posterity. It was a way to reconnect with his life, which had spiraled into the abyss after House of Pain broke up in the mid-1990s.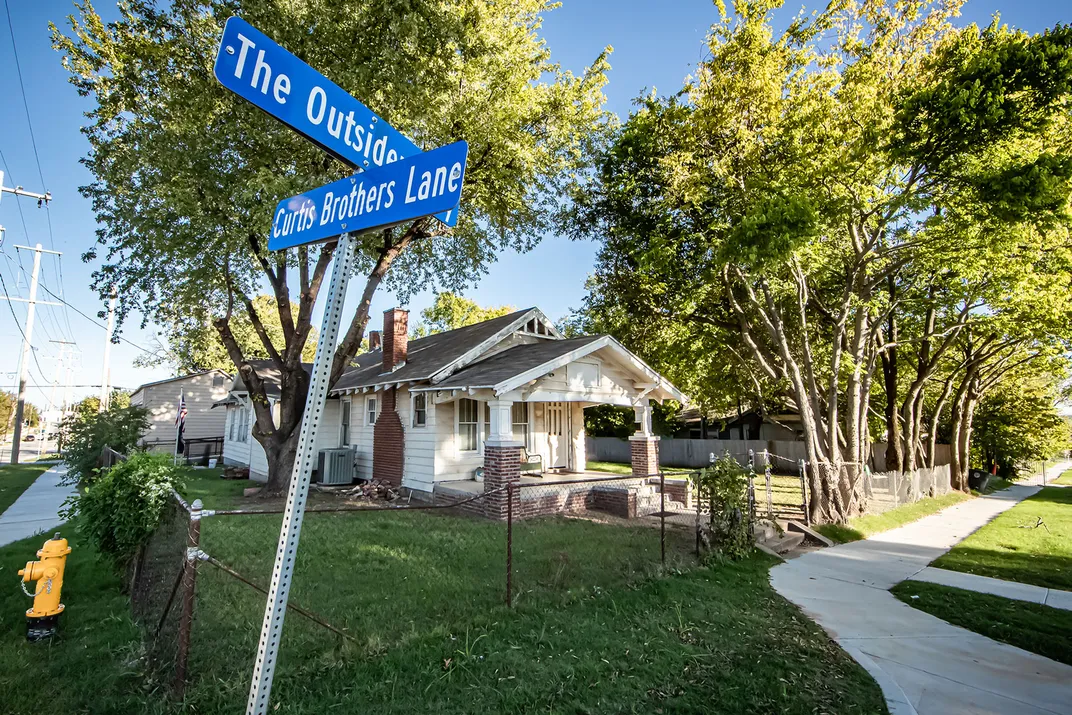 O'Connor was born into a rough Brooklyn life. His father was in and out of prison and would eventually die drunk on the street, he says. After remarrying, his mother moved her son to Los Angeles for a fresh start, but two years later, his alcoholic stepfather died of cirrhosis of the liver. It was the type of upbringing that would culminate in the hip-hop artist burning through millions of dollars on alcohol and drugs.
The young O'Connor found solace in The Outsiders' story of orphans and brotherly sensitivity. Unable to afford the house when he first encountered it, he sprang into action and bought it when he saw it go up for sale in 2015.
"If I didn't save the [house], I knew I was going to be miserable for the rest of my life," says O'Connor. The property was in terrible condition, he recalls, likening its look to the home of the serial killer in David Fincher's Se7en. He didn't have the $150,000 it would take to turn it into a livable home; despite the fact that his only memorabilia from the film was a poster, he decided to turn it into a museum. Preserving the Curtis brothers' home became his reason for being, a chance to give back and be of service in his new surroundings. Before he undertook the project, however, he needed to connect with Hinton.
"Danny called and asked if we could meet up. I didn't know anything about his musical career, or even what he looked like, but I knew by the end of lunch that we were going to end up close friends," Hinton says. "He asked if I had any interest in buying the house. I said, 'God no, I can barely keep up with my own house,' but I told him to go ahead if he wanted to."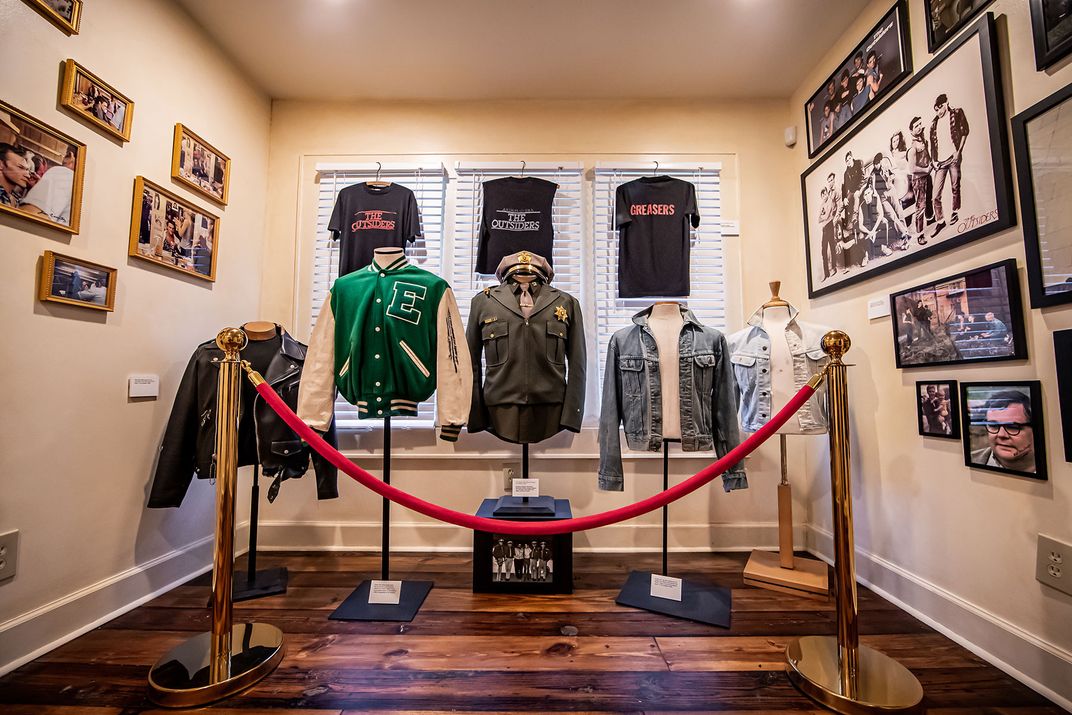 Hinton gave more than her blessing. She made the first large donation, $10,000, and provided O'Connor with a brown leather jacket worn by both Dillon and Howell in the film. O'Connor's original estimate was that it would take six months to get the museum up and running. It took more than three years and $175,000, but for all involved, it was a labor of love.
Today, the 1,400-square-foot interior is filled with furniture, memorabilia, paintings, foreign editions, Burnett's photographs, multiple switchblades, wardrobe pieces like Estevez's sleeveless Mickey Mouse shirt (and a faux chocolate cake to boot), and Ponyboy's desk. An obscure period detail honors another famed Oklahoman: a 1958 record album of Mickey Mantle's favorite hits (fortunately not sung by the Yankee slugger).
In August 2019, the Outsiders House Museum officially opened its doors, welcoming school groups during the week and the general public on the weekends. O'Connor estimates that some 20,000 people visited in 2022—a sizable uptick from the previous pandemic-plagued years. Private tours allow docents like Donnie Rich to explain their personal connections to the book. As a teenager who didn't do the reading for class, Rich says he knocked on Hinton's door in an unsuccessful attempt to secure her help with a book report on what he calls the "Oklahoma Bible." The museum also hosts concerts, movie screenings and Alcoholics Anonymous meetings. True Curtis brother diehards can even crash across the street at the Greaser Hideout Airbnb or, for the full experience, in the still-vacant lot where Macchio's Johnny slept under a pile of newspapers.
"Danny has done a great job with the Outsiders House," says Hinton. "People come from all over the United States, and even the world. He said teenage girls have walked in and burst into tears. It floors me."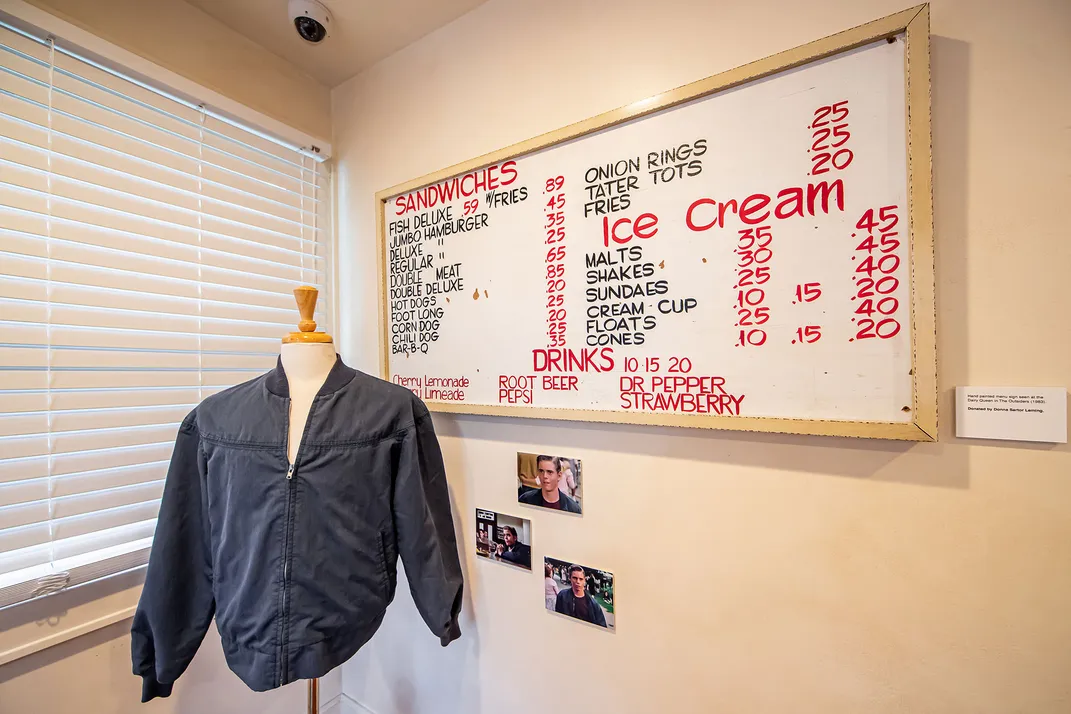 For O'Connor, the museum has been a life-changing experience, offering a sense of direction as well as a literal place to live. He relocated from Los Angeles to be the full-time keeper of The Outsiders' flame. He was integral in the publishing of Burnett's photo book and recently signed a contract with Penguin to write the film's oral history. Nearly everyone from The Outsiders, extras and big stars alike, have dropped by the museum (excluding Cruise, at least so far). So have fanboys like musician Jack White, Leonardo DiCaprio (while filming Martin Scorsese's upcoming Killers of the Flower Moon) and the members of Green Day. O'Connor is such a fixture around Tulsa that Mayor G.T. Bynum gave him a key to the city.
Hinton's life today
Apart from a few years spent in Northern California, Hinton never left Tulsa. She still lives in the house where she and her husband, David Inhofe, a software engineer by trade, raised their son, Nick Inhofe, who now works as an audio engineer in the movie business. She's down to earth and not wild about discussing herself (Hinton makes it abundantly clear there will "never be a memoir"), but she also chats with fans on Twitter and in the neighborhood writ large. Tulsa provided all she ever needed, and she's comfortably woven into the fabric of the community, walking unknown through the halls of her alma mater before bringing the local house down.
"I still get recognized sometimes at the grocery store. It's not a J.D. Salinger situation. I haven't got the temperament for that or the talent to deserve it," says Hinton, adding dryly, "You might not know it from reading my books, but my sense of humor is a strong part of my personality."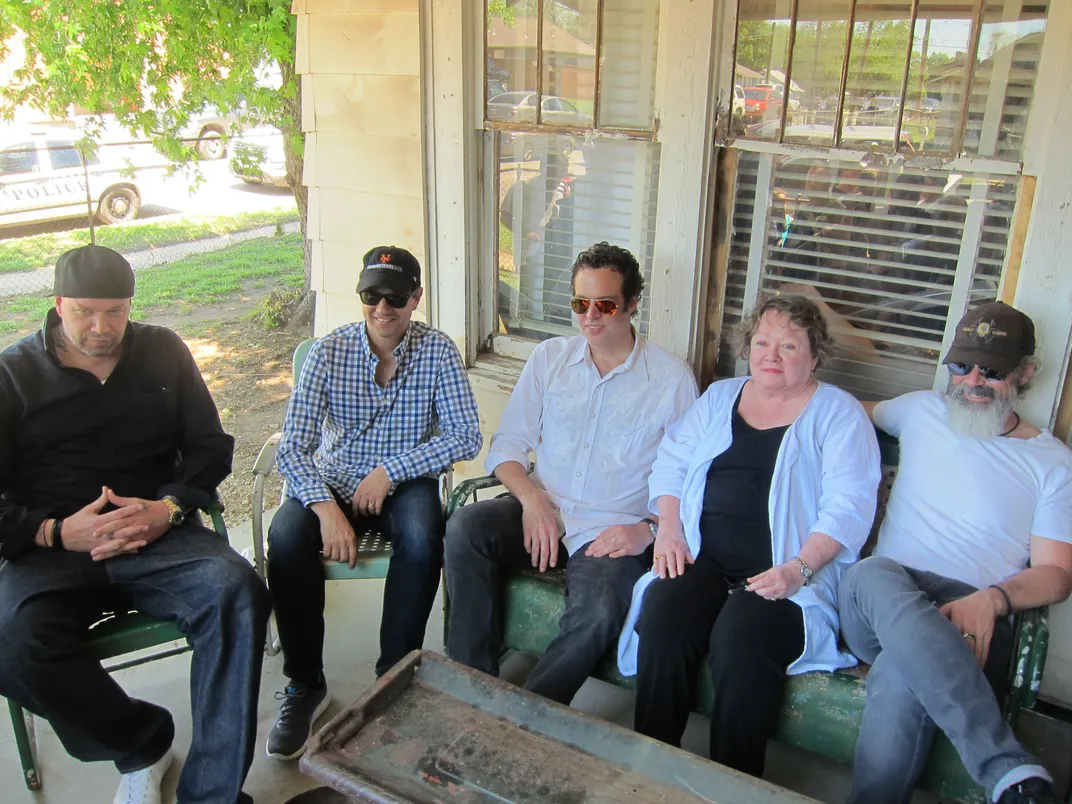 Teresa Miller can attest to Hinton's fun-loving, grounded personality, as well as her central role in the local literary scene. In 1994, Miller founded the Center for Poets and Writers at Oklahoma State University-Tulsa. She spent two decades running it and hosting the PBS television show "Writing Out Loud." Along the way, she and Hinton became professional colleagues and close friends—but before they even met, Miller, 70, was thrilled that somebody had upended the standard perception of who Oklahomans are.
Miller explains, "I come from a little Cherokee community called Tahlequah and began working in Tulsa before moving here decades ago, so I've lived both a rural and urban life. Growing up, Oklahoma was known for the Rodgers and Hammerstein musical and The Grapes of Wrath, both of which my father hated because of the Okie stereotypes."
She adds, "The Outsiders changed that. It took the Oklahoma story to a different level. [Hinton] showed Tulsa as a regular city with regular city problems and handled it in a unique but universal way. She wrote a [novel about] Oklahoma that had nothing to do with singing cowboys or the Joads. It didn't eliminate the stereotypes … but The Outsiders and Susie's subsequent books changed how the outside world viewed us and even how we viewed ourselves."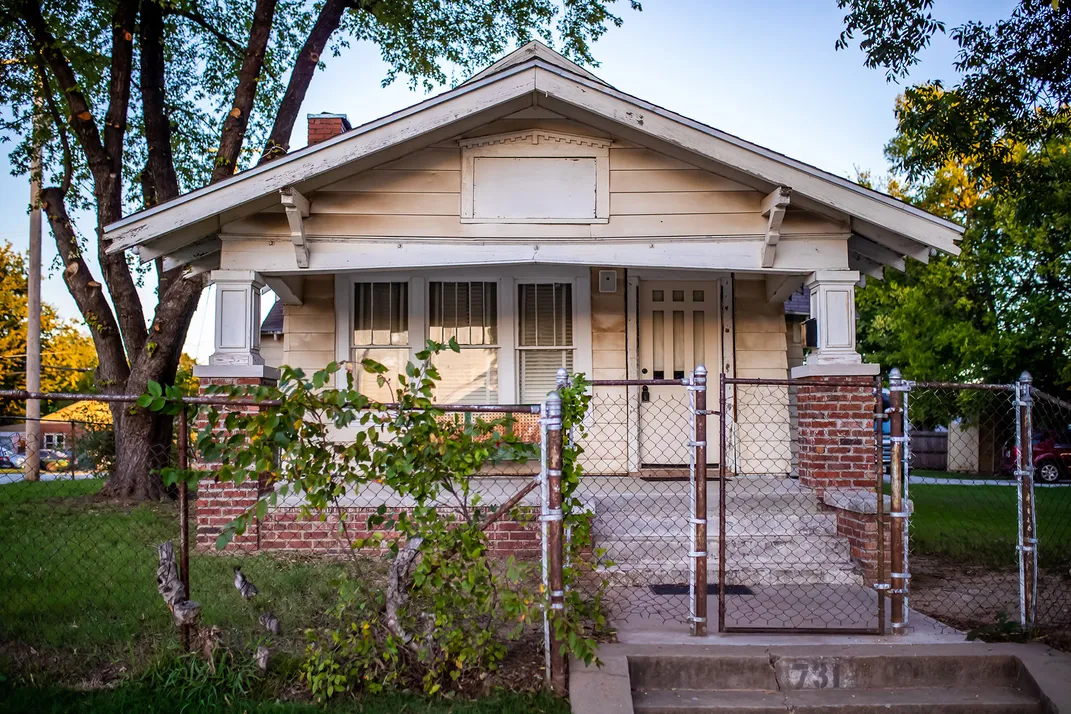 It certainly changed how Okie transplant O'Connor sees himself. It's become his life's work—and he's just getting started. Renovations are underway at the iconic DX gas station featured in the film, and he's aiming to raise enough money to restore other abandoned locales like the Rexall Drug Store. He also has designs on something bigger for his favorite author.
"I want to open, for lack of a better name, the S.E. Hinton Museum, which she absolutely hates," says O'Connor. (Hinton replies, "I'll believe it when I see it.")
The former hip-hop star adds, "I was lost after House of Pain. [Hinton's] brilliant work gave me purpose. Bringing her legacy to the people is what I'm meant to do."
If O'Connor's vision ever comes to fruition, it will honor Hinton's full literary career, not just the book that put her on the map. At the end of the day, though, the author understands the significance of The Outsiders.
"I'm known best for the first thing I've written, but it's better than not being known at all," she says. "I just don't want to talk about it anymore."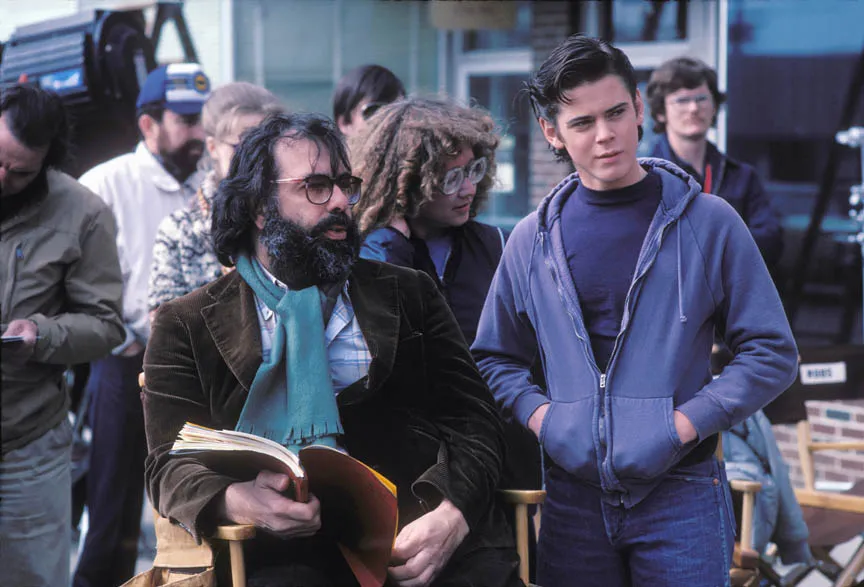 A Note to our Readers
Smithsonian magazine participates in affiliate link advertising programs. If you purchase an item through these links, we receive a commission.