The Collections of the African American History and Culture Museum Await Their New Home
Objects from Muhammad Ali's headgear to Nat Turner's Bible sit in a holding facility in Maryland, ready to be put on display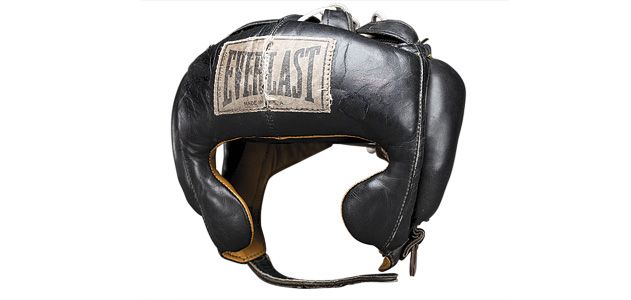 As the National Museum of African American History and Culture awaits construction of its bronze-tinted showcase building, slated to open in 2015 on the National Mall, its collection is taking shape in an unlikely industrial neighborhood on the outskirts of Washington, D.C.
An unpretentious storage center in Landover, Maryland—white, blocky, sharing a road with a coffee-processing plant and a bus depot—is where Muhammad Ali's headgear hangs and Chuck Berry's Cadillac idles. It's where manacles from the middle passage and Nat Turner's Bible await curatorial treatment and framing.
I've toured the Landover site and can testify to the individual power of artifacts like those. But as the collection continues to grow—18,000 items and counting—what strikes you is the range of what's gathered here, the startling juxtapositions and diverse, overlapping narratives.
Because I grew up in a small town in southern Georgia, the story of the civil rights movement is very personal to me. As a boy, I attended segregated schools, and was a freshman at Georgia Tech in 1961 when the school wisely chose to desegregate voluntarily. Other museums tell the story of civil rights, yet no collection like this exists, spanning the full range of politics, commerce and culture.
When donations arrive in Landover, they first sit outside the main storage area, in a spacious, vaulted anteroom, to ensure they don't contain insects or other contaminants. Pass into the main room and your eyes might first alight on the turntables, amplifier and speakers of the Bronx-based D.J. Tony Crush. On a nearby pallet is the Purple Heart and footlocker of James L. McCullin, a Tuskegee Airman killed in combat. And a desk a few steps away belonged to Robert Sengstacke Abbott, the editor of the Chicago Defender, founded in 1905, which published Langston Hughes, among other noted black writers.
Sometimes such items fit into curators' pre-existing plans, whether chronological or thematic. Other times, artifacts themselves have reshaped the museum. Curators first thought they might like to pick up a few of the ornate hats and turbans sold by Mae's Millinery Shop, a Philadelphia institution founded by Mae Reeves in 1940. But as they talked with Reeves, now 99, and her daughter about her journey, they realized it was, says curator Michèle Gates Moresi, "a more expansive story" than one about hats. That story touched on black entrepreneurship, feminism, self-presentation and city life. "There was kind of a flash point when it all came together," she adds. A reconstruction of one of Reeves' shops will now be one of the museum's centerpiece exhibitions.