The California Surf Museum
Learn about the evolution of the surfboard from 1912 through 2008 in this small gallery in Oceanside, California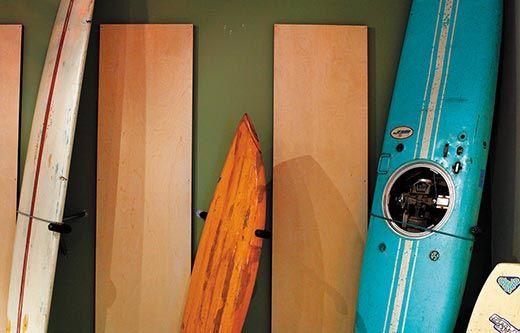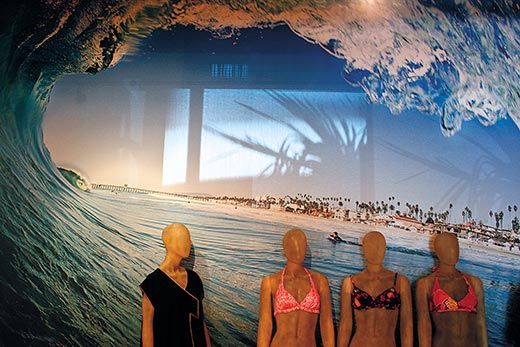 Started in a restaurant in 1986 in Encinitas, California, the California Surf Museum is finally—four locations later—in a space big enough to call home. The new address is courtesy of the city of Oceanside, about a 35-minute drive north of San Diego.
Leaning against a wall and hanging from the ceiling are 55 surfboards selected by curator Ric Riavic, a surfer and former school gardener, to show how surfboards have evolved. The oldest board, made of sugar pine in 1912, is seven feet long and weighs over 100 pounds. The newest, formed in 2008 and owned by four-time world champion surfer Lisa Anderson, is made of fiberglass, is nearly ten feet long and weighs around four pounds.
Duke Kahanamoku, the Olympic gold-medalist swimmer credited with being the father of modern surfing, owned a ten-foot-long, hand-carved board. "This is the type of board that started the surf craze in California in the early 1920s," says Riavic. Kahanamoku often surfed at Corona del Mar, California, where he hung out with Johnny ("Tarzan") Weismuller and John Wayne. Kahanamoku proved the perfect ambassador for the sport, and was photographed with everyone from Shirley Temple and Babe Ruth to the Queen Mother.
A 2008 photograph of an eight-foot wave curling up to Oceanside Pier by surfing photographer Myles McGuinness gives landlubbers an inkling of how it feels to be inside a surfing wave.
There are early surfing stickers and decals, record albums, vintage beachwear and photographs by 1950s surf photographer LeRoy Grannis.
"Surfing has captured so much of the culture's imagination that people from all over the world want to connect to its spirit," says the museum's co-founder, Jane Schmauss. "I couldn't imagine anything as beautiful as surfing not having a museum. It's way cool."