The Ava Gardner Museum
What started as a childhood friend's collection has grown into a full-fledged museum just miles from the movie star's hometown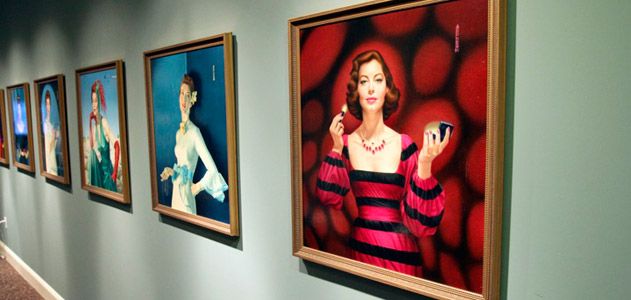 Off Interstate 95 in Smithfield, North Carolina, is an outpost of mid-century Hollywood style: the Ava Gardner Museum. Born in nearby Grabtown, Gardner would have been happy living life as a secretary behind a typewriter—and she might have had her sister not pulled her into a New York photography studio. A portrait of her demurely gazing out from underneath a simple straw bonnet attracted the attention of the Metro-Goldwyn-Mayer movie studio, and the 16-year-old beauty was signed to a contract, well on her way from being a poor country girl to an international star.
Initially known for her leggy publicity photographs and decadent social life—which included high-profile marriages to actor Mickey Rooney, bandleader Artie Shaw and singer Frank Sinatra—Gardner was lauded for her performances in films such as The Killers and The Barefoot Contessa. She played characters that were a blend of the girl next door and the femme fatale, which, supplemented by her radiant onscreen sensuality, cemented her popularity with audiences.
One of her fans was Tom Banks, who used to tease Gardner even when she was studying to become a secretary. He began amassing memorabilia when the local girl found success and eventually opened the Ava Gardner Museum in 1978. Her Cinderella story is told through photographs, costumes and personal mementos—such as dance cards from her teenage years and a black velvet dress she wore in The Great Sinner with a seemingly impossible 19-inch waist. Adorning the museum's walls are portraits by Dutch artist Burt Pfeiffer. "They're quirky," says museum board member Donna Bailey-Taylor, "and they take people by surprise." Pfeiffer's infatuation with Gardner was so intense that until his death in 2001, he painted a portrait of the star every year, some featuring peculiar embellishments such as a mouse crawling up the actress's sleeve.
Exiting by way of the gift shop, you can pick up, among paper dolls and T-shirts, a hand fan featuring a die-cut glamour shot of Gardner.
"The first thing people do is put it in front of their face and say, 'How do I look?'" Bailey-Taylor says.
Fabulous.