The Arranger
From bebop to hip-hop, nobody alive has done more for American music than Quincy Jones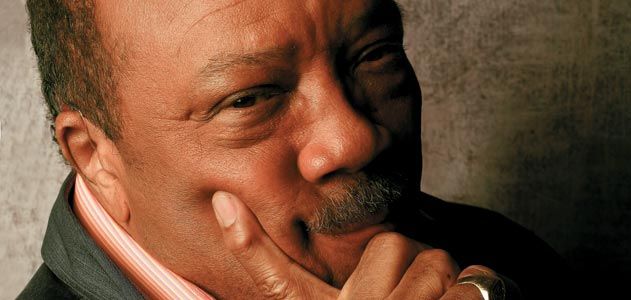 His house stands atop a hill in the Bel Air section of Los Angeles, at the end of a gated, guarded driveway, nestled among citrus trees and bougainvillea and caressed by Pacific breezes. It's a grand stone structure, both a monument to Quincy Jones' success and a metaphor for his particular way of making things happen. The sprawling property—house, cabana, pool, tennis court, vine-draped grounds—was six years in the planning and building, and Jones helped arrange the disparate elements into a harmonious whole. He picked the earth-hued travertine, alabaster and limestone with Egypt's pyramids in mind. He modeled the central feature, a rotunda, after an African mud hut. The compound's layout accords with his reading of the ancient Chinese principles of feng shui. And the place is filled with the gatherings of half a century as the music industry's most influential artist-entrepreneur. "The whole world is represented here, from Morocco to Nefertiti to the Tang dynasty," Jones says. "Global gumbo, that's where it's at."
Wearing a gray suit, gray Crocs with Mickey Mouse imprints and zebra-striped socks, Jones is giving a tour of the place, which also serves as a tour of his astonishing career. In the cabana is a display of 40 platinum records commemorating 40 million sales of Michael Jackson's Thriller, which Jones produced in 1982 and which has reached global sales of 104 million—the biggest-selling record ever. The walls of his screening room are lined with posters of the three dozen movies he has scored. A brief film Jones made about the construction of his house is accompanied by Ray Charles' 1959 hit "Let the Good Times Roll"—Jones arranged the song, and he and Charles were close friends since they were teenagers—and by Frank Sinatra's iconic "Fly Me to the Moon," which Jones arranged at the age of 31. Next to the piano in the rotunda is Jones' Oscar statuette, for the motion picture academy's 1995 Jean Hersholt Humanitarian Award. There are 27 Grammys—a total second only to that of the classical music conductor Sir Georg Solti—and an Emmy, for the score of the first episode of "Roots," the TV miniseries adaptation of Alex Haley's search for his African ancestors. "I keep on adding to it," Jones says of his house, though he might as well be speaking of his life in music. "I don't really want to finish it."
Jones turns 75 this month, and sports a hearing aid along with a gold hoop earring, but he's busy. He's producing an album and several movies. He's opening Q's Jook Joint, a club honoring the black musical tradition, in Las Vegas. He's a creative consultant for the Beijing Olympics opening ceremonies. And he still parties like a youngster. "He thinks he's 25," says daughter Rashida Jones, 32, an actress who has appeared on "The Office."
Still, three-quarters of a century is the sort of milestone that has journalists, historians and his fellow artists focusing on Jones' legacy. "His music threads its way throughout popular culture," says Sidney Poitier, a Jones pal for more than four decades. "You won't be able to speak of Ray Charles, Frank Sinatra and Michael Jackson or many other artists without some reference to Quincy."
"He has an extraordinarily deep sense of music," says the jazz critic Nat Hentoff. "He never loses the melody and he has the pulse of jazz, which is the pulse of life, in everything he does." That pulse courses through the lush strings caressing Sarah Vaughan's deep voice on her signature "Misty," the sax and xylophone interplay on Dinah Washington's "Makin' Whoopee" and the brass and sax notes dancing around Ella Fitzgerald's singing on "I'm Beginning to See the Light." Jones' work is so much a part of contemporary sound that there are plenty of tunes people know by heart without realizing that he created them, including the jaunty theme for the TV show "Sanford and Son" and the groovy "Soul Bossa Nova," recently revived by Austin Powers some 35 years after Jones wrote it, reportedly in 20 minutes.
"Quincy Jones was right up there with George Gershwin, Duke Ellington and Louis Armstrong as one of the cornerstones of American music," says Gerald Early, an English and African-American studies scholar at Washington University in St. Louis. "He's influenced American culture and had a presence that few other musicians have had."
Jones started out as a trumpet player, first performing at around age 14, but he would make his mark—and his fortune—as a composer and especially as an arranger and producer who made others shine. If Jones had simply made music, he would have had an amazing career. But he also became the first prominent African-American to break into Hollywood as a composer and the first black executive at a major record label, appointed a vice president at Mercury Records in 1962. He founded Qwest Records and co-produced the movie The Color Purple (casting Oprah Winfrey as Sofia) and TV's "The Fresh Prince of Bel-Air" (discovering ex-rapper Will Smith). In 1990, he started a charity, now known as the Quincy Jones Foundation, which has disbursed some $20 million for, among other things, anti-malaria measures in Africa and a project in which disadvantaged youths from South Los Angeles helped build houses in South Africa. He also has ties to the Smithsonian, serving on the council of the National Museum of African American History and Culture.
Henry Louis Gates Jr., the Harvard historian, compares Jones to such great American innovators as Henry Ford, Thomas Edison and Bill Gates. "We're talking about the people who define an era in the broadest possible way," Gates says. "Quincy has a lifeline into the collective consciousness of the American public....It's one thing to find a person who is a brilliant creator and composer. It's another to find a person who is just as brilliant as an entrepreneur. That's unprecedented in the history of jazz and the history of black music."
Quincy Delight Jones Jr. was born in Chicago on March 14, 1933, the son of Quincy Delight Jones Sr., who worked as a carpenter for the Jones Boys, gangsters who ran the rackets and a five-and-dime chain, and Sara Wells Jones, who spoke several languages and managed apartments.
Music was everywhere. There was a neighbor named Lucy who played stride piano, and young Quincy heard the risqué boogie-woogie number "The Dirty Dozens" on his maternal grandmother's Victrola. But there was chaos, too. Quincy Jr. once saw a corpse hanging from a telephone pole with an ice pick in its neck. He has a scar on his right hand where he was stabbed. For a time he would carry a .32 snub-nosed pistol.
And then there was his mother, who apparently suffered from schizophrenia. On Quincy's fifth birthday, she tossed his coconut cake out the back porch of their home. When he was around 7, his mother broke a window and sang out, "Oh, somebody touched me and it must have been the hand of the Lord." Recalling the incident, Jones speaks very softly. "They laid her down upstairs in a straitjacket." She was committed to a state hospital. Quincy Sr. took his sons to visit her. She didn't return home to stay. "I never felt like I had a mother," Jones says. "I used to sit in the closet and say, 'If I don't have a mother, I don't need one. I'm going to make music and creativity my mother.' It never let me down. Never." His mother, who was later released from the hospital, would reappear in her son's life at awkward times. "There was never any resolution," he wrote in Q: The Autobiography of Quincy Jones. She died in 1999 at age 95.
In 1943, his father became involved with another woman and moved their families (which grew to eight children) to Bremerton, Washington, where Quincy Sr. worked in the Navy shipyards for $55 a week. "Every day my daddy told me the same thing," Jones recalls: "Once a task is just begun, never leave it till it's done. Be the labor great or small, do it well or not at all." Quincy Jones Sr. died in 1971 at age 75.
Finding his way in the mostly white Northwest was not easy. There were no Oprahs or Michael Jordans, and Jones knew that even the black characters on the radio, like Amos and Andy, were played by whites. "I made the Lone Ranger and the Shadow black," he says.
At 11, he and some friends broke into a recreation room near a local Army base to eat lemon meringue pies. Wandering around, Jones saw a spinet piano. "I touched that piano and every cell in my body said this is what you will do for the rest of your life," he says.
He would revisit that piano to learn songs he'd heard his neighbor Lucy play. He began composing music before he knew what a key signature was. When he heard a local barber playing the trumpet, he was hooked, but he tried everything from violin to the sousaphone before he finally got his hands on one.
Living in Seattle after the war, Jones began sneaking into local clubs to watch Count Basie, Lionel Hampton, Cab Calloway and Woody Herman. The jazzmen were worldly and intelligent. "This is the family I wanted to be in the rest of my life," Jones says.
Basie took him under his wing at age 13. Quincy approached one of the bandleader's trumpeters, Clark Terry, for lessons, somehow persuading the veteran, who played the clubs until 4 a.m., to meet him at 6 a.m. "He had a way about him of showing sincerity and real deep interest," says Terry, now 87. "Everybody admired the way he tackled life." Terry agreed to show Quincy's first composition to Basie's band, and he protected the youngster from the pros' withering criticism. "I shudder to think how that could have thwarted his attempts to become a successful musician," he says.
During those years, Quincy formed a bond with another Seattle music wunderkind. Ray Charles was 16 and Quincy 14 when they met. "He was like a hundred years older than me," Jones says, recalling something vital Charles said: "Every music has its own soul, Quincy." Jones would go on to arrange some of his friend's notable recordings, including two numbers on The Genius of Ray Charles in 1959 and the follow-up album, teaming Charles with Basie's band, Genius + Soul = Jazz.
In a band headed by Bumps Blackwell, Jones played R & B, and with Charles he played every kind of music: pop at the tennis club for white audiences, R & B and bebop at the black clubs until dawn. When Billie Holiday came to town in 1948, the band backed her. "They had to shove her on the stage, she was so out of it," Jones recalls.
Lionel Hampton even put Jones on his tour bus at 15. Jones was ready, but Hampton's wife, Gladys, told him to go back to school. Three years later (after briefly attending Boston's Schillinger House music school) Quincy made Hampton's band for real, sitting between the great trumpeters Clifford Brown and Art Farmer. There Jones began arranging music, setting the style and tempo and selecting the instruments. He could order his musical world. "After a while all I could think about were four trumpets, four trombones, five saxes and a drum, a bass, guitar and a piano," he says today. Over time, Hentoff says, Jones' arrangements have been "models of clarity and the use of space."
One quality that helps explain Jones' extraordinary longevity is ceaseless innovation. "With Q it's always brand-new, it's fresh," says the recording engineer and producer Phil Ramone, who has worked with Jones, Bob Dylan, Billy Joel and others. Another is the unusual combination of intensity and charm with which Jones has brought out the best from a wide range of idiosyncratic performers. "About 90 percent of what goes on with Quincy is passion," says Ramone. "It's about his personality, and then he has the chops to back it up."
As a producer, Jones is known to research every nuance, hire the best players and set them free. "He creates this marvelous circus," says Patti Austin, whose 1982 No. 1 hit, "Baby, Come to Me," Jones produced. "There are about two hours of laughing hysterically and telling stories and about 15 minutes of making music...but the music comes from a place of complete happiness."
In the 1950s, Jones spent much of his time between tours in New York City, playing, arranging and composing. Offstage, he cut quite a figure, hanging out with Marlon Brando, Tito Puente and Poitier, who first saw him near the Birdland jazz club. "He was one of the most handsome guys you could lay eyes on," Poitier says. "He was laughing and smiling all the time. He was a positive presence, especially to the ladies." It wasn't just the music he loved. "Let's be real," Jones recalls. "All guys get into music because they love music and they also want to get the girls." Jones, currently single, has been married three times and has seven children, ages 15 to 54.
When he was getting ready to take his first trip to Europe with Hampton, in 1953, the veteran sax player Ben Webster sat him down. "Eat the food, listen to the music and learn 30 to 40 words in every language," Webster said. Jones listened: "It's like a code to enter another culture. If you open up your mind, it's like music."
His travels gave him fresh perspectives. In South America as the musical director and a trumpeter for Dizzy Gillespie's State Department tour in 1956, he fell for Latin rhythms, leading to his album Big Band Bossa Nova. In Paris he studied with the renowned composition teacher Nadia Boulanger, who had taught Aaron Copland and Philip Glass. "The more boundaries you set," she told him, "the more freedom you have."
"I didn't want to hear that, man, but she's right," Jones says.
In 1959, Jones assembled a band for a tour of Europe to play songs from the Harold Arlen and Johnny Mercer musical Free and Easy. The tour ended abruptly because of violence in Paris sparked by the Algerian conflict, but rather than return to the States, Jones kept the band together for ten months playing gigs in Europe and amassed a $145,000 debt. It took seven years to pay off.
It was at Mercury Records that he first struck gold, when he was presented with a demo tape of a clear-voiced 16-year-old girl named Lesley Gore. He hated her name, but they recorded "It's My Party" in 1963. Jones then ran into producer Phil Spector, who said he had just recorded the same song with the Crystals. Jones rushed Gore's version out to radio stations before heading to Japan to score and act in a TV drama.
He got a call from Irving Green, Mercury's president. "You still don't like Lesley's name?"
"I think we could find something better," Jones said.
"Well, guess what, it's number one. Bring your ass home and do an album."
"It's My Party" was the first of Gore's 17 hits. "The minute I met Quincy I knew the man was destined for absolutely astronomical things," says Gore, who lives in Manhattan and still performs. "He took a 16-year-old kid and got a performance out of me. You don't do that without knowing people well and having a real sense of what you want to hear."
While other African-Americans had little success breaking into film scoring, Jones wrote a well-received, jazzy score for his first film, Sidney Lumet's The Pawnbroker (1964). Before Jones got his next assignment, to score the film Mirage (starring Gregory Peck and Walter Matthau), a producer asked the composer Henry Mancini if Jones could handle it, adding, "This is not a black film."
Jones remembers what Mancini said: "'This is the 20th century. You think the guy's gonna write the blues for Greg Peck? Hire him!'" They did.
It was Sinatra who gave Jones his nickname—Q—while Jones was conducting the singer and a 55-piece orchestra at an event for Princess Grace at the Sporting Club in Monaco in 1958. Jones later arranged the music for Sinatra's 1964 album with Count Basie, It Might as Well Be Swing, which included "Fly Me to the Moon." Jones and Sinatra remained close until Sinatra's death in 1998. "He took me to another planet," Jones recalls, flashing the gold pinkie ring Sinatra left him. "He either loved you, or he'd roll over you in a Mack truck in reverse. There was nothing in between."
Following two aneurysm surgeries in 1974 that left Jones unable to play the trumpet, he composed music for the first episode of "Roots." Jones says he cried over the diagrams of slave ships that Alex Haley sent to him, and he became entranced with African music, including "Many Rains Ago (Oluwa)," a beautiful Nigerian folk song. "It's a life force," he says, "so powerful." Haley helped Jones trace his own ancestry: two-thirds African (from Cameroon) and one-third French, Cherokee and Welsh, Jones says. George Washington was an ancestor, but Jones identifies with his African heritage. "Does this look Welsh?" he says, pointing to his skin.
Jones was already well known when Michael Jackson asked him to produce an album. They would do three—Off the Wall (1979), Thriller (1982) and Bad (1987)—a collaboration that would change pop music forever. Before making Off the Wall, Jones went to discos to learn the latest beats by watching people dance. The record has sold more than ten million copies. But it was the pulsating Thriller, with the songs "Billie Jean," "Beat It" and the title track, that reached every demographic, transformed Jackson into the king of pop and brought black music to MTV. "Michael and MTV rode each other to glory," Jones says. "I still hear those songs everywhere I go."
Gates, the historian, notices a big difference in Jackson before and after Jones. "With Quincy, Jackson makes the best-selling album in history. Without him, he's floundering. Every time I think of Thriller or Bad, I just hear Quincy there."
Right before Duke Ellington died in 1974, he inscribed a photograph for Jones: "To Q, who will de-categorize American music." Jones feels he met that challenge when he made Back on the Block, his 1990 multi-Grammy-winning album. For it, Jones brought together Ella Fitzgerald, Dizzy Gillespie, Ray Charles and Sarah Vaughan (her last session) and rappers such as Ice-T and Melle Mel to create a blend of zulu, gospel, jazz, rap and swing—global gumbo. Jones may be one of the few 75-year-olds who follow rap.
At the moment, the project on his mind is this summer's Olympics in Beijing, joining the movie directors Steven Spielberg and Ang Lee as artistic consultants. Jones is confident he can handle it. After all, he produced the 1996 Academy Awards show, the concert for Bill Clinton's first inauguration and America's millennium show in Washington, D.C. "I just like to mess with big stuff," he says.
"His will is so strong that nothing seems out of reach for him," says his daughter Rashida.
As a night mist envelops his compound, Jones is waiting for his next-door neighbor and former paramour, actress Nastassja Kinski, to stop by with their 15-year-old daughter, Kenya. With two titanium knees and his doctors at Sweden's Karolinska Institute telling him to lose 30 pounds, he has his aches and pains. Still, he says, "I'm having the best time in my life in every way."
And what's the legacy that one of America's most significant musical artists wants to leave? "To be a good father," Jones says, "which I'm learning more about every day."
Lyndon Stambler is the co-author, with his father, Irwin Stambler, of Folk & Blues: The Encyclopedia.
Portrait photographer William Coupon is based in New York City.