Sylvester Stallone Joins an Oscars Elite Team: Actors Nominated Twice for the Same Role
The actor and writer who gave us Rocky Balboa (again and again and again) is the sixth member of this exclusive club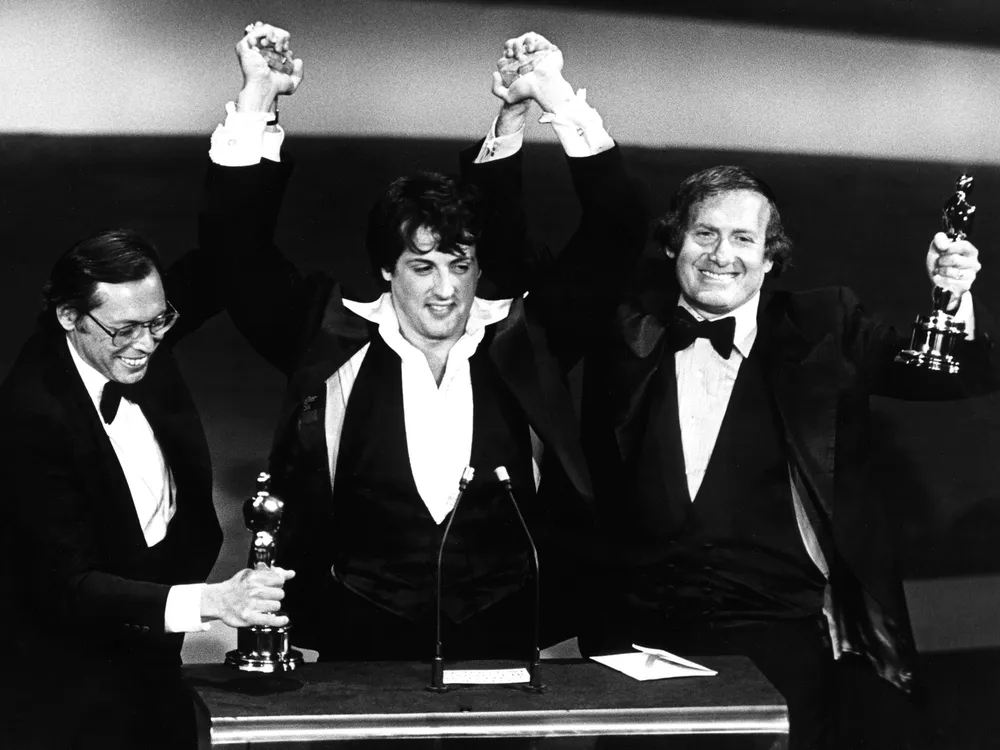 With this morning's nominations for the Academy Awards, Sylvester Stallone, nominated for his supporting role as Rocky Balboa in Creed, joins a select group of actors with an interesting footnote: being nominated twice for playing the same character.
In the mid-1970s, the story of Stallone's attempts to make Rocky were befitting of the film's underdog story. A down-on-his-luck actor, Stallone wrote the script in three-and-a-half days with just $106 in his wallet, according to the New York Times. He shopped it from studio to studio, getting some interest but with producers insisting on casting contemporary stars like Ryan O'Neal or Burt Reynolds. Stallone declined, seeking to play the titular role himself.
Producers Irwin Winkler and Robert Chartoff eventually signed on as financiers of a $1 million budget, and Stallone went on to star in the top-grossing film of 1976 and the movie garnered ten Oscar nominations, winning for Best Picture and Best Director. (The accolades placed him in a different Oscar club that year: At the time, Stallone, Charlie Chaplin and Orson Welles were the only three actors to be nominated for writing and acting in the same film. That group that would later add Woody Allen, Warren Beatty, Billy Bob Thornton, Matt Damon and Roberto Benigni.)
The hit spawned a franchise that now includes six more films: Rocky II, III, IV, and V, Rocky Balboa and last year's Creed. And while Stallone arguably never really played a role other than Rocky even as he took on John Rambo, Judge Dredd and Lt. Raymond Tango, it's the movies that bookend the franchise, 39 years apart, that have gotten him the attention of the Academy.
Who is Stallone joining in this exclusive club? Read below to find out.
Cate Blanchett – Elizabeth (1998) and Elizabeth: The Golden Age (2007)
The only female actor in this group, Blanchett played the English monarch in both films, the latter ostensibly a sequel to the first, though their critical reception could not have been more different. Of the first, Roger Ebert wrote, "What it gets right is the performance by Cate Blanchett," and of the second, "it places [Blanchett] in the center of history that is baldly simplified, shamelessly altered, and pumped up with romance and action." Blanchett did not win the Oscar for either performance, but Queen Elizabeth did take home a statue in 1999 in the form of Judi Dench, who won for Best Supporting Actress for Shakespeare in Love.
Paul Newman – The Hustler (1961) and The Color of Money (1986)
Second time was the charm for pool shark Fast Eddie Felson. In the 1960s classic, Paul Newman plays a big-fish-small-pond type looking to break into the top level of pool hall gambling by toppling the legendary Minnesota Fats, played by Jackie Gleason. Twenty-some-odd years later, the roles shifted, with Tom Cruise as the young upstart and Newman playing the aged legend in the Martin Scorsese-helmed film. Newman won for his second round as Felson, besting William Hurt and James Woods, among others.
Al Pacino – The Godfather (1972) and The Godfather: Part II (1974)
Stunningly, Al Pacino never won an Oscar for playing Michael Corleone, one of the most iconic characters in film. Pacino almost didn't take the role, initially turning down director Francis Ford Coppola, who had resisted the studio's insistence on hiring a more bankable name along the lines of Jack Nicholson, Warren Beatty or Robert Redford. In 1973, Pacino lost the Best Supporting Actor Oscar to Joel Grey for Cabaret. Two years later, in a lead actor category stacked against Nicholson, Dustin Hoffman and Albert Finney, he lost to Art Carney for Harry and Tonto. Pacino would eventually take home an Oscar for his role in Scent of a Woman in 1993.
Peter O'Toole – Becket (1964) and The Lion in Winter (1968)
The latter of O'Toole's portrayals of Henry II is the better known of the two. Based on the Broadway play by James Goldman, The Lion in Winter pits the English monarch against Eleanor of Aquitane, played by Katharine Hepburn. Their relationship with their sons tests the limits of familial love against the realities of palace intrigue. O'Toole would be nominated a total of eight times, including for his legendary performance as T.E. Lawrence in Lawrence of Arabia, but would have to settle for the lifetime achievement award he garnered in 2003.
Bing Crosby – Going My Way (1944) and The Bells of St. Mary's (1945)
If you knew Crosby fit in this club, then you really know your Oscars. Crosby was nominated for playing Father Charles "Chuck" O'Malley in these two wartime musicals. Reminiscent of another era, both films focus on the travails of a young priest in New York City. Crosby won for his part in Going My Way, which also won Best Picture and was the highest-grossing film of 1944. After being nominated again for the following year's sequel, Crosby solidified his role as a box-office boon.