Stuck for a Halloween Costume Idea? Think Food
Paula Deen, Colonel Sanders, the Swedish Chef—the food world is rife with costume potential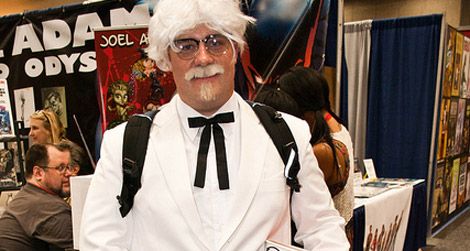 Every year I try to plan ahead and think up a clever Halloween costume, only to end up rushing around the day before a party trying to scrape up something passable. It helps to have a theme; one year I was invited to a "one-hit wonders" party, to which I went as Jennifer Beals in Flashdance, with leg warmers, an off-the-shoulder sweatshirt and a welding mask. The food world is also rife with costume potential. Although you could go as or with a food itself, like a bunch of grapes made out of balloons, I think character-based looks are more fun.
Here are a few ideas to get your creative juices flowing while there's still time:
Paula Deen: The Food Network's high priestess of high-cholesterol food is easy to emulate. Just don a white, feathery-coiffed wig, a generous amount of mascara and a pastel-color collared shirt. To complete the look you'll need some reference to her favorite ingredient, butter—maybe wrap a couple sticks of yellow-painted styrofoam in a butter wrapper (or waxed paper) and turn them into earrings.
The Swedish Chef: If only all cooking shows were as entertaining as this recurring sketch on The Muppet Show. And considering that a new Muppet movie is due out this holiday season, the cheerfully indecipherable chef is newly relevant. You'll need a chef's hat and either a chef's jacket or a pin-striped shirt, bow tie and white apron, a bushy orange wig, mustache and eyebrows. If you ever run out of party conversation, you can always retreat into character, lilting, "Bork, bork, bork!"
Colonel Sanders: The KFC founder's secret fashion recipe was simple—white suit, string tie, horn-rimmed glasses and a cane. And don't forget the white hair, mustache and goatee. Bonus item: a classic red and white chicken bucket, which can double as a trick-or-treating basket for the kiddies. In fact, this look works for kids too—I mean, how cute is this?
Wendy and Jack in the Box—the couple: What if two of the burger world's biggest celebrities got together? One half of the couple could go as freckle-faced Wendy, the other as cone-hatted Jack. The pièce de résistance: their globe-headed, red-braided baby. I thought I was pretty clever for thinking this one up, but it appears others have beat me to it. Oh well, chances are no one at your party will have seen the idea before.
The Unknown Restaurant Critic: The supposed anonymity of critics has been a topic of foodie discussion this year, with one Los Angeles Times writer outed—and kicked out—by an irate restaurateur. You could go two ways with this: either a paper bag over the head with eye holes cut out, à la the Unknown Comic, or a classic nose-mustache-and-glasses disguise. Either way, you'll need accessories to indicate you're a food critic—maybe a reporter's notebook and pen, and a napkin tucked into your collar.
Anyone else have fun food-related costume ideas?