"Strong Medicine" Speaks
Recollections from the matriarch of a once hidden tribe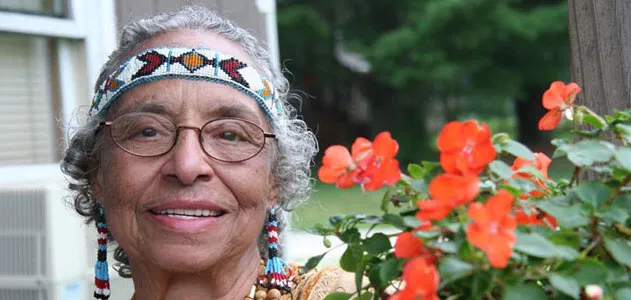 On a late spring afternoon, as the sun nears its highest point, fifty men and women form a large circle in the middle of a field, deep in the woodlands and marshes that border a great river. Each one stands quietly, focused on a small, smoky bonfire that smells of sage and tobacco. The chief speaks. He reminds everyone that the ceremony is sacred. Among those present is the chief's 85-year-old mother, "Strong Medicine," who is the matriarch of the tribe.
They are all members of the Nanticoke Lenni-Lenape Indian Tribe of New Jersey. More than 3,000 strong, they are the largest and most vibrant tribe of Lenni-Lenape Indians living within the "Land of the Ancestors." That they are still here, unlike the thousands who were forced onto reservations, is a little-known tale of survival and ingenuity.
Their history in the area dates back more than 10,000 years, when Lenni-Lenape territory stretched from Manhattan Island to the Delaware Bay. Their lands—arguably among the most magnificent in the world—included southeastern New York state (including Manhattan), all of New Jersey, portions of eastern Pennsylvania (including what is now Philadelphia) and parts of Maryland and Delaware. Their first confirmed encounter with white people occurred on a spring day in 1524, when the explorer Giovanni da Verrazzano, an Italian sailing a French vessel, sailed into the waters between what is now called Brooklyn and Staten Island, New York. In his journal, Verrazzano wrote that the Lenape paddled out to greet him, making "great shouts of admiration."
Like the other "Nations of First Contact," as East Coast tribes are sometimes called, Lenni-Lenape leaders were thrust into a world they did not understand. It was the Lenni-Lenape who famously "sold" Manhattan Island for the equivalent of twenty-four dollars to the Dutchman Peter Minuit in 1626. Less well known is that they were the first Indian tribe in America to sign a treaty with the United States government. Their chiefs met with every major American figure from William Penn to George Washington.
Many Lenni-Lenape Indians—also sometimes called Delaware Indians—died of diseases to which they had no immunity, or were killed outright by white colonists. Thousands were forcibly removed from their ancestral lands and sent, over a period of decades, to reservations in the West and in Canada. Strong Medicine's tribe, located in rural Cumberland County in New Jersey, found a way to avoid that fate.
"When my husband and I were coming up, and for a long time before that, our tribe was in hiding," Strong Medicine explains. "We were a hidden people. If the government knew you were Indian, they would take your property and send you to a reservation. There is a story in our tribe that this happened as recently as 1924, two years before I was born. So we were in the habit of staying to ourselves and not saying who we really were."
Census workers, in fact, were intentionally misled. "We would say we were 'Colored,' which is a term they used in the old days for people who are not white," Strong Medicine recalls. "Well, the government workers were white and they didn't know what the heck we were. They thought we meant we were 'Black' when we said 'Colored,' and we just went on letting them think that."
Adding to the confusion is that some members of the tribe do indeed have a small amount of white or African ancestry. This is not uncommon among Indians on the East Coast.
Strong Medicine—whose full name is Marion Strong Medicine Gould—is true to her name, which was given to her in a religious ceremony more than thirty years ago by her son, Chief Mark Quiet Hawk Gould. He gave her the name because of her extensive knowledge of plants and herbs—and also because of her personality. Strong Medicine is unusually outspoken for a Native American Elder, many of whom refrain from speaking to the outside world. And she is known within the tribe for telling the unvarnished truth to anyone who is brave enough to seek her advice. "Half the tribe is afraid of Mom," jokes the Chief, who will turn 66 this month.
Born in 1922 in Bridgeton, New Jersey, near the Delaware Bay, Strong Medicine recalls being raised in a loving environment where families lived in clans, or clusters, near each other. (They still do.) "We did better than most people during the Great Depression," she recalls. "We already knew how to eat weeds and things like that—we just ate more of it.
"Some Indians are ashamed to admit they eat weeds," she adds. "But I'm not. Why should I be? It's part of our culture."
Married at 18 to her high school sweetheart, Wilbur "Wise Fox" Gould, the couple already had two small sons by the time he joined the Army during World War II. Trained as a forward scout, he was captured and listed as missing in action during the Battle of the Bulge.
The tribe continued to live in secret until the 1970s, when Mark Gould, along with a core group of others in his age group, decided that the time had come for the tribe to stop hiding its identity. The tribe's modern-day revival, in fact, coincided with a national movement, the Indian Civil Rights Movement, and the cultural rebirth known as Native Pride.
Part of the plan was to re-organize the ancient tribe as a modern-day entity. Most of the elders, however, would not sign incorporation papers, or put their names on the ballot for a spot on the newly-structured Tribal Council. Strong Medicine, however, did both.
"It really made a huge difference to have Mom behind us," the Chief recalls. "All of the other elders were afraid of change." The tribe's incorporation took place in 1978, the same year that Congress passed a law protecting the right of Indians to freely practice their religions.
When one considers the fate of most tribes in America, the fact that 3000 Nanticoke Lenni-Lenape Indians can practice their religion on their ancestral homeland, seems nothing short of miraculous. During Strong Medicine's life, her tribe has come full-circle, from hiding their identity to embracing it. "I never thought I would live to see the day my grandchildren and great-grandchildren celebrate our heritage," Strong Medicine says with a smile.
Copyright © 2008 by Amy Hill Hearth. Printed by permission. Adapted from the forthcoming book "Strong Medicine" Speaks by Amy Hill Hearth to be published by Atria Books, an imprint of Simon & Schuster, Inc. (Available March 18, 2008 at your local bookstore and at www.simonsays.com. ISBN: 0-7432-9779-2, $23.00).