Squeeze Play
A new Smithsonian Networks Film brings alive the upbeat music of Colombia's cowboy country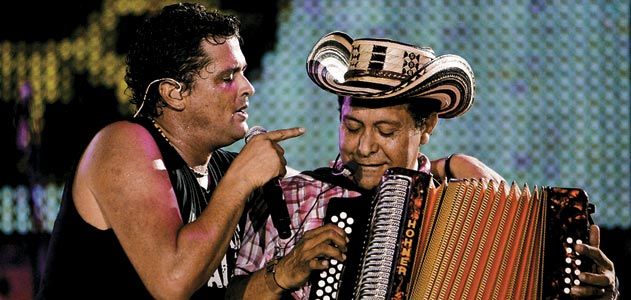 It might not be obvious why filmmakers traveled to a remote valley near Colombia's Caribbean coast, a region best known for its drug war, to document a six-day festival of accordion music. But the fast, upbeat melodies of vallenato, as the regional Colombian music is called, have universal appeal, says the documentary's producer, Alan Tomlinson. Vallenato can "reach out across distances, perhaps create a new understanding of Colombia," he says. "Colombia does not get much written about it that's positive." On June 6, The Accordion Kings, a Smithsonian Networks film, will première at the Natural History Museum.
Vallenato is something of a musical melting pot, derived from various aspects of local history: the dominant instrument is the accordion, brought to South America by European immigrants. It's accompanied by the small caja drum, which evolved from those once used by African slaves, and also by a notched stick scraped to provide percussion called the guacharaca, which originated with Colombia's native population. The resulting music, first documented in the late 1800s, has come to define coastal Colombia almost as much as the works of author Gabriel García Márquez. In fact, the Nobel Prize winner is said to have described his epic novel, One Hundred Years of Solitude, as a 400-page vallenato.
Enthusiasts say vallenato artists tell everyday stories of love and loss that have a lot in common with country music in the United States. Vallenato used to be considered low-class music for field hands, rarely played outside Colombia's cowboy country. But in recent years, Colombian singer Carlos Vives, among others, has fused vallenato with pop to create hits played across the Spanish-speaking world.
The documentary focuses on an annual competition among accordion virtuosos for the "vallenato king" crown, awarded at the festival in Valledupar, vallenato's Nashville. Wearing straw cowboy hats and jeans, the hopefuls are covered in sweat, eyes closed, bodies rocking, fingers blurring as they fly across the accordion's keys. The competition's nationally televised finale has the drama and fanfare of "American Idol." As the genre becomes mainstream, festival organizers say the competition, which promotes the traditional form of vallenato, preserves their musical heritage. "It's a way of linking you to the land, to your ancestors, your traditions," says Gabriela Febres-Cordero, the honorary president of the 40-year-old festival.
Reigning vallenato king Hugo Carlos Granados has won the crown five times—and at last year's festival he took the "king of kings" title, beating out 18 other vallenato kings in a special overarching competition that takes place once every decade. In the film he walks with a painful-looking limp, the result of a car accident after a late-night concert, but he pumps the heavy instrument with intensity. Granados, who comes from a long line of accordionists and started playing at age 5, believes the competition is about much more than showing off skill. "We are defenders of what is truly authentic vallenato," he says in Spanish by phone from Colombia. "We defend it so that vallenato music keeps going and new generations can hear it."