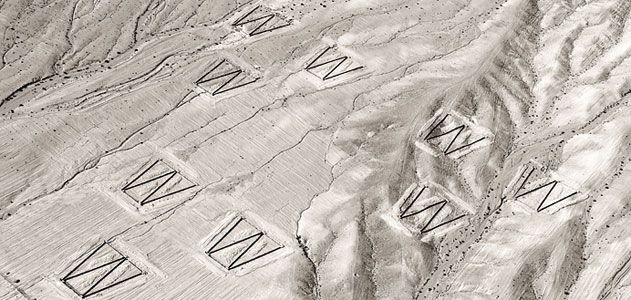 From On High
Ends February 10, 2013
Although 350 million people live in the Middle East, the region is often depicted as little more than empty deserts, archaeological ruins and stark landmasses seen from surveillance aircraft. The Iraqi-born artist Jananne Al-Ani was drawn to aerial photographs taken during the 1991 Gulf War, and she has been interpreting the perception of the Middle East as a depopulated and timeless place ever since. See for yourself at "Shadow Sites," her solo exhibition at the Sackler Gallery, which is celebrating its 25th anniversary.
Dancing Through Time
Ends October 8, 2017
Native American dances have retained ceremonial significance even after hundreds of years of contact with Europeans. New York City's George Gustav Heye Center of the National Museum of the American Indian will examine the tribal art form in the exhibition "Circle of Dance," featuring regalia and performance videos.
Sea to Shining Sea
Permanent
North America covers about 5.8 billion acres and embraces a huge range of ecosystems. To visit them all, you'd go through a lot of bug spray. But now you can tour the more watery environments in a flash at the National Zoo's new American Trail: from the brown pelicans' coastal landscapes to the beavers' riverine woods to the seal and sea lion exhibit, which has an ocean-mimicking wave pool. Many of the animals, including the bald eagles and gray wolves, are part of a conservation comeback story.
About Faces
Ends May 31, 2015
It became a familiar rite during the Civil War: Each time a Union commander was fired, his successor would report to Mathew Brady's studio to have a photographic portrait made. From a collection of more than 5,400 negatives, curator Ann Shumard selected 20 portraits for "Mathew Brady's Photographs of Union Generals" at the National Portrait Gallery.
From India With Love
Ends February 24, 2013
After Indian missionaries and traders traveling the Silk Road introduced Buddhism to China in the first century A.D., Chinese rulers and their subjects took to the faith rather quickly. See how Buddhism came to permeate Chinese culture in "Enlightened Beings: Buddhism in Chinese Painting," at the Freer Gallery, which features 27 works from the 11th to 19th centuries.